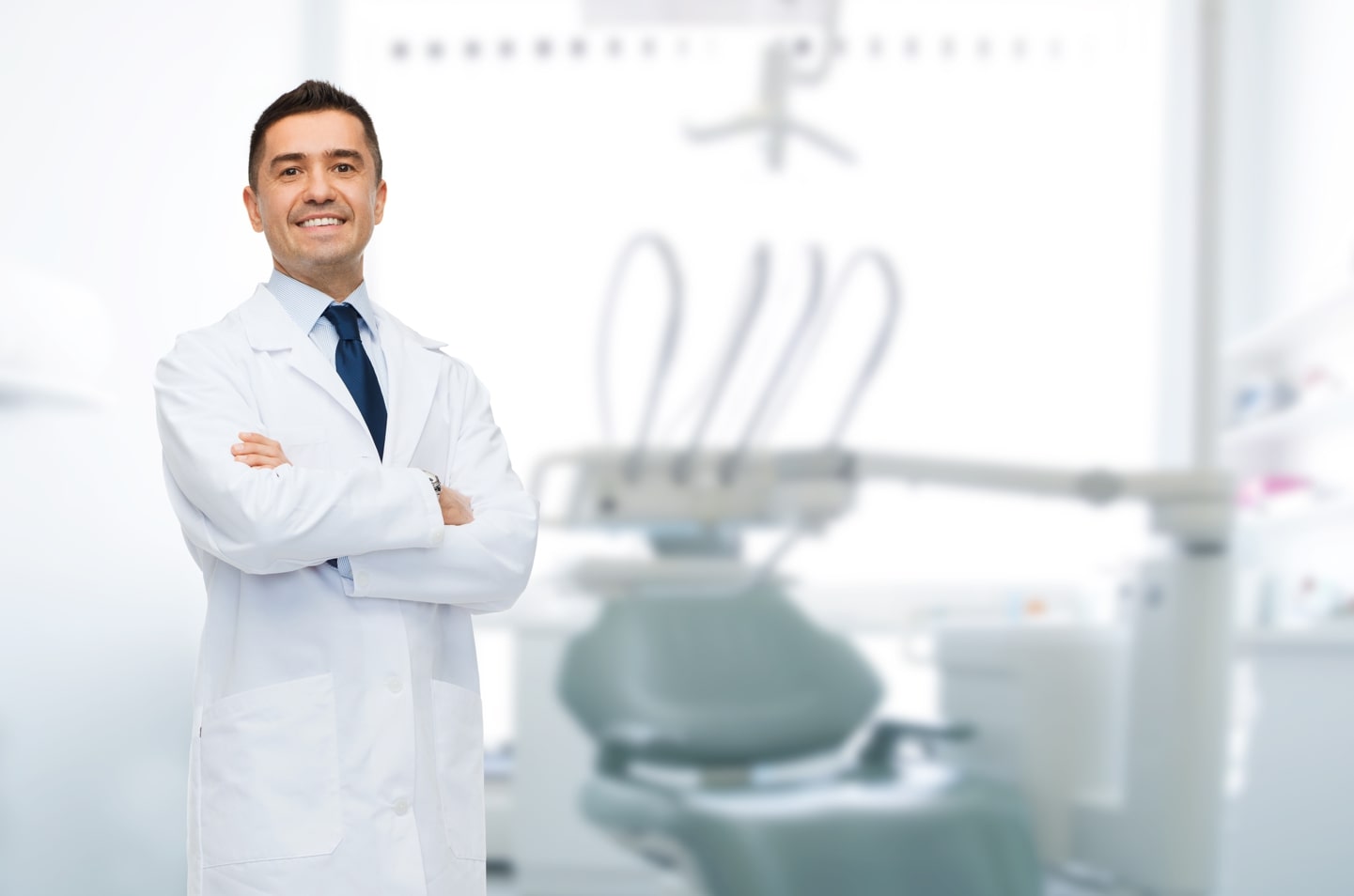 Find an Emergency Dentist

in Phoenix, AZ
Dental Service in Phoenix, AZ
Emergency Toothaches, Extractions, Pain Relief Today
Weekends, Nights and Holidays
1 (855) 352-6790
4 Dentists found in Phoenix, AZ
/locations/phoenix-az/
Legacy Smiles Dentistry
28451 N Vistancia Blvd Ste 101, Peoria AZ 85383
Geneva Dental & Denture Implant Center
13540 W Camino Del Sol Suite#20, Sun City West AZ 85375
Bright Now! Dental
13820 W Bell Rd Suite 5, Surprise AZ 85374
Festival Dental Group and Orthodontics
13869 W Bell Rd Ste 103, Surprise AZ 85374
Nothing is worse than trying to find an emergency dentist in Phoenix through a Google search, especially if you're looking for immediate pain from whatever oral crisis you're currently going through. We understand what you're going through, because we've been there ourselves! Fortunately for you, we can have an appointment booked for you with a Phoenix emergency dentist in as little as 24 hours. To see one as soon as possible, don't wait, call us right away at (855) 352-6790. Phoenix isn't the city you're looking for? Trying to find a 
24 hour emergency dentist near you
? Search our directory!
Items You'll Need to Bring With You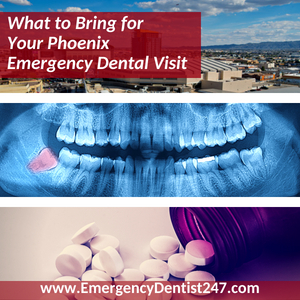 Just showing up on time, ready to go for your emergency appointment isn't good enough. Whether you're visiting a 
weekend dentist
 or making an early morning visit, emergency dentists operate a lot like your regular dentist, which means you're going to need a couple of things. Right off the bat, you'll need to arrive at least 15 minutes before your appointment is scheduled to start in order to fill out any paperwork. If you've had any recent dental work done and have copies of the records, make sure you take those with you as it'll give your dentist a good idea of your patient records, who your dentist is, etc. It's very important to call ahead and make sure your emergency dentist accepts your insurance. If not, it's a good idea to ask the office how much your visit will cost you to ensure that there are no big surprises when it comes time to pay up. Finding "
cheap dental care near me
" can be difficult, especially when you're looking for emergency dental care. Having as much information as you can will help you make the best decision possible. If you suffer from any allergies, are currently taking any medications, or a mix of both, make sure you make both of those known. Your emergency dentist will need to know about any allergies and/or medications to make sure they don't use anything during your treatment that will cause a reaction. Lastly, if you have a fear of the dentist, no matter how big or small, make sure you let your emergency dentist know. They, and their staff, have worked with hundreds, if not thousands, of patients who have a fear of the dentist. Because of this, they know how to make their patients as comfortable as possible throughout the entire appointment.
The Most Common Dental Emergencies
Unfortunately, dental emergencies don't care what time it is, what you have to do that day, and whether or not you have a high pain tolerance. While some dental emergencies show up and make themselves known immediately, a lot of them actually occur because of underlying issues that were never taken care of in the first place. Lost fillings, soft-tissue problems, and loose braces are examples of some of the more common, less dangerous dental emergencies. Oral infections, knocked out teeth, and severe toothaches are examples of time-sensitive and/or life-threatening dental emergencies.
Lost or Knocked Out Teeth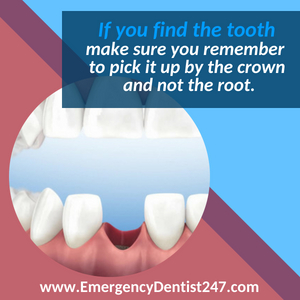 Nobody likes losing a tooth when they're an adult, mainly because it's not supposed to happen. Whether it was from a car or bike accident, a fight, or even from tripping up the stairs, you never want to pick up a lost tooth by the root. Picking up a tooth by the root can damage it to the point where your emergency dentist may not be able to put it back, so make sure you pick it up by the crown. If the site where the tooth fell out from is undamaged, try your best to stick it back in. This will help preserve the tooth until you can get to your appointment with the emergency dentist. Otherwise, stick it in a cup of either milk or water.
Abscessed Teeth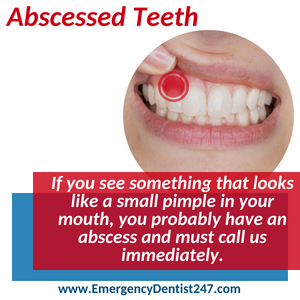 Unfortunately, patients don't notice that they have an abscessed tooth often until it's too late. You'll definitely notice once the pain starts, though! If you notice anything that resembles a pimple in your mouth, you need to call us immediately so we can book an appointment for you. Abscessed teeth are a time-sensitive dental emergency that can quickly turn into a life-threatening one. Infections lead to blood poisoning, especially if they are happening in the mouth. If you're experiencing oral pain and a fever, you need to get help immediately.
Lost Crown or Filling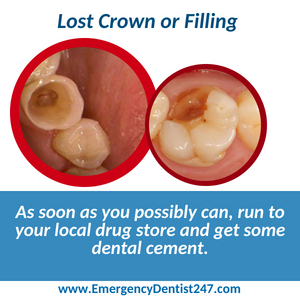 Losing a crown or a filling is actually very common, especially if they were done years ago, so don't worry if one or the other happens to you. The most important thing to do if it does is to make the necessary steps to save your tooth. As soon as you possibly can, run to your local drug store and get some dental cement. This type of dental product helps to seal the open tooth up so it can be protected. This is especially important if the tooth is exposed on a deep level, considering the nerves will most likely be exposed. Leaving the crown or the filling out, and not having an appointment booked for you with an emergency dentist through us as soon as possible, can seriously damage the tooth to the point of no return. If this is the case, you won't be getting a new crown or a filling. Instead, the tooth will have to be removed.
Emergency Tooth Extractions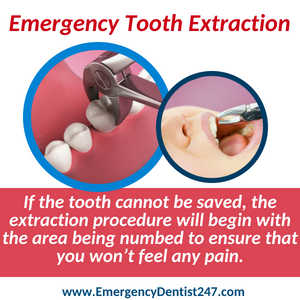 Tooth extractions, especially the emergency kind, can be a scary procedure to go through at first glance. Fortunately for you, the emergency dentists in our network have dealt with thousands of patients who are apprehensive about having one done, so they and their staff know what it takes to make their patients as comfortable as they possibly can. For starters, it's important to remember that the emergency dentist will numb the area, give you a couple of minutes for it to set in, and then make sure that you won't feel a thing. Once you and the emergency dentist are in agreement that you are totally numb, the procedure can begin. They will remove the tooth from the socket by rocking it back and forth until it pops right out. Sometimes, however, they will have to break it up into little pieces, which won't hurt one bit, to fully remove the tooth. Once it's out and it's all done, they will give you some aftercare instructions that you will need to do at home. Whether the instructions are verbal, written, or a mix of both, you must follow them religiously in order to heal quickly and not wind up back in their chair.
Same Day Denture Repair in Phoenix
If your dentures are giving you trouble and you need same day denture repair in Phoenix or have tried to find emergency denture repair Phoenix in the past, we feel your pain. With this problem in mind, we've made sure that there are emergency dentists and lab technicians in our emergency referral network so patients can get the immediate help they need with their dentures. In fact, you can be fitted for a brand new pair of dentures or have your current set repaired all in the same emergency dental appointment we've booked for you.
Emergency Room vs. Emergency Dentist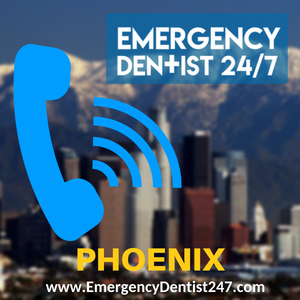 It's very important to know the difference between needing to see a doctor at your local emergency room versus seeing an emergency dentist. Knowing the difference between the two will ensure that you only end up with one bill to pay instead of two. If you've been in some form of accident that resulted in soft-tissue injuries, lost teeth, and head trauma, you must go to the emergency room. Emergency room doctors are equipped to deal with your pain and trauma, especially when it happens to your head, but they are not able to save your teeth unless they have an emergency dentist on staff, which most of them do not. Emergency dentists, however, are not able to deal with the head trauma, but they can help you with the soft-tissue injuries and the loss of your teeth. Sometimes, especially in this case, you will need to go to both an emergency room doctor and an emergency dentist, but you must distinguish which one you need first out of sheer importance.
For more information or to seek immediate help from a 24-hour dentist, you can call Emergency Dentist 24/7 toll-free at (855)-352-6790. Our operators are standing by right now to take your call.
There are a wide variety of common injuries and emergencies that require immediate or as soon as possible dental care. Fortunately for you, these are often easily dealt with and do not require such a fuss once you've made it to an emergency dentist.