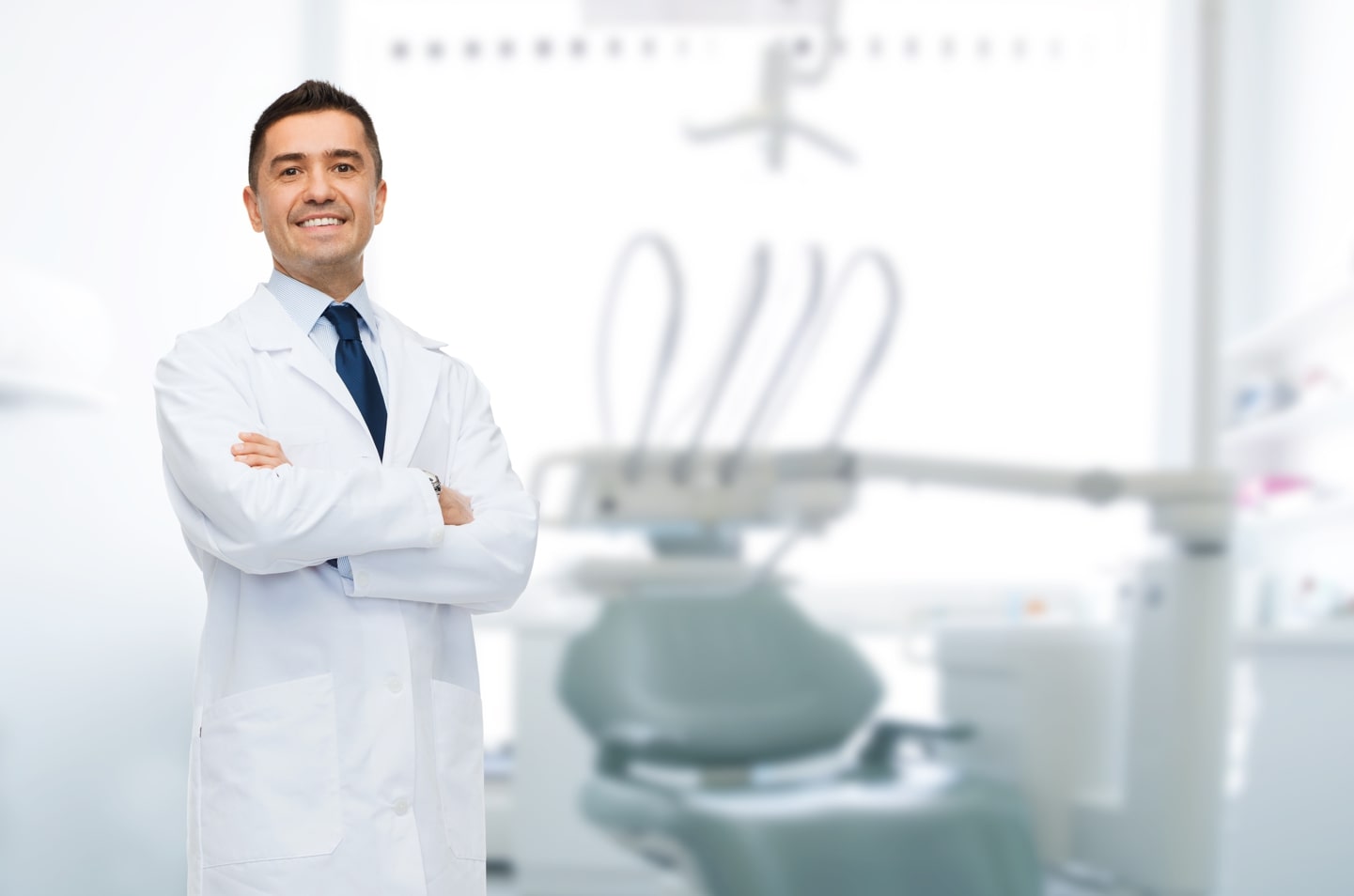 Find an Emergency Dentist

in Portland, OR
Dental Service in Portland, OR
Emergency Toothaches, Extractions, Pain Relief Today
Weekends, Nights and Holidays
1 (855) 352-6790
4 Dentists found in Portland, OR
/locations/portland-or/
Emergency Tooth Doctor Downtown
(21)
Emergency dental service
1505 SW Broadway, Portland OR 97201
Dr. Tyler Bradstreet DMD
511 SW 10th Ave #1214, Portland OR 97205
South Waterfront Dental
3671 SW River Pkwy, Portland OR 97239
Dental Implants Portland OR
Dental implants periodontist
300 NW 5th Ave, Portland OR 97209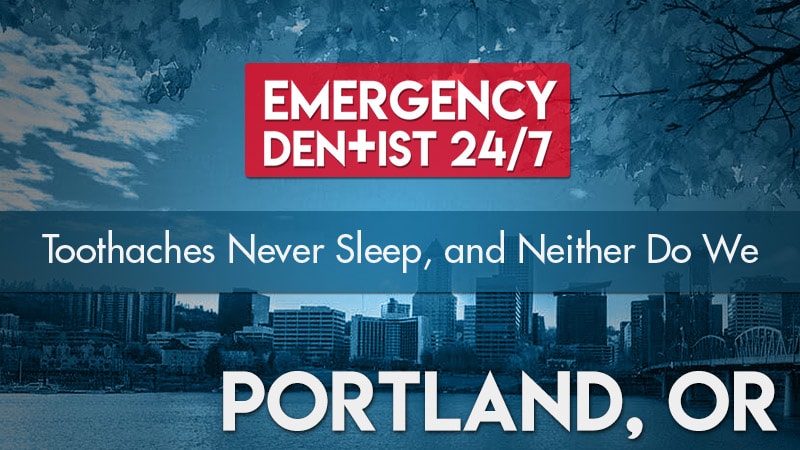 Nothing can be as alarming as trying to track down an emergency dentist in Portland when one isn't readily available. Because we've dealt with this exact situation in the past, we've created a 24-hour emergency dentist referral network for patients who require emergency dentist Portland help as soon as possible, if not immediately. All you have to do is give us a quick call at (855)-352-6790, give us some quick information, and we'll get back to you with an appointment booked in your name in as little as 24 hours.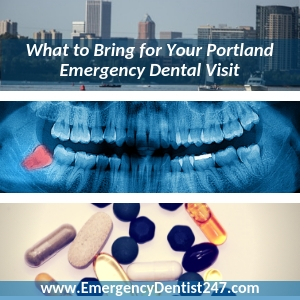 What You Need for Your Appointment
Before you leave for your appointment, you will need to make sure that you have everything that you will need ready to go:
A detailed list of all medications taken on a regular basis and any known allergies you may have
Insurance information needed for filing an insurance claim through dental insurance, if applicable
Any recent paperwork/documentation taken home from your most recent dental visit
It's best to give yourself some extra time, a minimum of 15, to fill out paperwork, ask questions, and make it known if you're feeling scared or anxious. The emergency dentist and their still will do their best to make sure you're comfortable and as calm as possible throughout your appointment, but they need to know how you're feeling both beforehand and throughout your procedure.
The Most Commonly Treated Dental Emergencies
Lost teeth and oral injuries are perfect examples of dental emergencies that have come from an accident or an injury, while oral infections are a prime example of an emergency that has arisen from an underlying, untreated oral health problem. Regardless of how it happened or what the situation is, you must ensure that any sustained head trauma is seen and treated before any other injury.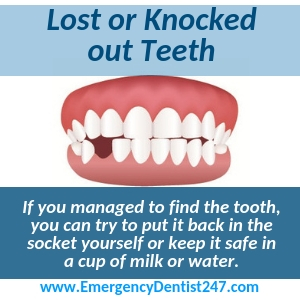 Lost Teeth
Losing a tooth, whether it's just fallen out randomly or has been knocked out, is a pretty alarming situation. However, if the tooth was knocked out, you may want to seek treatment at your local emergency room to figure out whether or not head trauma is present. If you've managed to find the lost tooth in question, make sure you handle it by the root as little as possible, if at all. Lost teeth should only be handled by the crown. Not doing so can actually destroy the tooth, making it impossible for the emergency dentist to implant it back into the empty socket. What you need to do now is put it back into the empty socket temporarily, or keep it preserved in a cup of milk or water.
Oral Infections
Oral infections, just like any other type of infection, should never be taken lightly. Time is not on your side and you will need to seek treatment as soon as you possibly can if you have one. If you suspect that you have one, call us right away. One of the best ways to figure out whether or not you have an oral infection, is to check your mouth for anything abnormal, such as a small, red bump. You should also monitor oral pain, as well. Most patients don't realize they have an oral infection until the pain starts, unfortunately.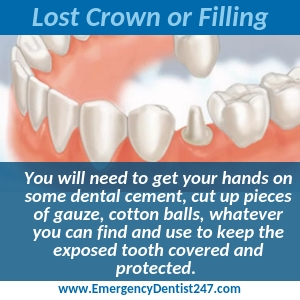 Lost Filling or Crown
Fillings and crowns are not meant to last a lifetime – they wear down with age and damage. However, this does not mean swift action isn't required on your part. You will need to get your hands on some dental cement, cut up pieces of gauze, cotton balls, whatever you can find and use to keep the exposed tooth covered and protected. You must be consisted and keep the tooth covered to avoid further damage. If additional damage is done to the tooth while you wait to get to the appointment we've booked for you, the emergency dentist may have no choice but to extract the tooth altogether. They can't refill or recap a tooth that's overly damaged.
Emergency Tooth Extraction
Unfortunately, sometimes an emergency tooth extraction is necessary due to the fact that a tooth cannot be saved for whatever reason. For example, after an accident where a tooth has been broken and is unable to be capped, filled, or be left as is. Knowing a bit about what to expect can help you prepare and ease your anxiety slightly. Don't worry about feeling any pain – a numbing agent is used at the beginning of the procedure. Once its had a chance to kick in, the tooth will be removed whole or by the piece. You will then be given a serious of instructions on how to take care of the extraction site at home. Be sure you follow these instructions properly to ensure you do not develop an infection and end up back at the emergency dentist's.
Same Day Denture Repair in Portland
Finding emergency denture repair Portland and same day denture repair in Portland has never been easy to do, but thanks to us adding denture lab technicians who work closely with emergency dentists to our network, we've changed the game. You can now have repairs made to your dentures, or even go through a full fitting for an entirely new set, all on the same day, during the single appointment we've booked for you.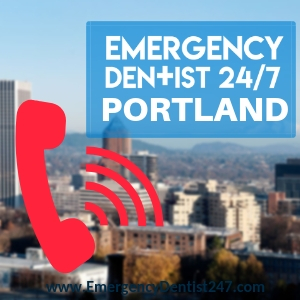 Needing an Emergency Room Doctor vs an Emergency Dentist
There are a lot of instances, such as a car accident, where both an emergency room doctor and an emergency dentist are needed. The most important question you need to ask yourself, though, is where you need to go first. Only an emergency room doctor can treat your head trauma. Unless they have an on-call emergency dentist, which is very rare, your teeth cannot be saved while you are in their care. An emergency dentist cannot treat your head trauma, but they can save your teeth. If you are receiving treatment for your head trauma, give us a call. We'll have an appointment booked for you with an emergency dentist as soon as possible.
For more information or to seek immediate help from a 24-hour dentist, you can call Emergency Dentist 24/7 toll-free at (855)-352-6790. Our operators are standing by right now to take your call.
There are a wide variety of common injuries and emergencies that require immediate or as soon as possible dental care. Fortunately for you, these are often easily dealt with and do not require such a fuss once you've made it to an emergency dentist.