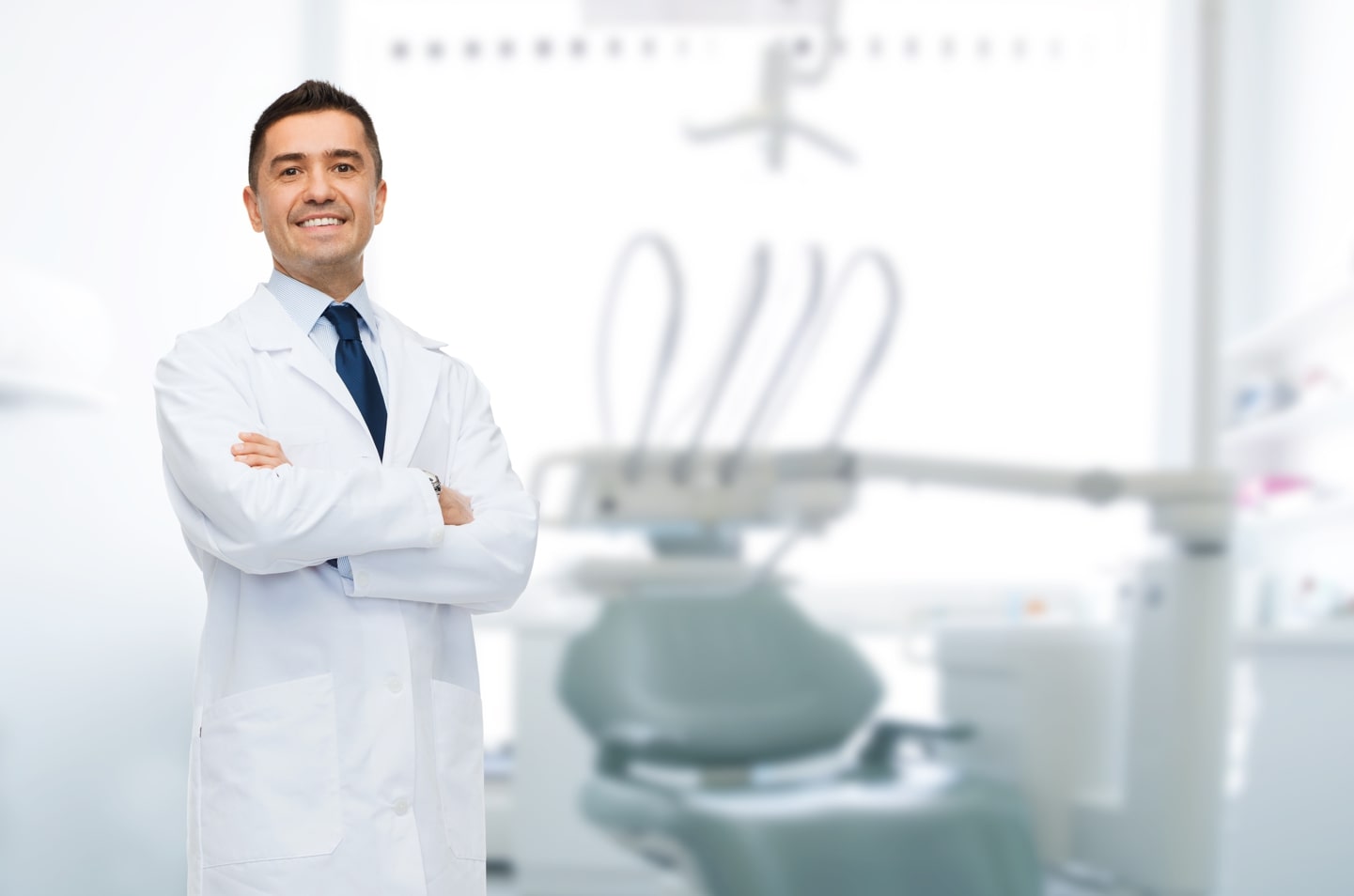 Find an Emergency Dentist

in Charlotte, NC
Dental Service in Charlotte, NC
Emergency Toothaches, Extractions, Pain Relief Today
Weekends, Nights and Holidays
1 (855) 352-6790
4 Dentists found in Charlotte, NC
/locations/charlotte-nc/
Genesis Family Dentistry
1020 E 10th St #1, Charlotte NC 28204
CPCC Dental Hygiene Clinic
1335 Elizabeth Ave, Charlotte NC 28204
Armstrong Thomas W DMD
201 Providence Rd, Charlotte NC 28207
Charlotte Dentistry, Armstrong & Eshleman, PA
201 Providence Rd, Charlotte NC 28207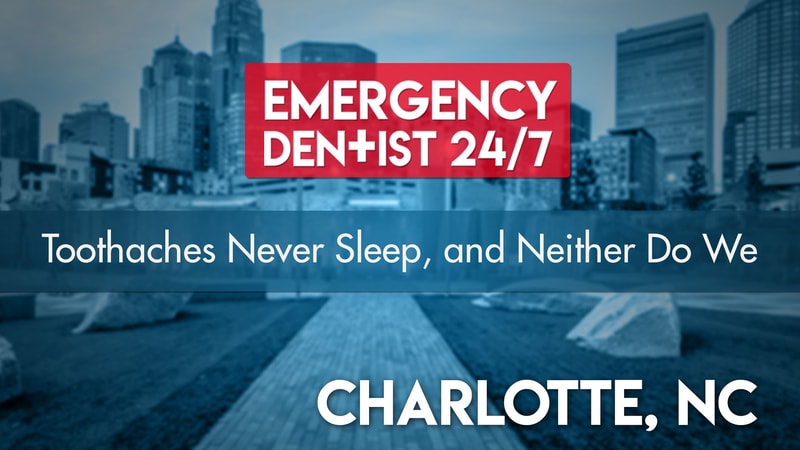 Emergency Dentist Charlotte
If you're up late at night on Google trying to find an emergency dentist in Charlotte, just know you're not alone. Painful dental emergencies are never an easy thing to go through. Thankfully, you've managed to find the right place to find the help you need. When you give us a call, we'll secure an appointment with an emergency dentist in Charlotte for you in as little as 24 hours. Our emergency dentist referral network makes getting an appointment easy, so don't hesitate in calling us right away.
What You Need to Bring to Your Charlotte Emergency Dentist Appointment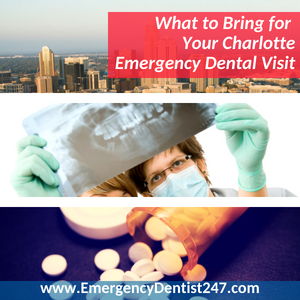 After you've called us to book an appointment for you, you're going to need to round up a few items to bring with you. Make sure you've got a piece of acceptable personal identification, for starters. A driver's license will work just fine, for example. If you've been to see your regular dentist recently and brought paperwork, or even a detailed receipt, home, make sure you have that ready to go to bring with you, as well. If you've had any work done recently and have any paperwork that you can bring, it'll help the emergency dentist and their team greatly. If you're currently taking any medications or know about any allergies you may have, making a list will also help the emergency dentist and their team. They need to know this information to ensure they don't give you anything during your appointment that will cause an allergic reaction or clash with any medications you're currently on. Once we've called you back to give you the details of your appointment, you should consider calling ahead to see if your dental insurance, if applicable, is accepted. If not, it couldn't hurt to ask roughly how much your appointment will cost you. On the day of your appointment, make sure you arrive at least 15 minutes early. Emergency dentists operate just like your regular dentist does, so you'll need to give yourself some time in advance to fill out paperwork and ask any questions you may have. Finally, make sure you let the emergency dentist know about any anxiety or concerns you may have. A fear of the dentist is more common than you'd think, so they know how to keep their patients comfortable.
Same Day Denture Repair in Charlotte
If your dental emergency involves your dentures, we can get you the help you need for that, too. Because there are emergency dentists in our referral network who work with denture lab technicians, emergency denture repair Charlotte is accessible through us, as well. We can have your current set repaired or have you fitted for an entirely new pair on the same day of your appointment.
The Most Common Dental Emergencies
Because dental emergencies don't care who you are and what you have to do tomorrow, identifying what you're going through and knowing what to do until you can get to the appointment we've booked for you is your best bet. Not all dental emergencies make themselves known right away, like a lost tooth would, for example. Others, such as an oral abscess, build up over time and don't always show themselves until it becomes an emergency. If you've been in an accident and received trauma to the head, no matter how minimal it may be, you need to go to your local emergency room for treatment right away.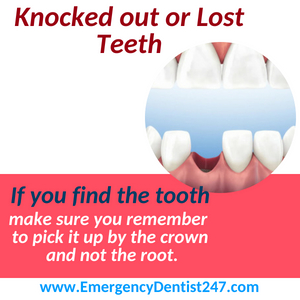 Lost or Knocked Out Teeth
If you've lost or have had a tooth knocked out, make sure you're clear of head trauma before you do anything else. If you're 100% sure, you should try and find the tooth. If it hasn't taken too much damage, and you make sure you preserve it until we can get you to an emergency dentist, implanting it back in the empty socket shouldn't be a problem. Once you've found the tooth, make sure you pick it up by the crown, which is the part of the tooth that's visible in your mouth. Picking it up by the root, the bottom of the tooth, is the best way to damage it to the point of no return. Rinse it off with some water and, if you feel comfortable doing so, you can try and stick it back in the socket yourself. This is the best way to preserve it until you can see an emergency dentist, but don't force it. You could damage the tooth doing so. Another temporary preservation method is keeping the tooth submerged in a cup of water or milk. Doing so isn't the best preservation method, as we mentioned before, but it's certainly better than nothing.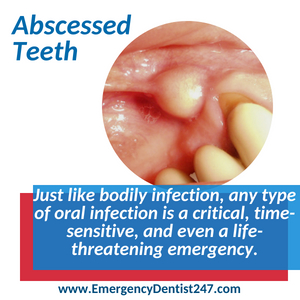 Abscessed Teeth and Oral Infections
It's extremely important that you know how dangerous abscessed teeth and oral infections are. Just like bodily infection, any type of oral infection is a critical, time-sensitive, and even a life-threatening emergency. An abscessed tooth, or an oral infection, in general, form in even the smallest ways. A chipped tooth in an area where your toothbrush can't reach, for example, becomes a breeding ground for bacteria and, if left untreated, an oral infection. Using a compact mirror, or any small mirror you can find, closely examine your entire mouth for anything that resembles a pimple. If you spot one, call us immediately.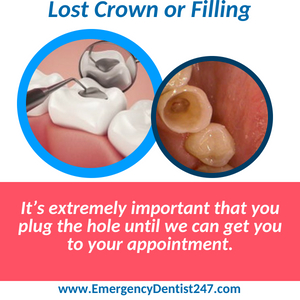 Lost Fillings or Crowns
Fillings and crowns don't last forever, especially if they've taken some damage. They can not only wear down to the point of needing to be fixed, but they can even fall right out of the tooth. Because you had a filling or a crown put in to protect the tooth from further harm, it's extremely important that you plug the hole until we can get you to your appointment. Dental cement, a cotton ball, or even a piece of gauze will do just fine.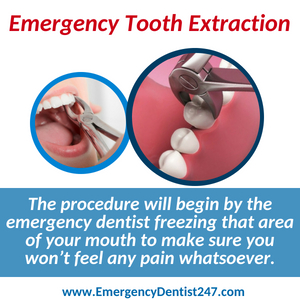 Having an Emergency Tooth Extraction
Right off the bat, it's important for you to remember that not all dental emergencies will lead to an emergency tooth extraction. The emergency dentist and their team will first do whatever they can in order to save a tooth before they make the decision to remove it. If there's no other choice, however, don't worry. The extraction site will be completely numb so that all you feel is a bit of pressure and no pain. The emergency dentist will use a pair of dental pliers to gently rock the tooth around in the socket until it pops right out. If the tooth can't be removed this way, he or she will carefully break the tooth up into smaller pieces and remove them bit by bit. Once the procedure is completed, the emergency dentist will go over aftercare instructions with you. It's crucial that you follow their instructions for care at home to ensure you don't end up with an oral infection.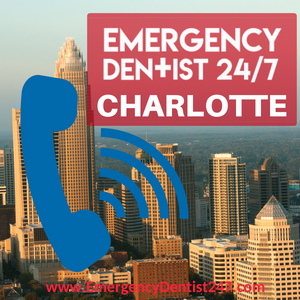 Emergency Room vs Emergency Dentist
If you've been in a serious accident or some other event that resulted in you sustaining head trauma, among other injuries, you need to assess the situation very carefully and make a decision. Remember, no matter which other injuries you may be dealing with, any sort of trauma to the head means you must seek treatment from your local emergency room before anything else. Charlotte emergency dentists are only equipped to save your teeth, treat soft-tissue injuries, and minimally manage your pain. Emergency room doctors can't save your teeth, but they can fully manage your pain, treat your injuries, and, most importantly, treat your head trauma.
For more information or to seek immediate help from a 24-hour dentist, you can call Emergency Dentist 24/7 toll-free at (855)-352-6790. Our operators are standing by right now to take your call.
There are a wide variety of common injuries and emergencies that require immediate or as soon as possible dental care. Fortunately for you, these are often easily dealt with and do not require such a fuss once you've made it to an emergency dentist.