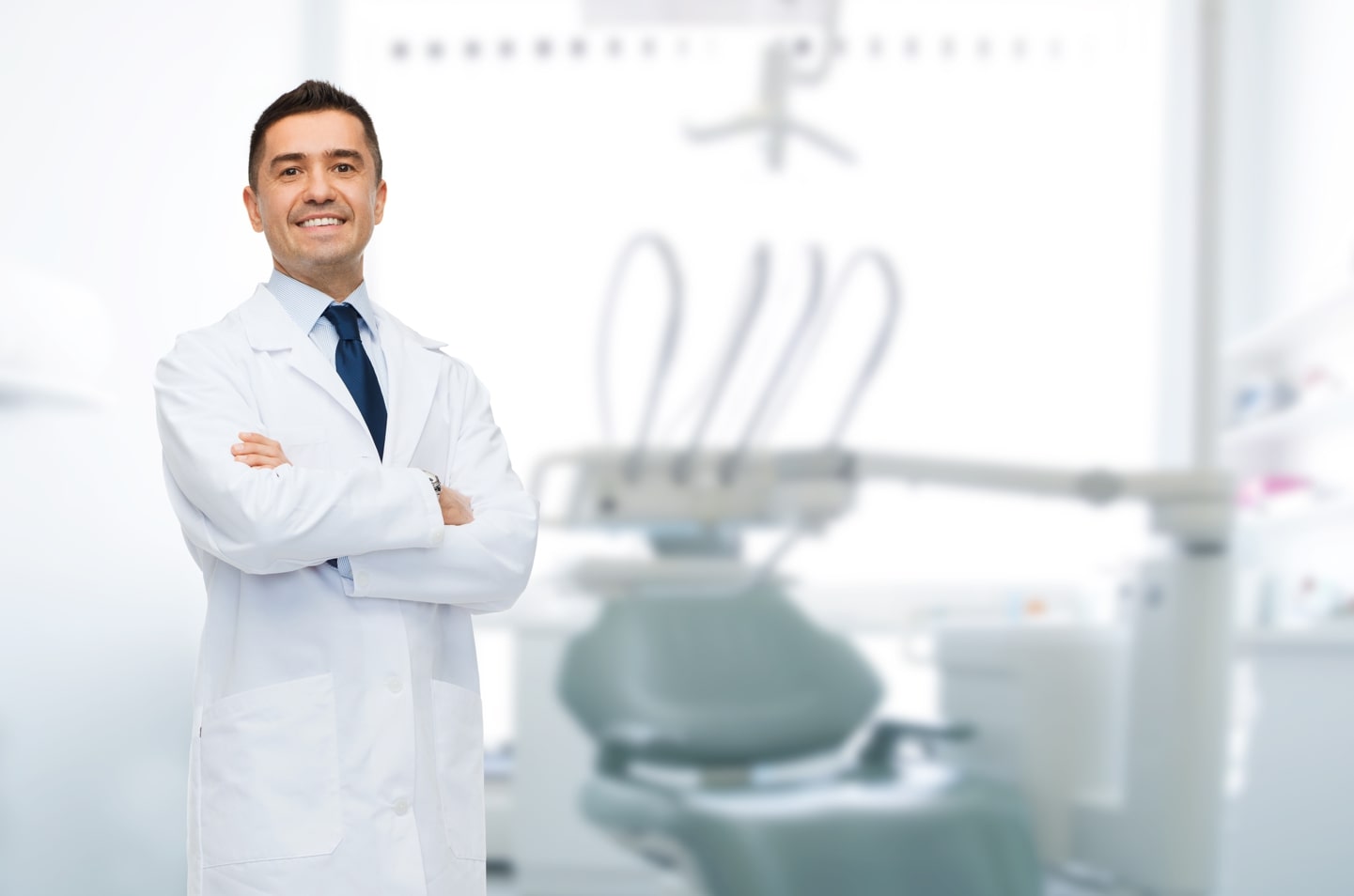 Find an Emergency Dentist

in Indianapolis, IN
Dental Service in Indianapolis, IN
Emergency Toothaches, Extractions, Pain Relief Today
Weekends, Nights and Holidays
1 (855) 352-6790
4 Dentists found in Indianapolis, IN
/locations/indianapolis-in/
Mass Ave Family Dentistry
310 N Delaware St, Indianapolis IN 46204
Teeth Whitening Indianapolis
133 W Market St, Indianapolis IN 46204
Fountain Square Dental Clinic
1122 Shelby St, Indianapolis IN 46203
Summerlin Family Dentistry
3351 N Meridian St, Indianapolis IN 46208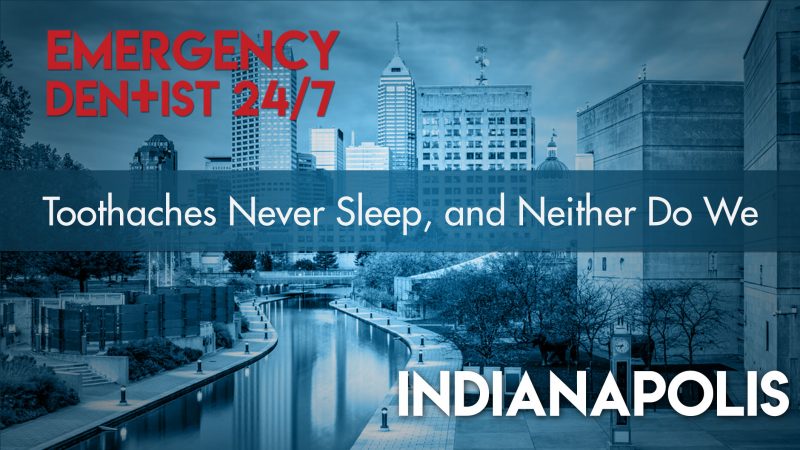 Indianapolis isn't the city you're looking for? Trying to find a 
24 hour dentist near you
? Search our directory!
Emergency Dentist Indianapolis 24/7
Everyone feels pain throughout their lives, but when this pain decides to strike in the middle of the night, you need an emergency dentist in Indianapolis. The only problem, however, is locating one at this hour who will be able to help you as soon as possible. Because we've endured these struggles ourselves, we've teamed up with some of the best dentists, both emergency and regular, in order to personally make sure that every patient in Indianapolis can have an appointment booked for them in as little as 24 hours.
What You Need to Bring With You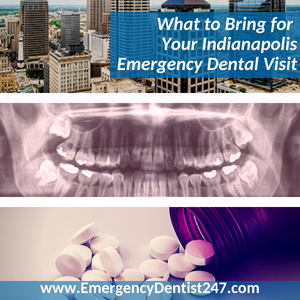 Showing up on time to your emergency dental appointment simply won't do. Before you get ready and go, make sure you have some necessary documentation and information on you. First, it's important to not stress over any anxieties you may have over going to the dentist. All of the emergency dentists, including their staff, as well, we have in our network understand the fears that patients have. Because of this, for the entire duration of your appointment, they will do whatever they can to keep you calm and comfortable. If you haven't already inquired into whether or not your insurance will be accepted, you need to do so before you arrive. If your insurance is accepted by their office, make sure you have all of the information they'll need to make and process your insurance claim when you arrive. They will take care of that while you are receiving your treatment. Unfortunately, unless you are covered for dental emergencies, it's unlikely your insurance will be accepted. If this is the case, you should ask roughly how much the entire appointment will cost you. Arriving at least 15 minutes before your appointment is due to start is another important thing to remember. Like visiting a regular dentist for the first time, an emergency dentist will also require you to fill out some paperwork to build a patient profile. If you've had any recent trips to your regular dentist, regardless of what they were for, make sure you bring any receipts, documentation, or information you were given at that time. This will help your emergency dentist get an idea of what you've had done in the past. Finally, your emergency dentist and their team must be aware of any allergies you may have, if you're currently on any medications, and the names of each medication you take. This is very important information for them to have so they don't use anything during your appointment that would clash with your medication, give you an allergic reaction, or cause any type of incident, in general.
Some of the Most Common Dental Emergencies
Dental emergencies are incredibly rude. They don't care how much money you make, whether you can take the day off to deal with them, etc. Because they're like a nosy neighbor who won't leave you alone, they have to be dealt with as soon as they arise. There a lot of dental emergencies, such as having a tooth knocked out, that will make themselves known immediately. Others, however, are the result of underlying problems that you either didn't know about or didn't care enough about to treat previously, such as an oral infection or abscess, for example. However, not everything to do with your head and your mouth will require a trip to the emergency dentist. Head trauma from a car accident, for example, will require you to seek help at your local hospital's emergency room.
Having a Tooth Knocked Out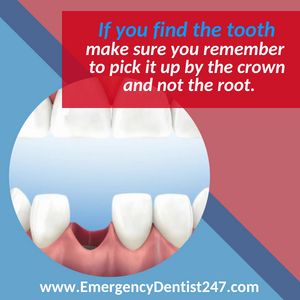 Regardless of how your tooth was knocked out, don't leave it where it is. You should try to find the dislodged tooth if you can, because your emergency dentist may be able to save it and put it safely back into the empty socket! Once you've given us a call to set you up with an emergency dental appointment, look around and see if you can find it. If you've managed to find it, make sure you pick it up by the crown. Picking the tooth up by the root can damage it, which in turn may result in your emergency dentist not being able to save it due to the damage of you handling it the wrong way. If the root of the tooth is okay, as well as the empty socket where it came from, you can try to stick it back in yourself. Doing so, however, is only a temporary measure, but it's the best way to preserve the tooth and keep it safe until we can get you to your appointment. If putting it back in yourself isn't possible, rinse the tooth off and place it in a cup of milk or water. It may not be the best preservation method, but it's the next best thing to putting it back into the socket until you can see the emergency dentist. Keep in mind, though, if your tooth was dislodged as a result of a car accident, for example, and you walked away with some head trauma, you need to go to the emergency room. We will book your appointment for you with an emergency dentist while you receive treatment for any trauma-related injuries, so don't worry.
Abscessed Teeth and Oral Infections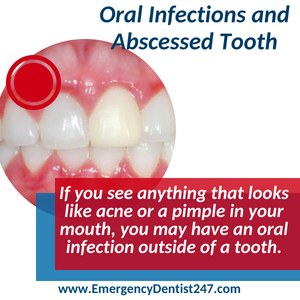 No dental emergency is as time-sensitive and potentially life-threatening as an abscessed tooth or oral infection. The reasoning behind this is because you're risking serious, irreversible oral damage and, if left completely untreated, fatal blood poisoning. Oral infections and abscessed teeth can develop from something as small as a chip in a tooth along the gum line. Food and debris are able to make their way inside the tooth through this hole, where your toothbrush isn't able to go. If you see something that looks like a pimple in your mouth, you need to get on the phone and call us straight away. Abscessed teeth and oral infections are never a joke and cannot be put off. Your life depends on having it treated before it gets to the point where you're in the hospital and not at the emergency dentist.
Busted Crowns and Fillings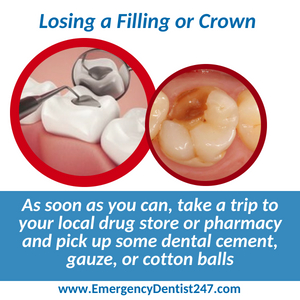 If you've had a crown or a filling break, which resulted in it falling out, you need to get on this dental emergency straight away. After you've called us to book an appoint with an emergency dentist for you, you need to plug up the hole. Dental cement is the best way to keep the hole covered while you wait for your emergency appointment, but you can also use a small piece of gauze and even a bit of cotton ball. Whatever you use to do it, make sure the hole is always covered. If your busted and/or lost crown or filling is left open, you're risking total destruction of that tooth, which will result in the emergency dentist choosing to pull it out instead of filling it back up. Unfortunately, if a crown or a filling falls out, it becomes a time-sensitive issue, and not plugging the hole in time causes irreversible damage.
Going for an Emergency Tooth Extraction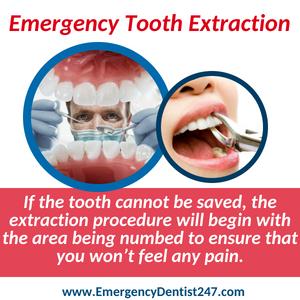 The thought of having to get a tooth pulled puts everyone on edge, no matter who you are. Because of this, it's important to remember that your emergency dentist and their team will do everything they can to save the tooth before they have to make the decision to pull it, so don't lose hope yet! Your emergency dentist and their team will also make sure you're completely comfortable during the entire extraction procedure. If you're uncomfortable at any time, they will tell you to put your hand up and they will stop to give you a break, for example. The process of extracting a tooth will begin by your emergency dentist freezing the extraction area. Because that area is frozen, you won't feel any pain at all. The only thing you'll likely feel is some light pressure, but that's it. Next, they will use a pair of dental pliers, which are not as scary as they sound, to carefully rock the tooth around in the socket to pop it out. If, however, it refuses to come out, he or she will gently break it up into smaller pieces and extract the tooth this way. Before you leave to go home, your emergency dentist, or someone from their team, will sit with you to go over aftercare instructions that you must follow at home. To make sure that the healing process goes as smoothly as possible, you must follow their instructions to the exact letter.
Same Day Denture Repair in Indianapolis
If you've ever struggled with trying to track down same day denture repair in Indianapolis, or even emergency denture repair Indianapolis, trust us when we say that you're not alone. Because we've had a lot of patients come forward needing help with their dentures, we've made sure to have emergency dentists who have connections to lab technicians for the purpose of fixing and/or having you fitted for dentures. We can have your dentures fully restored or have you fitted for a brand new set on the same day as your emergency dental appointment.
Going to the Emergency Room vs. the Emergency Dentist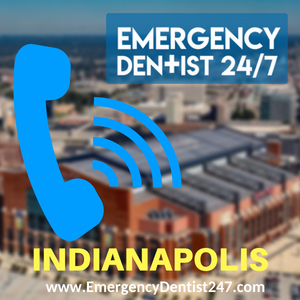 It's very important to know which emergency help you need first, be it your local hospital's emergency room or an emergency dentist. If you've had an accident that has left you with broken teeth and head trauma, the first place you need to visit is your hospital's emergency room. They are not equipped to save your teeth, but they are able to treat your head trauma. While you are at the ER, make sure you call us so we can get you in to see an emergency dentist as soon as possible. Emergency dentists, however, are not able to treat your head trauma, but they are fully equipped to save your teeth.
For more information or to seek immediate help from a 24-hour dentist, you can call Emergency Dentist 24/7 toll-free at (855)-352-6790. Our operators are standing by right now to take your call.
There are a wide variety of common injuries and emergencies that require immediate or as soon as possible dental care. Fortunately for you, these are often easily dealt with and do not require such a fuss once you've made it to an emergency dentist.