Since its founding, our site has always held fast to the same mission as every practitioner we partner with. Our primary goal is to provide immediate relief to those suffering from toothache pain.
We meet this mission primarily by providing a emergency helpline staffed with expert referral specialists who have each spent years matching patients to the dental help they need. We know that paying for the dentist is expensive enough as it is, so we provide this helpline at absolutely no charge to our users – it is, and will forever remain, 100% toll-free.
Furthermore, we don't just try to find the closest dentist on Google – you could do that yourself. Instead, we work with a network of featured partners across the United States, each of whom has been thoroughly vetted by our expert dentist (see below.) If you have a specific need (for special care dentistry or pediatric/senior dentistry, for example), we'll find you a practitioner who meets that need. If you don't have dental insurance, we'll help you find a payment plan. Our specialists will even set up an appointment for you if you so choose!
We also provide an online listing of all our partners and a blog full of authoritative information to help you better prepare for your appointment. You can learn more about the high standards we hold the blog to by reading our editorial guidelines page.
We Recognize The Need
At our site, we have all been caught in a serious dental emergency and know how scary it can be. Some of us have even had dental emergencies occur while we were traveling, and have had the experience of trying to find a trustworthy dentist in an unfamiliar city.
That's why we want to make it easy to find immediate relief that you can trust, without worrying about what kind of office you're going into. Because we recognize the need for quality emergency dentistry, we are better prepared to meet it.
We are an Emergency Dental Service that has been relieving toothaches across all 50 states for many years. Our extensive network of independently-owned dental offices have agreed to see patients on short notice, usually within 24 hours of a telephone call. Most offices are open 6 days a week. Many offices will see an emergency patient after normal business hours, weekends and holidays.
---
Our Expert Dentist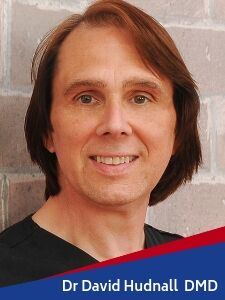 Dr. David R. Hudnall, DMD, is a healthcare manager, dental practitioner, and dental administrator who has over 21 years of experience in the oral health industry.
Dr. Hudnall graduated from West Virginia State University with a Bachelor of Science degree in Chemistry before entering the workforce. After working for some time in the field of compliance and agricultural research at a few government agencies, Dr. Hudnall decided to change careers. His journey to becoming a member of the oral health industry began with a Doctor of Dental Medicine (DMD) degree from the University of Louisville, which he received in 1996.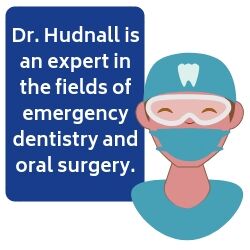 That same year, Dr. Hudnall relocated to South Carolina to begin his own private practice. For three years, he operated a general practice just like any other nine-to-five dentist. But in 1999, Dr. Hudnall realized that what many of his patients REALLY needed was a dentist who could assist them with emergencies that occurred outside of normal business hours. He decided to become a full-time emergency dentist, dealing in general emergency dental services with specializations in implant prosthodontics (including dentures) and oral implantology.
Dr. Hudnall continued his emergency dentistry practice for 18 years while simultaneously participating in a number of continuing education programs. He became an expert in the fields of emergency dentistry and oral surgery. And in 2015, Dr. Hudnall received additional training from the Live Implant Training Institute so that he could begin providing implant and denture services to his patients. This is the practice of restoring function to patients who have lost their natural teeth to gum disease or tooth decay.
Dr. Hudnall also became a member of both the International Congress of Oral Implantology and the American Academy of Implant Prosthodontics.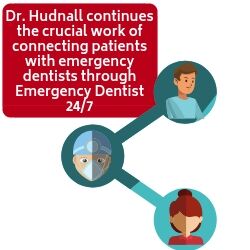 Although Dr. Hudnall retired from private practice in September of 2017, he continues the crucial work of connecting patients with emergency dentists through Emergency Dentist. As an expert in emergency dentistry who understands the industry better than anyone, Dr. Hudnall personally vets any partnered dentists you see featured on the site. He makes sure that we're only connecting patients to quality care providers who understand the modern dental industry and who are prepared to deal with any emergency you may experience.
He also contributes to our blog – sometimes by writing a section himself, but always by looking over and editing what our expert team has written. By making sure the information we provide is as accurate and authoritative as it can be, he helps our readers understand how to navigate the availability of emergency dentists, what to expect from an appointment with an emergency dentist, and what kind of special procedures such a dentist might perform.
Our Team
We believe our mission can only be achieved with transparency and honesty, which is why we're proud to present the team that's helping bring Emergency Dentist's mission to life:
ANDREI MAKARIK AND MARISOL RAMOS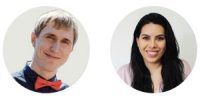 Andrei and Marisol are our team's web developers.
Andrei has years of technical expertise in the field of web design and makes sure that the our site (and its all-important dentist listing) remains online at all hours of the day or night, as well as making crucial user experience improvements. Marisol is a graphic designer with over a decade of experience who keeps the site looking beautiful even years after its initial founding.
LUIS TORIO AND KENNEDY MARTINEZ

Luis Torio and Kennedy Martinez are writers and marketers with over a decade of combined experience. They maintain our dental blog and help get the Emergency Dentist name out there on various business listings and at the top of Google search results, so that we can help as many customers as possible.
They work to provide content that is easy for a layperson to read while partnering with our expert dentist to make sure that it's also factually accurate and based in scientific evidence.
Customer Support Office Hours
Our customer support staff is available Monday through Friday from 9 AM CST – 5 PM CST.
1 (855) 352-6790