Home
/
Cheap Dental Care Near Me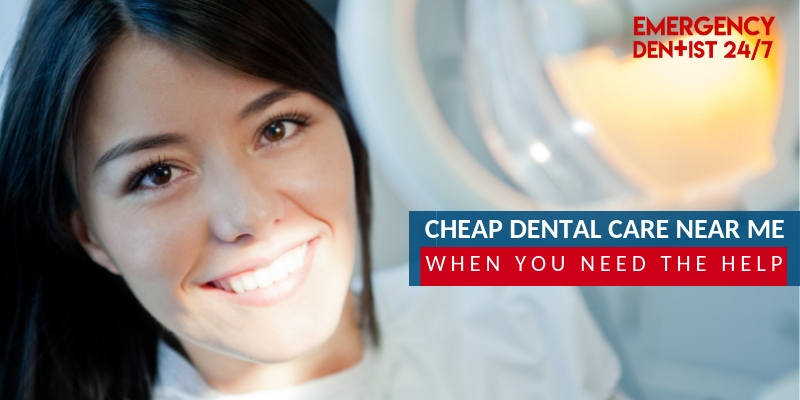 Receiving dental care regularly is essential to living a healthy life and having a healthy mouth. However, there are many Americans who cannot afford the cost of visiting a dentist or feel that a low-cost dentist is too far out of reach, especially in the case of a dental emergency. Luckily, there are many resources available to you to find dentists in the United States who provide cheap and affordable dental care.
Where can I find an affordable dentist near me?
If you are uninsured but still are in need of affordable emergency dental care, there are many places you can turn to that can provide you with the care that you need for little to no cost.
Public dental clinics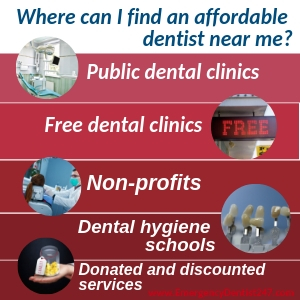 Most cities offer public dental clinics that are taxpayer-funded and run by local or state health departments. They charge low, fixed prices or sliding scale fees based on your budget and what you can afford. These clinics offer most basic dental care procedures such as exams, cleaning, x-rays, root canals, and fillings. They may be able to do surgical tooth extractions or have emergency dentists on call.
Free dental clinics
There are a lot of charities, faith-based groups, and professional dental organizations that donate their dental services to the public. However, they can have long waitlists for receiving care. Some will have income cutoffs or only serve seniors and those with disabilities. If you need to find a free dental clinic near you, you can use online resources like needymeds.org to find care.
Non-profits
Some cities have clinics that specifically serve those with low incomes, no insurance, or who can't afford care. They often run or organized by non-profit organizations in the area. If you are in need of dental care you can search for clinics online. United Way's 211.org is a great resource for finding care in your city. You can also get in contact with your city's local United Way as they may have recommendations for affordable dental care.
Dental hygiene schools
Dental hygiene schools are great sources for cheap and affordable dental care. They may have less available for emergency services, but they are readily available in every state. Schools are full of students looking for hands-on training to graduate. They run clinics where students treat the public at reduced prices. Services often include root canals, fillings, and basic exams and cleanings. A licensed supervisor will be present during the entire appointment to make sure the treatment is being done correctly. If you're interested in visiting a dental school you can search the Commission on Dental Accreditation for a dental school near you.
Donated and discounted services
You may be able to find donated or discounted services in your city. Many state and national charities use donate labor and materials to give free care to those in need.
For university students, dentists may offer promotions or discounts. Start by calling a few dentists in your college town to find out what discounts they can offer for you. Your school's health center may also have a dental office available to you for little cost.
Cheap Emergency Denture Repair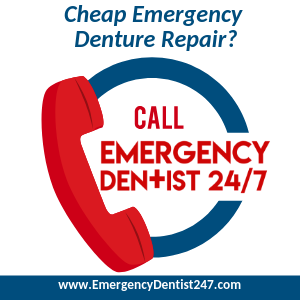 It's never convenient when your dentures suddenly break and need to be repaired. It can be stressful finding denture repair that's fast and affordable. However, there are low-cost options for denture repair and replacements.
Affordable dental care for seniors
As one gets older, more dental concerns can arise. This can be anything from room decay, gum disease, and tooth loss. There are many dental clinics that exclusively serve elderly people. For example, Dental Lifeline is a free dental service that operates in all 50 states and accepts people 65 and over and those with serious medical conditions. If accessibility is an issue, Dental Lifeline may be able to make house calls depending on your location.
Low-cost dental care for veterans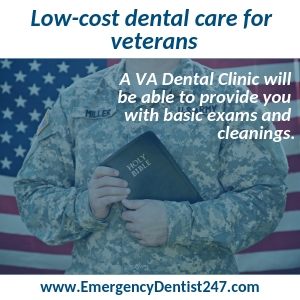 If you are a veteran you may be eligible for dental benefits. The Department of Veterans has a database for VA Dental Clinics that can offer you free or low-cost dental care. For emergencies, treatment may be limited. However, a VA Dental Clinic will be able to provide you with basic exams and cleanings.
Inexpensive dentists for children
If you need to find affordable dental care for your child there are many options available to you. There are programs similar to Dental Lifeline matches low-income children with volunteer orthodontists to receive treatments. Missions of Mercy is another program run America's Dentists Care Foundation. They often hose free two-day dental clinics across the United States. Most of them treat children and don't require proof of income. You can check online for dates and locations.
Frequently Asked Questions- Affordable Dental Care
Can I receive affordable dental care without insurance?
If you don't have insurance, but still need to receive dental care there are clinics available to you. Many clinics will offer low-cost treatments or work out a payment plan with you that fits within your budget.
Where can I find affordable care if I have a dental emergency
Most dental clinics have an emergency number or on-call dentist that you can contact for care. Ask about payment and insurance to see if they will be able to offer you care at a low-cost. If you are having trouble finding a dentist, try contacting a state or national dental association for a recommendation for where to receive care.