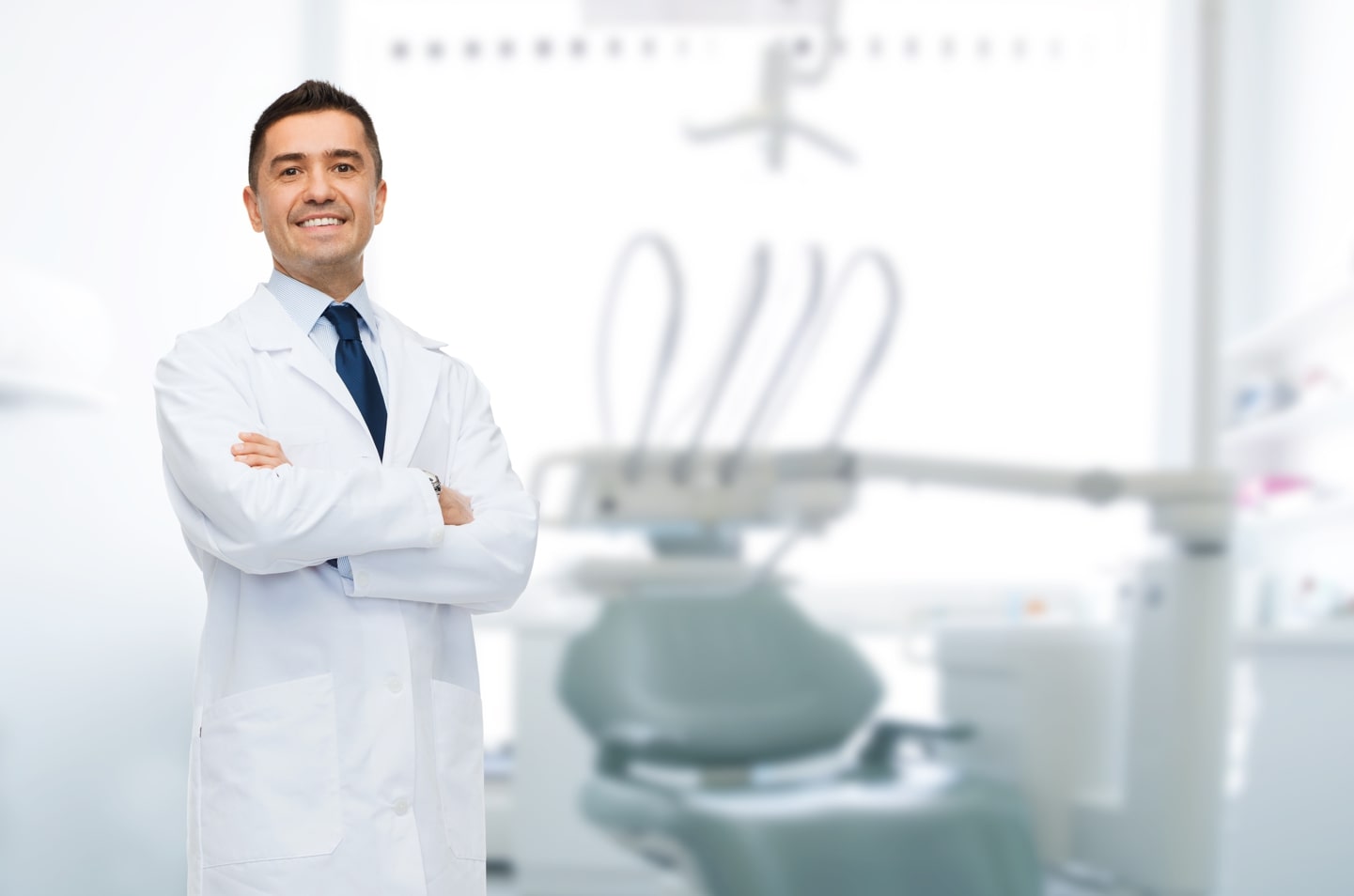 Find an Emergency Dentist

in Long Beach, CA
Dental Service in Long Beach, CA
Emergency Toothaches, Extractions, Pain Relief Today
Weekends, Nights and Holidays
1 (855) 352-6790
4 Dentists found in Long Beach, CA
/locations/long-beach-ca/
General & Cosmetic Family
541 W Willow St, Long Beach CA 90806
Closes at
Wednesday
Closed.
Closed.
Jeff Velasquez, DDS Long Beach Dentist
541 W Willow St, Long Beach CA 90806
Closes at
Wednesday
Closed.
Closed.
Myrian Limfueco Soriano, DMD - Family & Cosmetic Dentistry
720 E Willow St, Long Beach CA 90806
Newport Dental
3383 Long Beach Boulevard, Long Beach CA 90807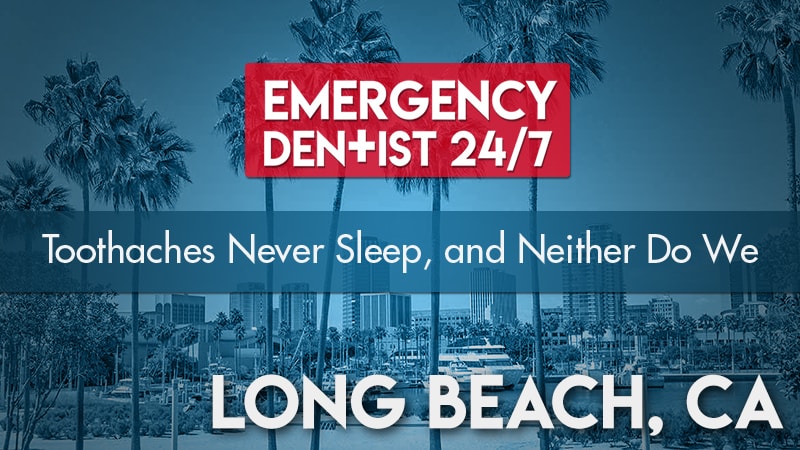 Emergency Dentist Long Beach, CA
It can be alarming and scary when you're hit with a dental emergency. What's worse is that they seem to come when traditional dental offices are closed. That's why we've built a 24-hour emergency dentist referral network here in Long Beach, CA. Our staff will be able to get you the care you need. Your appointment will be scheduled within 24 hours of your call.
What to Bring to Your Long Beach Emergency Dental Visit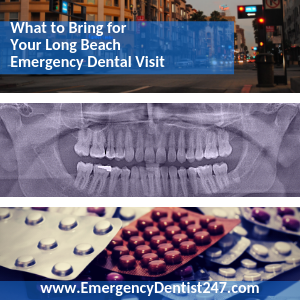 Before your appointment, there are a few things you should do to prepare for your emergency dental care. You should first gather any recent dental records that you have such as detailed receipts or x-rays. This will help your emergency dentist determine the best type of care for you. Then, be sure to call your emergency dental office before your appointment to make sure they accept your payment method and dental insurance. If you don't have insurance, it's a good idea to get a cost estimate and work out any payment plans if needed. Arrive at your appointment 15 minutes early. This will allow time for you to fill out any necessary paperwork and ask any last questions. Finally, if you have a fear of the dentist, let the dental staff know. They will do their best to make sure you are comfortable during your visit.
Same Day Denture Repair in Long Beach
Same day denture repair can be a hassle to find in Long Beach. Thankfully, we've eliminated the need for multiple appointments. Our emergency dentists work alongside denture lab technicians so you don't have to worry about scheduling multiple appointments. You can have your dentures repaired or be fitted for new ones in one single appointment.
Common Long Beach Dental Emergencies
Dental emergencies often require immediate medical attention so call us as soon as you can if you're experiencing one. Here are some common dental emergencies and how to manage your pain if you're in this situation.
Oral Infection
Oral infection or tooth abscess is a serious condition so it's important to be aware of them. These infections thrive near chipped teeth and the gums. If you notice a pimple like a bump in your mouth, call us and get your appointment booked. If untreated, an oral infection can become an extremely dangerous and life-threatening situation.
Lost Tooth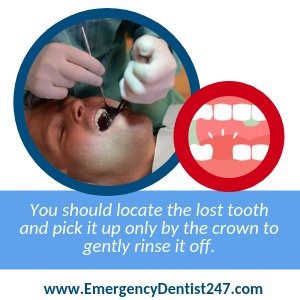 It can be alarming to find that you've lost one of your adult teeth. However, if no damage has been done to the tooth, your emergency dentist may be able to put it back into place. You should locate the lost tooth and pick it up only by the crown to gently rinse it off. If picked up by the root, irreversible damage can be done and it will not be able to be replaced. You can try temporarily lodging the tooth back into place, but if you're not comfortable with this you can preserve the tooth by placing it in a glass of milk.
Lost Fillings
Losing a filling or crown is quite common. To avoid damage, you will want to use dental cement or gauze to cover the open tooth. Then, locate the missing filling and gently rinse it off and place it in a small cup of milk or water until your dental appointment.
Emergency Tooth Extraction
Dentists handle emergency tooth extractions more often than not. Your emergency dentist will start by numbing your mouth so you won't feel any pain. They will then begin rocking your tooth back and forth with a pair of dental pliers until the tooth comes out. Sometimes, they may have difficulty removing it and will break the tooth into smaller pieces to fully extract it. After the procedure, your dentist will give you instructions for caring for your empty socket. Follow these carefully for a quick healing period.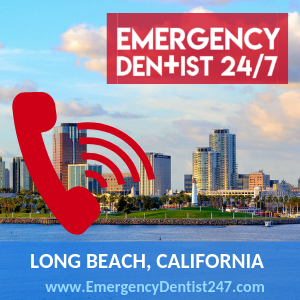 Emergency Room vs. Emergency Dentist
A Long Beach emergency room doctor will be fully equipped to treat any head-trauma you've endured, such as a concussion. Go to the hospital immediately if you think you may be suffering from any head-trauma. If the injuries you've sustained are mostly oral related, such as multiple lost teeth, an emergency dentist will be a better fit to provide you treatment. Call us today to get your emergency dental appointment scheduled.
For more information or to seek immediate help from a 24-hour dentist, you can call Emergency Dentist 24/7 toll-free at (855)-352-6790. Our operators are standing by right now to take your call.
There are a wide variety of common injuries and emergencies that require immediate or as soon as possible dental care. Fortunately for you, these are often easily dealt with and do not require such a fuss once you've made it to an emergency dentist.