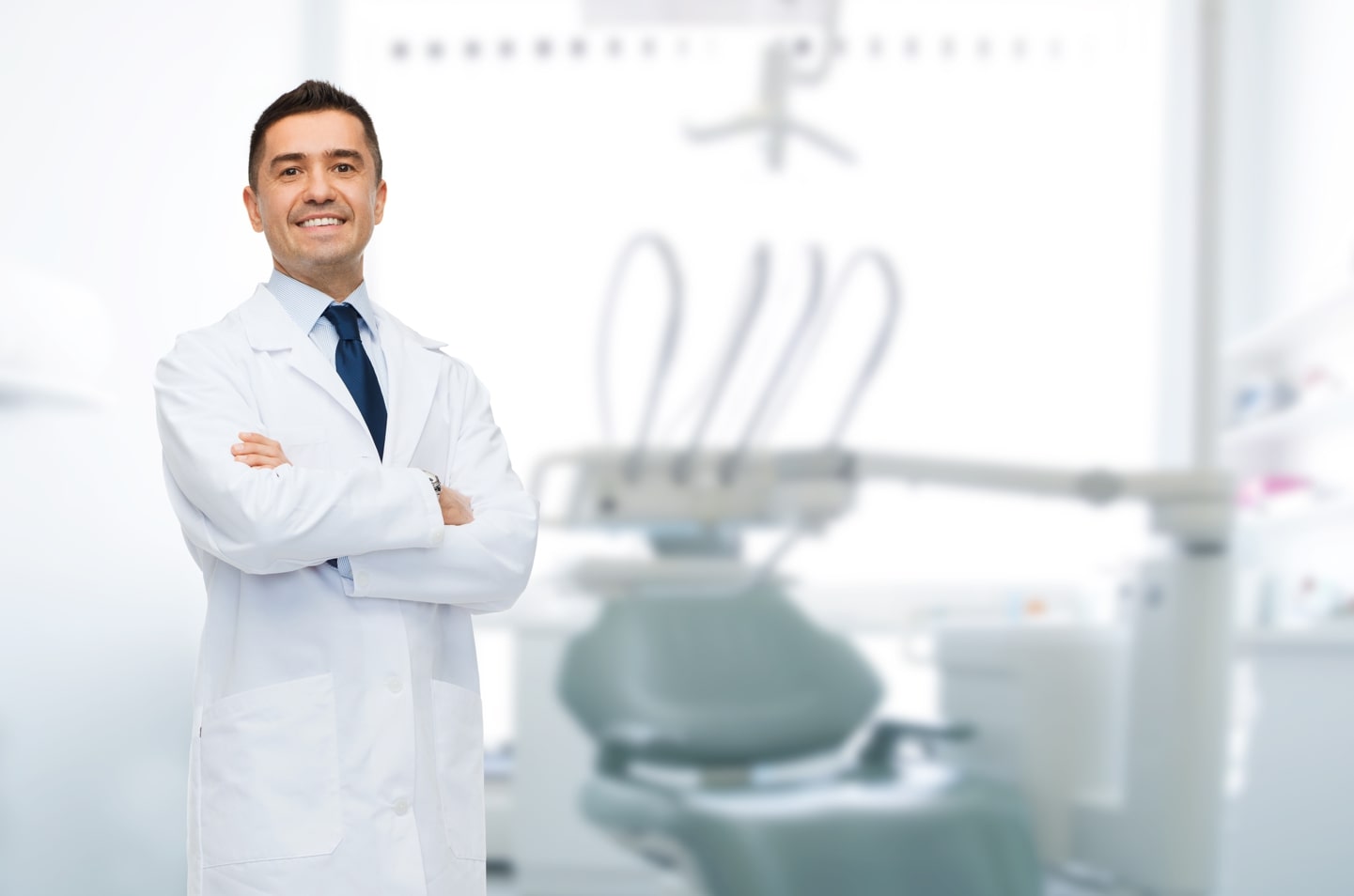 Find an Emergency Dentist

in Union, NJ
Dental Service in Union, NJ
Emergency Toothaches, Extractions, Pain Relief Today
Weekends, Nights and Holidays
1 (855) 352-6790
4 Dentists found in Union, NJ
/locations/union-nj/
Dentist Professional Co. Badzelewicz Irena, DDS, PhD
1961 Morris Ave siute B-7, Union NJ 7083
Dentist PC
1961 Morris Ave # B7, Union NJ 7083
Morris Dental
2130 Morris Ave, Union NJ 7083
Laser Dental Group
1205 Coolidge Ave, Union NJ 7083
Closes at
Wednesday
Closed.
Closed.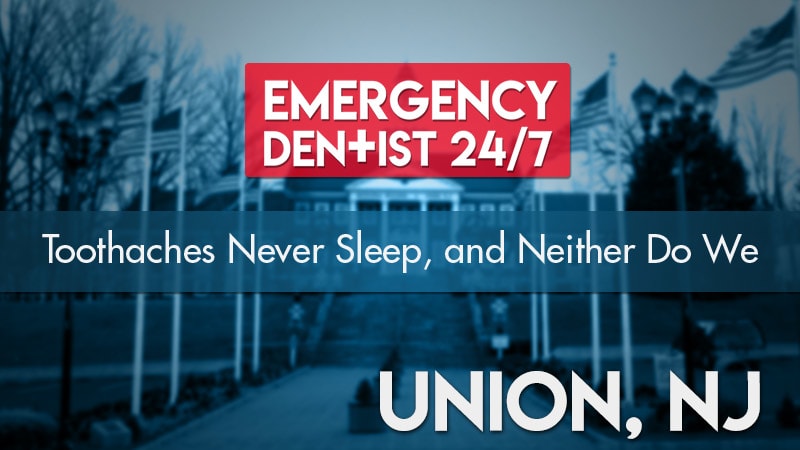 Emergency Dentist Union NJ
The inconvenience of a dental emergency can happen at any time. Finding an emergency dentist in Union, NJ can be difficult, but it doesn't have to be. Our 24-hour referral network can schedule you an appointment within one day. Call us at 1 (855) 352-6790 and get your appointment scheduled today.
How to Prepare for Your Union, NJ Emergency Dental Appointment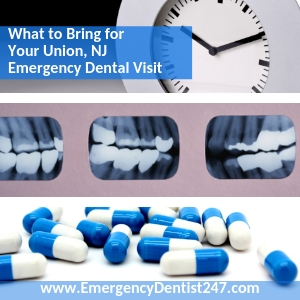 Before heading to your emergency dental appointment in Union, NJ, here are some things you should do to prepare. First, call your emergency dentist to confirm that the office accepts your insurance. If you don't have insurance, you can get an estimated cost of your appointment and work out any payment plans. You're also going to want to bring any paperwork from a recent dental visit. This can be anything such as x-rays or detailed receipts of your most recent appointment. It's best to arrive at your appointment 15 minutes early to complete any paperwork and ask any other questions you have about your emergency dental appointment. When you arrive, it's also important that you let your emergency dentist know of any medications you are currently taking or any allergies that you have. They need this information so they don't use anything that might cause you to have a reaction. Finally, if you have any anxiety of visiting the dentist let the emergency staff know. They will want you to be comfortable and will do what they can to do so.
Same Day Denture Repair Union, NJ
Broken dentures can be a hassle. This is why we've made sure the emergency dentists in our network work with denture lab technicians that offer same day denture repair in Union, NJ. Whether you need repairs or denture replacements, we can book that appointment for you in the same day.
Common Dental Emergencies
Knowing the most common dental emergencies can help you work through your own. You most likely need to seek immediate care and find an emergency dentist in Union, NJ, but there are things you can do in the meantime to protect your teeth from further damage.
Losing an adult tooth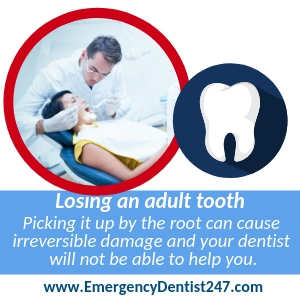 If you've lost one of your adult teeth, the first thing you need to do is locate where your tooth is. Once found, pick up only by the crown and never by the root. Touching the root of your tooth can damage it to the point of no return. The best way to preserve your tooth until you can see an emergency dentist is to place it back into the socket to the best of your ability. If this is too difficult, you can also put the tooth in a cup of water or milk.
Abscessed Teeth
Abscessed teeth or oral infections are very serious conditions that must be dealt with as soon as possible. Unfortunately, many are hard to notice until the severity has spiked. Oral infections thrive around chipped teeth and close to the gums. One way to spot an abscessed tooth is if you see anything in your mouth that resembles a pimple. Call us immediately if you notice anything abnormal so you can see a dentist as soon as possible and avoid a life-threatening situation.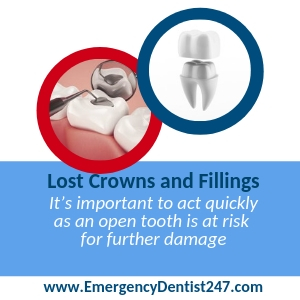 Lost Crowns and Fillings
Crowns and fillings can easily be lost, especially if they are older. It's important to act quickly as an open tooth is at risk for further damage. Find some dental cement or gauze and cover your open tooth completely. It should stay covered at all times until your dental appointment to avoid any food or debris getting stuck in it. If any damage is done to the open tooth, you may need to have an emergency tooth extraction.
Emergency Tooth Extractions
Emergency dentists handle tooth extractions every day. They are a very common dental emergency. While your emergency dentist will do what they can to avoid removing your tooth, it may be the only option. The procedure will begin by the dentist numbing your mouth so you don't feel any pain. They will then start to rock the tooth back and forth with dental pliers until the tooth slides out. The tooth may need to be broken into smaller pieces to make it easier to remove. Once the tooth has been completely removed, your emergency dentist will give you detailed instructions on how to care for your mouth. Follow these closely, these instructions will ensure your mouth heals fast and easy.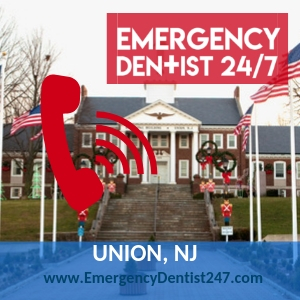 Emergency Room vs. Emergency Dentist in Union, NJ
In Union, NJ, you will want to head to the emergency room if you've endured any type of head trauma. Even if you have oral injuries, treating any head trauma will be your top priority. If you don't have head trauma but have multiple oral injuries, an emergency dentist is going to the best option for receiving treatment. They will be better equipped than an emergency room doctor in this instance. Have questions or want more information about the network? Please 
contact us.
For more information or to seek immediate help from a 24-hour dentist, you can call Emergency Dentist 24/7 toll-free at (855)-352-6790. Our operators are standing by right now to take your call.
There are a wide variety of common injuries and emergencies that require immediate or as soon as possible dental care. Fortunately for you, these are often easily dealt with and do not require such a fuss once you've made it to an emergency dentist.