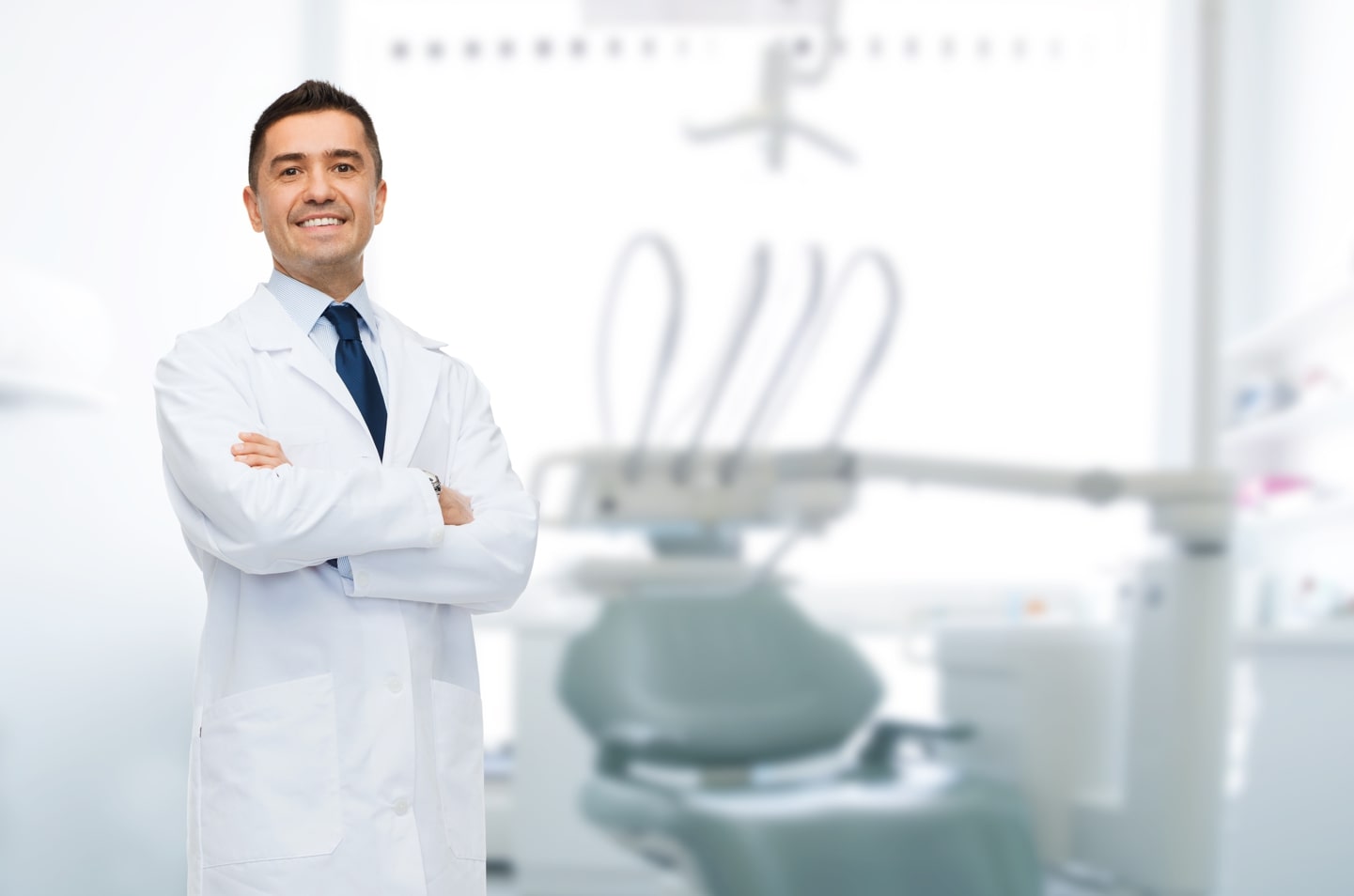 Find an Emergency Dentist

in Brooklyn, NY
Dental Service in Brooklyn, NY
Emergency Toothaches, Extractions, Pain Relief Today
Weekends, Nights and Holidays
1 (855) 352-6790
4 Dentists found in Brooklyn, NY
/locations/brooklyn-ny/
Empire Dental N.Y. PC
980 E 12th St, Brooklyn NY 11230
Termechi Omid DDS
Dental implants periodontist
405 Avenue I, Brooklyn NY 11230
1st Impression Dental
719 Franklin Ave, Brooklyn NY 11238
Jim Sarji, DDS
443 9th St, Brooklyn NY 11215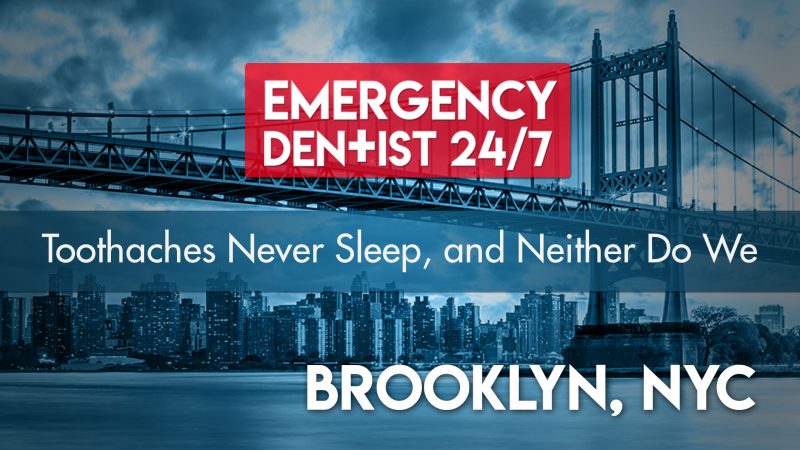 Emergency Dentist Brooklyn NYC 24/7
Nothing in our lives have worse timing than dental emergencies do. You never seem to have one at an acceptable hour of the day when every dentistry office is open and able to see you, only at night when you wake up with an unbearable toothache hours before you have to get up for work. Because we've struggled with finding an emergency dentist Brooklyn ourselves, we've decided to help patients in the local and surrounding Brooklyn, NY area find help from an emergency dentist within as little as 24 hours. Instead of waiting for offices to open who may not be able to see you, give us a call at (855)-352-6790 so we can book a guaranteed appointment for you.
Planning on What to Bring With You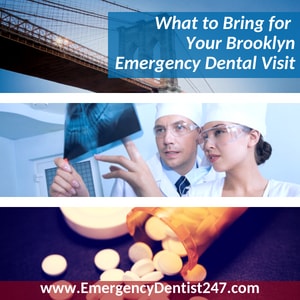 We highly recommend that you call your emergency dentist's office before you go to the appointment we booked for you to find out if your insurance is accepted. If your insurance is not accepted, you should inquire as to how much your entire appointment will cost, or at least get a general estimate. You also need to keep in mind that, though it's an emergency dentist, their office operates pretty much the same as regular dentistry office does. With this in mind, you should arrive at least 15 minutes early to ensure that you have enough time to ask any questions you may have and fill out any paperwork. Speaking of paperwork, if you have any recent dental records, paperwork, or documentation overall, make sure you bring it to your appointment, as well. This could include any copies of patient records you may have, x-rays, etc. If you have any allergies you're aware of or are currently on any medications, no matter what you're taking them for, your emergency dentist must be informed. Whether you bring a physical list for them to refer to or you verbally tell him or her, they need to know to make sure that they don't use anything during your treatment that will cause you to have a negative reaction. Finally, if you have any anxiety or worries in general over your visit, don't be afraid to let your emergency dentist know as soon as you arrive. They've worked on hundreds, if not thousands, of patients that have the exact same concerns as you do, so it won't be anything new to them. Your emergency dentist and their team will do everything they can to make sure your concerns are understood and that you'll be as comfortable as you possibly can.
Are You Having a Common Dental Emergency?
Dental emergencies don't exactly care if you have the time to sit down and deal with them. In fact, they tend to have the worst time possible. Because of this, it's extremely important that you are able to identify when you're having a dental emergency and, if possible, which one you're facing. There are a number of common dental emergencies that show up immediately, such as a dislodged tooth, for example. However, there are just as many common dental emergencies that take quite awhile to show up and are formed as a result of untreated, underlying basic dental problems. Think of a badly fractured tooth that became infected and is now an abscessed tooth. Keep in mind, your emergency dentist can't help certain situations. For example, if you've been in an accident, lost a couple of teeth, and have some head trauma, he or she can do everything except treat your head trauma. Instead, you will need to call 911 or go directly to an emergency room if you are able to get yourself there.
Dislodged and/or Knocked Out Teeth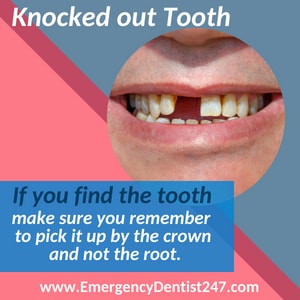 Nothing could be more frightening that getting up from crashing your bike, spitting out some blood, and realizing one or more of your teeth have been knocked out in the process. If this has recently happened to you, it's okay to feel this way! If you managed to find the tooth, or teeth, that have become dislodged from your mouth, remember to only pick it up by the crown and never by the tooth. If it's possible and the site of your lost tooth isn't damaged, or the tooth itself, try to place it back in your mouth. This will help preserve it. Otherwise, a cup of milk or water will do just fine. However, if you received any serious injuries, especially head trauma, you must seek help from an emergency room doctor as soon as you can reach one, or call 911 if you are unable to get there yourself.
Oral Infections
Oral infections, most commonly an abscessed tooth, are a massive dental emergency. We warn patients as much as we can that are time-sensitive, life-threatening, and should never be taken lightly. If you spot a pimple in your mouth, or anything that resembles a pimple, you must see an emergency dentist immediately. Chances are, you've had this infection for quite awhile, and are now just knowing it. That, or you will start to notice it once the pain starts. Oral infections can be caused by a number of things, but they most often occur when a tooth has broken and the hole cannot be cleaned. Because of this, it's important to always get broken teeth fixed. If an oral infection is left untreated, it will spread through your mouth and become a life-threatening issue. Some patients don't notice them until they are struck with a high fever and are admitted to the hospital due to poisoning of the blood.
Lost Crowns or Fillings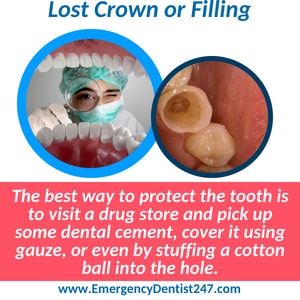 Losing a crown or a filling can be quite alarming, especially because either can be rather painful depending on how much of the tooth they were covering. If you've lost a crown or a filling, it's very important that you cover it up and be very careful how you eat, if at all. Often enough, patients receive crowns or fillings because the tooth is so far gone, yet not far enough gone that an extraction is required, that there is more hole than tooth. This can mean that there are possibly open, exposed nerves that could become damaged. If you have had a crown or a filling come out, the best thing to do in order to save the tooth until you can see an emergency dentist, is get your hands on some dental cement. Though it's a temporary method, it's the best way to ensure that nothing will become stuck in the hole and additional damage will not be able to occur.
Having an Emergency Tooth Extraction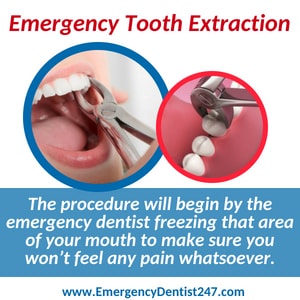 A lot of the patients we've worked with are terrified of having an emergency tooth extraction conducted, which is a perfectly normal reaction to have. If you have a fear of having a tooth pulled, you're not alone. Going over what the process entails and what your emergency dentist will do is one of the best ways we've helped calm our patients before they go through this particular procedure. Your emergency dentist will begin the procedure by injecting the extraction site with a general anesthetic to fully numb the area. Once you and your emergency dentist are in agreement that you can't feel what's about the take place, the procedure will begin. If the tooth is completely intact and not broken, he or she will rock it back and forth in the socket until it comes out. If, however, the tooth is broken or proves difficult to remove, he or she will extract the tooth in pieces. The only thing you will feel during this process is some applied pressure. If you feel any pain whatsoever, make sure you let your emergency dentist know, either by raising your hand or by trying to speak. Once the tooth has been successfully removed, your emergency dentist will give you a couple of minutes to relax and then explain to you what you need to do to minimize the healing time required through aftercare instructions. In order to avoid developing an oral infection and have the least amount of healing time possible, you must follow the emergency dentist's aftercare instructions to the exact letter. If you don't, you'll be back in their chair, this time dealing with a dangerous oral infection.
When to See the Emergency Room vs the Emergency Dentist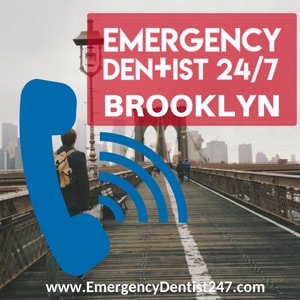 If you're unsure as to whether you need to see a doctor at your local emergency room, or make an appointment with an emergency dentist as soon as you can get one, we're here to help you distinguish the differences between them and help you make your final decision. For starters, an emergency room doctor will be able to assess and treat your physical injuries, help you manage any pain you may have, and are sometimes able to complete an emergency tooth extraction. However, this is as far as they are able to go. Some emergency rooms have emergency dentists to help patients, but this is a very rare situation. Emergency dentists, on the other hand, are not only able to complete emergency extractions, but they are equipped to save your teeth and treat tissue injuries. Unfortunately, emergency dentists are not able to help with any trauma-related injuries, which you will need an emergency room doctor for.
For more information or to seek immediate help from a 24-hour dentist, you can call Emergency Dentist 24/7 toll-free at (855)-352-6790. Our operators are standing by right now to take your call.
There are a wide variety of common injuries and emergencies that require immediate or as soon as possible dental care. Fortunately for you, these are often easily dealt with and do not require such a fuss once you've made it to an emergency dentist.