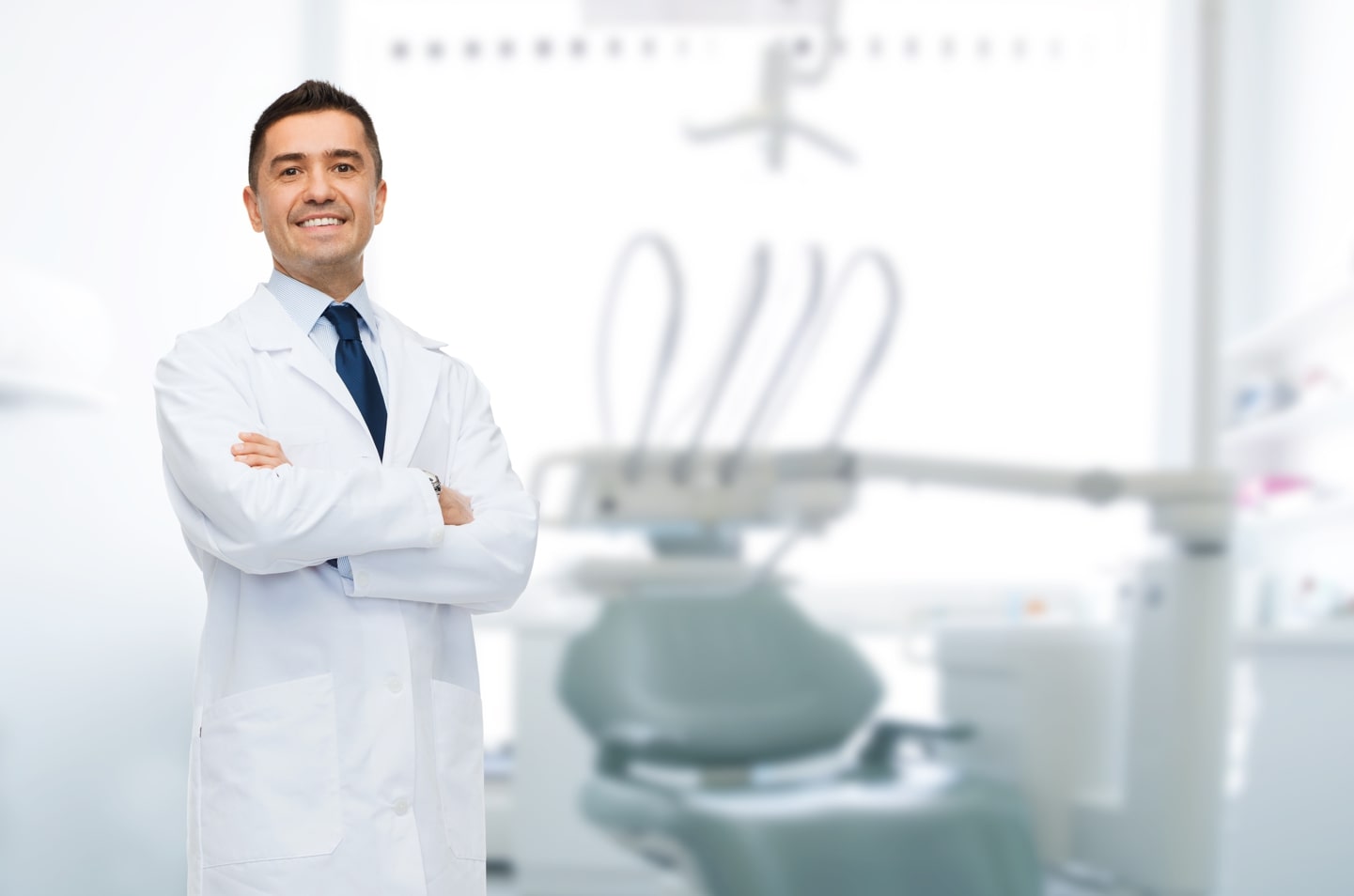 Find an Emergency Dentist

in Milwaukee, WI
Dental Service in Milwaukee, WI
Emergency Toothaches, Extractions, Pain Relief Today
Weekends, Nights and Holidays
1 (855) 352-6790
51 Dentists found in Milwaukee, WI
/locations/milwaukee-wi/
Dental Associates
2100 Miller Park Way, West Milwaukee WI 53219
Milwaukee Urgent Dental Care
(4)
Emergency dental service
2700 W Lincoln Ave, Milwaukee WI 53215
Funke Family Dentistry
4701 W National Ave, Milwaukee WI 53214
Funke James E DDS
4701 W National Ave, West Milwaukee WI 53214
Familia Dental
821 S Layton Blvd, Milwaukee WI 53215
Emergency Dental Milwaukee
1469 S 70th St, West Allis WI 53214
Dr. Peter Limberatos, DDS
7130 W Greenfield Ave, Milwaukee WI 53214
First Place Dentistry
106 W Seeboth St # 202, Milwaukee WI 53204
Forward Dental - Bay View
3030 S Chase Ave, Milwaukee WI 53207
Milwaukee Emergency Dentist
(1)
Emergency dental service
3500 W Lisbon Ave, Milwaukee WI 53208
Nguyen Michael DDS
5919 W Vliet St, Milwaukee WI 53208
The Downtown Dental Group, S.C.
161 W Wisconsin Ave #5036, Milwaukee WI 53203
Schmidt Michael L DDS
6316 W Forest Home Ave, Milwaukee WI 53220
Dental Associates
205 E Wisconsin Ave, Milwaukee WI 53202
Children's Dental Clinic SC
3814 S Howell Ave, Milwaukee WI 53207
Aspen Dental
101 W Pleasant St #210, Milwaukee WI 53212
Forward Dental - River Center
1575 N River Center Dr #2, Milwaukee WI 53212
Dental Associates
220 E Pleasant St, Milwaukee WI 53212
Mykleby & Thao Family Dentistry
8700 W Watertown Plank Rd, Wauwatosa WI 53226
Eastside Dental
1845 N Farwell Ave #105, Milwaukee WI 53202
Greenfield Optimal Dental Care
3670 S 108th St #200, Greenfield WI 53228
Lakeshore Family Dentistry - Greendale
5808 Broad St, Greendale WI 53129
Familia Dental
142 E Capitol Dr, Milwaukee WI 53212
Milwaukee Dental Group
5542 W Fond Du Lac Ave, Milwaukee WI 53216
Forward Dental - Hales Corners
5250 S 108th St #200, Hales Corners WI 53130
Dental Associates
6855 S 27th St, Franklin WI 53132
Marion Family Dental
Dental implants periodontist
4302 N 76th St, Milwaukee WI 53222
Eastbrook Dental Associates
12660 W North Ave, Brookfield WI 53005
Eastbrook Dental Associates: Calado Theodore G DDS
12660 W North Ave, Brookfield WI 53005
Shorewood Dental LLC: Dr. Teri Wei DDS
2321 E Capitol Dr, Milwaukee WI 53211
Dental Associates
11711 W Burleigh St, Wauwatosa WI 53222
Anderson Family Dental
7215 W Rawson Ave, Franklin WI 53132
Southshore Dental Group
7270 South 13th Street #101, Oak Creek WI 53154
Grant Park Dental
1333 College Ave, South Milwaukee WI 53172
DentalWorks Brookfield
15375 W Bluemound Rd #150, Brookfield WI 53005
Forward Dental - New Berlin
15100 W Library Ln, New Berlin WI 53151
Modern Dental Art
200 W Silver Spring Dr Suite # 320, Milwaukee WI 53217
Emergency Dentist Milwaukee
(3)
Emergency dental service
200 W Silver Spring Dr #320, Milwaukee WI 53217
Fox Lanae D
(5)
Emergency dental service
15430 W National Ave #1, New Berlin WI 53151
Forward Dental - Oak Creek
7955 South Main Street, Oak Creek WI 53154
Oak Creek Dental Care LLC
132 E Drexel Ave, Oak Creek WI 53154
Forward Dental - Glendale
7040 N Port Washington Rd #414, Milwaukee WI 53217
Lakeshore Family Dentistry: Abbey LaManna, DDS
7155 N Port Washington Rd, Glendale WI 53217
Steinbach Dental
18200 W Capitol Dr #202, Brookfield WI 53045
Benco Dental Solution
Eastmound Dr, Waukesha WI 53186
Advanced Dental Specialists Waukesha North
W231 N1440 Corporate Ct #211, Waukesha WI 53186
Generations Family Dental
N48 W14170, Menomonee Falls WI 53051
Complete Family Dentistry
419 E Broadway, Waukesha WI 53186
Forward Dental - Menomonee Falls
N80W17707 Custer Ln, Menomonee Falls WI 53051
Forward Dental - Mequon
6048 W W Mequon Rd, Mequon WI 53092
Sussex, WI Dentist - Archilletti, Deborah DDS
N64W24050 Main St, Sussex WI 53089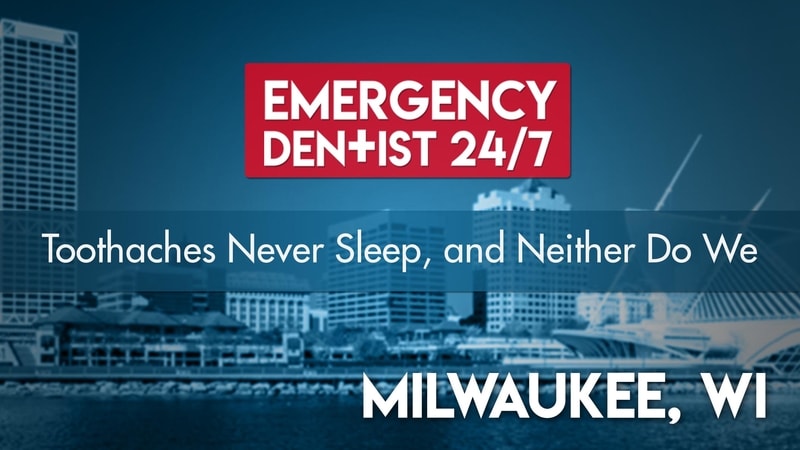 If a painful dental emergency has brought you to this page, you're in the right place to get help from an emergency dentist in Milwaukee. We've helped patients just like you seek help from a Milwaukee emergency dentist using our 24-hour emergency dentist referral network. Don't wait any longer than you have to, call us right now at (855)-352-6790 for an appointment.
What You'll Need for Your Emergency Dentist Appointment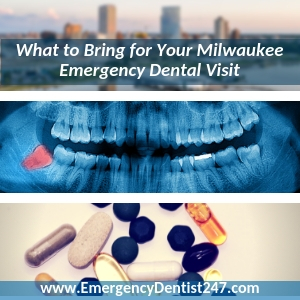 Even though you probably want to rush off to your appointment right away to get help for the pain, you need to make sure you have everything you need first. Listed below is everything you'll need for your emergency dentist appointment:
Any documentation, forms, detailed receipts, whatever you can find from a recent, regular dental appointment
A list of your known allergies and regular, current medications
Insurance information needed to make and file an insurance claim
Remember to arrive at least 15 minutes early for your appointment to give yourself enough time to fill out any paperwork, and don't be scared to let the emergency dentist and their team know if you have any concerns or a general fear of the dentist.
Common Dental Emergencies Patients Face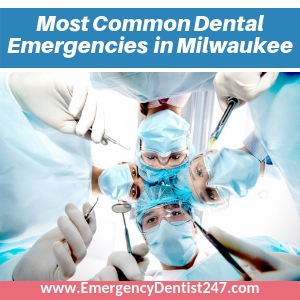 The majority of dental emergencies are caused by underlying, untreated oral health problems, while others make themselves known as soon as they occur. Oral infections, lost fillings and crowns, severe toothaches, loose braces, and injuries to the soft and/or hard tissues of the mouth are all the most common dental emergencies patients face on a daily basis. However, no matter what you're going through, any sustained head trauma that occurred for whatever reason must be taken care of before any oral health emergency.
Losing an Adult Tooth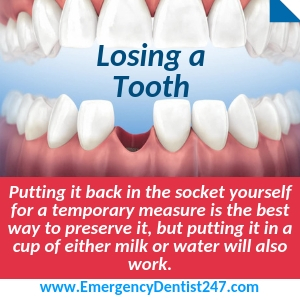 Losing an adult tooth can be a very scary situation, but you need to make sure a lost tooth is your only problem. If you received head trauma from whatever happened, make sure that's treated first. Next, try and locate the tooth. If you're successful in finding it, pick the tooth up by the crown, gently rinse it off with some water, and make an attempt to temporarily stick it back in the socket yourself. If you're unable to do so, you can also stick it in a cup of either milk or water. It's not the best way to preserve a lost tooth compared to temporarily putting it in the socket yourself, but it'll do the trick just fine.
Having an Oral Infection
If you see a red bump, something that resembles a pimple, or have a severe toothache, you need to call us immediately. Chances are, you are dealing with an oral infection, which get very dangerous at a serious rate. Oral infections grow and fester just as a bodily infection does. Should it reach your bloodstream, you could suffer from blood poisoning and, if left untreated, potentially die. Oral infections don't typically make themselves known until the searing pain begins. However, if you know what to look for, you can spot one before your mouth is ravaged.
Losing a Crown or a Filling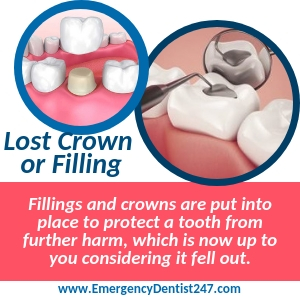 Crowns and fillings don't come with a lifetime guarantee. Unfortunately, age and damage can cause them to fall out, but that doesn't mean you can just say "oh well" and move on if one of yours done. In fact, it's quite the opposite, you need to act swiftly. Take a trip to your local drug store and buy dental cement, cotton balls, or even a some gauze to cut up into small pieces. The hole must be covered at all times until you can get to the appointment we've booked for you. If the tooth is open and exposed, you could cause irreversible damage and destroy the tooth.
How Emergency Tooth Extractions Work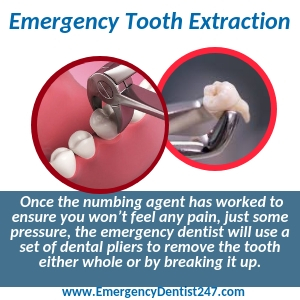 The best way to be prepared to have an emergency tooth extraction done is to know how the process goes and what will happen. Once the numbing agent has worked to ensure you won't feel any pain, just some pressure, the emergency dentist will use a set of dental pliers to remove the tooth either whole or by breaking it up. Once it's removed, he or she will then go over aftercare instructions that you will need to follow at home. You must follow their instructions correctly or you risk the extraction site developing an infection.
Same Day Denture Repair in Milwaukee
We've made it easy for patients to get an appointment for same day denture repair in Milwaukee and emergency denture repair Milwaukee. Thanks to the denture lab technicians who work with emergency dentists in our network, we can help patients get their broken dentures fixed or have a fitting done for a new set in a single appointment, all on the same day.
First Choice – Emergency Dentist vs Emergency Room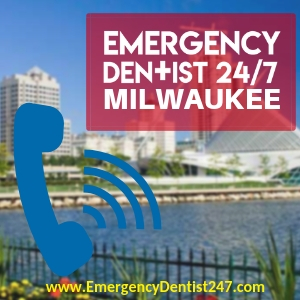 Going through any type of emergency, be it orally, bodily, or even both, can be a stressful, scary experience. However, you must make sure you know where to go first. Emergency dentists are able to save your teeth and help with your pain to a certain degree depending who they have on staff at the time, but they cannot treat your head trauma and major physical injuries. Emergency room doctors can treat your head trauma, help with your pain fully, and can treat your major physical injuries, but they cannot treat your oral injuries or save your teeth. Some emergency rooms have emergency dentists on staff, but this is a very rare occurrence. Remember, head trauma always comes first, no matter what.
For more information or to seek immediate help from a 24-hour dentist, you can call Emergency Dentist 24/7 toll-free at (855)-352-6790. Our operators are standing by right now to take your call.
There are a wide variety of common injuries and emergencies that require immediate or as soon as possible dental care. Fortunately for you, these are often easily dealt with and do not require such a fuss once you've made it to an emergency dentist.