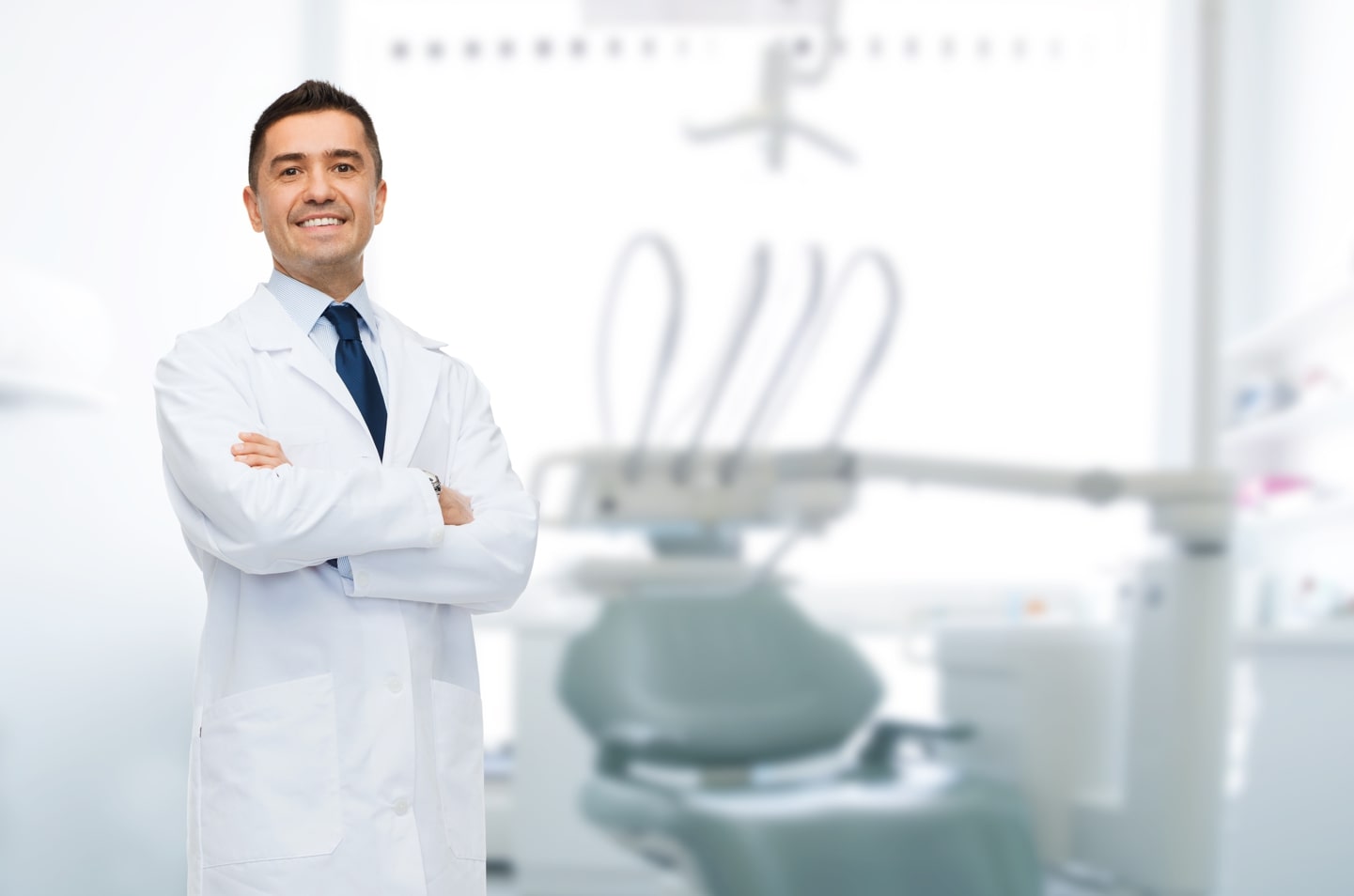 Find an Emergency Dentist

in Boston, MA
Dental Service in Boston, MA
Emergency Toothaches, Extractions, Pain Relief Today
Weekends, Nights and Holidays
1 (855) 352-6790
4 Dentists found in Boston, MA
/locations/boston-ma/
Dr. Dental
55 Meridian St, East Boston MA 2128
East Boston Family Dental Center: Rahmatpour Mehdi DDS
79 Meridian St, Boston MA 2128
AP Dental & Laser Center
231 Border St, Boston MA 2128
Giangrasso Joseph D DDS
279 Hanover St # 1, Boston MA 2113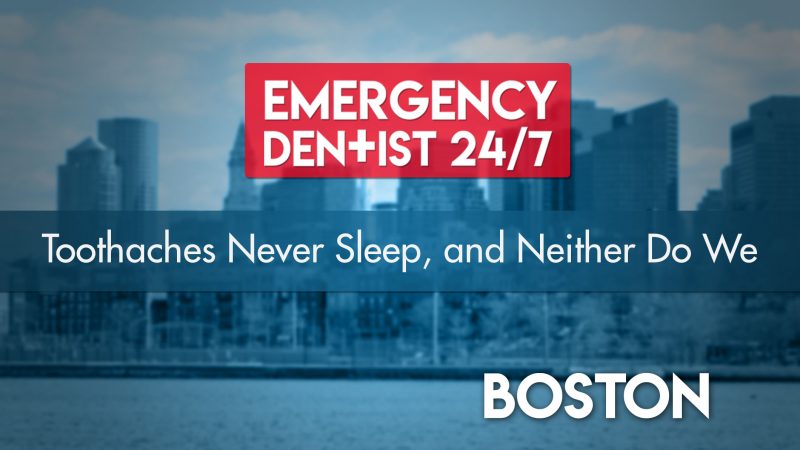 Boston isn't the city you're looking for? Trying to find an 
emergency dentist
? Search our directory!
Emergency Dentist Boston 24/7
If you're here because you're trying to track down an emergency dentist in Boston to help you get immediate relief from a painful dental emergency, you're in the right place to find it. We've been where you are right now and know just how frustrating it is having to wait for a regular dental appointment that could take weeks when the pain is severe. Our 24-hour Boston emergency dentist referral network allows us to book patient's an emergency dentist appointment in as little as 24 hours. Don't prolong the pain any longer than you have to, call us right now at (855)-352-6790 for relief.
What You Will Need to Bring With You to Your Boston Emergency Dentist Appointment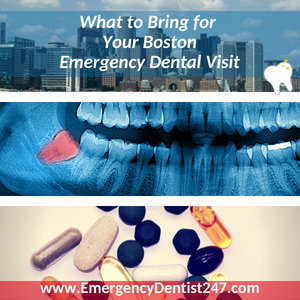 While we're working on booking an appointment with a Boston emergency dentist for you, you can start getting ready by gathering some of the important essentials that you will need to bring with you to the appointment. You will need to have an acceptable piece of personal identification to present to the emergency dentist and their team upon your arrival. Your driver's license, for example, will work fine. Any paperwork, documentation, or copies given to you from a recent trip to your regular dentist are also things you should bring. It could be a dental x-ray, a detailed receipt, whatever you were given at the time. Anything you can bring in will help the emergency dentist and their team understand your oral health better. Making a list of medications you're taking on a regular basis and any known medications is extremely important so the emergency dentist and their team have something to refer to. The need to be totally sure you will not have an allergic or negative reaction to anything they give you during your appointment. You should have received the call back from us at this point to give you the details of your appointment. Now that you know where you're going and who you will be seeing, we highly recommend calling ahead to ask for a quote or if your current dental coverage, if you have insurance, will be accepted. Because emergency dentists operate much like your regular dentist does, you need to arrive at least 15 minutes before your appointment is scheduled to begin. You will need this time to fill out paperwork, ask questions, and address any concerns you may have. Speaking of concerns, don't be scared to let the emergency dentist and their team know if you have a fear of the dentist. They have dealt with more patients who have a fear of the dentist than most realize, so they know how to keep you comfortable and relaxed as much as they can.
Same Day Denture Repair in Boston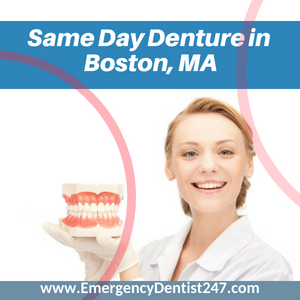 If your dentures are giving you problems due to damage or are broken entirely, you're no doubt looking for emergency denture repair in Boston. Your dentures were given to you to help your life in the first place, not to create another problem in your life. Thankfully for you, there are quite a few dentists in our referral network who work closely with denture lab technicians. This allows us to offer both emergency denture repair in Boston as well as same day denture repair in Boston. Whether you need repairs to your current set or need to be fitted for new ones, we can do it all for you in a single appointment.
Most Common Dental Emergencies Treated by Boston Emergency Dentists
Boston emergency dentists see and treat a lot of different dental emergencies every day. Knowing what the most common dental emergencies are can actually help you get through them when one happens. Head trauma, however, takes priority over all other injuries. A concussion requires treatment before a broken or shattered tooth does.
Finding a Knocked Out or Lost Tooth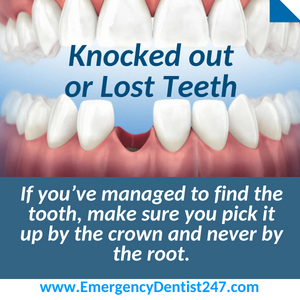 Before you try to track down the tooth that was knocked out, or lost, in general, you're going to need to assess yourself for any other injuries, specifically head trauma. If you're completely sure that you don't have any head trauma, such as a concussion, for example, you have the green light to find the tooth in question. Once you've found it, make sure you pick it up by the top of the tooth, the crown, and not the bottom, the root. Doing so is the best way to damage it to the point where it's impossible for the emergency dentist to successfully plant it back into the empty socket. As a temporary preservation method, you can try to put it back in the empty socket yourself, but don't force the tooth in. You can also put it in a cup of milk or water as a temporary preservation method, as well.
Oral Infections and Abscessed Teeth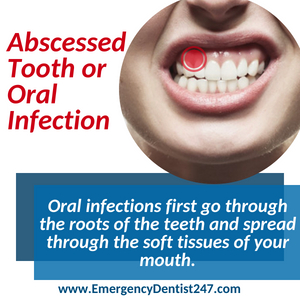 Dealing with an oral infection, like an abscessed tooth, for example, can be a painful nightmare of a dental emergency. They are both time-sensitive and, if left untreated, life-threatening. They lead to being a lethal emergency, so never take one lightly. The best way to check to see if you have an oral infection or an abscessed tooth is to check around your mouth with a flashlight or a penlight and a compact or small mirror. Check to see if you can find something that looks like a pimple or a swollen, red bump. Oral infections are devastating on your oral health. They travel through the roots of your teeth, into the soft tissues of your mouth, and then make their way into your bloodstream. If you suspect, even for just a second, that you have an oral infection, you need to get in touch with us immediately.
Dealing With a Lost Filling or Crown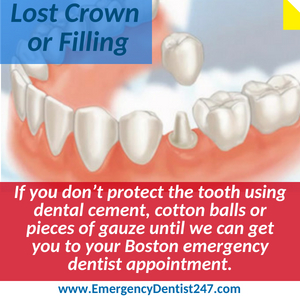 Because fillings and crowns are put into place to protect and restore teeth in the first place, losing one requires you to act fast. You will need to protect the tooth the filling or crown fell off from to ensure that the emergency dentist will have something to refill or recap. If you don't protect the tooth using dental cement, cotton balls or pieces of gauze until we can get you to your Boston emergency dentist appointment, you may need to have an emergency tooth extraction due to additional damage to the tooth. Whichever method you choose to use, make sure the tooth is covered and protected from further harm.
Going in for an Emergency Tooth Extraction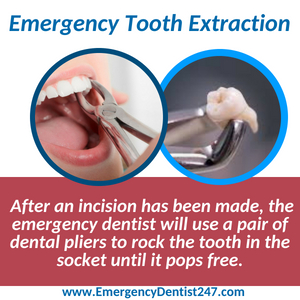 If you're scheduled to have an emergency tooth extraction, or were told that you need one at the last minute, don't panic. The best way to be prepared for an emergency tooth extraction at any point is to have an understanding of what to expect and what the procedure entails. Once the extraction site has been frozen and the emergency dentist has checked to make sure the freezing has done its job, he or she will make a couple of incisions using a scalpel to help with the loosening of the tooth. Using a set of dental pliers, the emergency dentist will then attempt to remove the tooth. If the tooth proves too difficult to remove whole, he or she will have to break it up into smaller sections and remove each piece. Once the tooth is extracted and you've had a couple of minutes to wind down, the emergency dentist will then take some time to go over important aftercare instructions. You will need to religiously follow their instructions at home in order to keep the extraction site clean, free of infection, and to ensure that the amount of time it takes for it to heal will be as minimal as possible.
Do You Need an Emergency Room Doctor or an Emergency Dentist?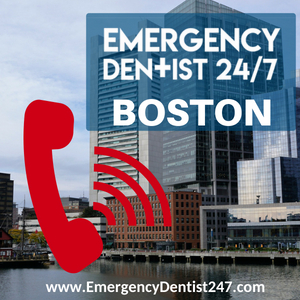 It's extremely important that you know whether you need an emergency room doctor or an emergency dentist first if you've come out of an accident or general situation where multiple injuries, both oral and physical, are present. Emergency room doctors aren't equipped to save your teeth, but they can treat your head trauma, help fully manage your pain, and treat your minor to major bodily injuries. Emergency dentists aren't equipped to treat your head trauma, but they can treat your minor to major oral injuries, save your teeth, and minimally manage your pain. No matter how bad your oral health may be after an accident, or whatever the case may be at the time, you still need to get your head trauma treated before anything else.
For more information or to seek immediate help from a 24-hour dentist, you can call Emergency Dentist 24/7 toll-free at (855)-352-6790. Our operators are standing by right now to take your call.
There are a wide variety of common injuries and emergencies that require immediate or as soon as possible dental care. Fortunately for you, these are often easily dealt with and do not require such a fuss once you've made it to an emergency dentist.