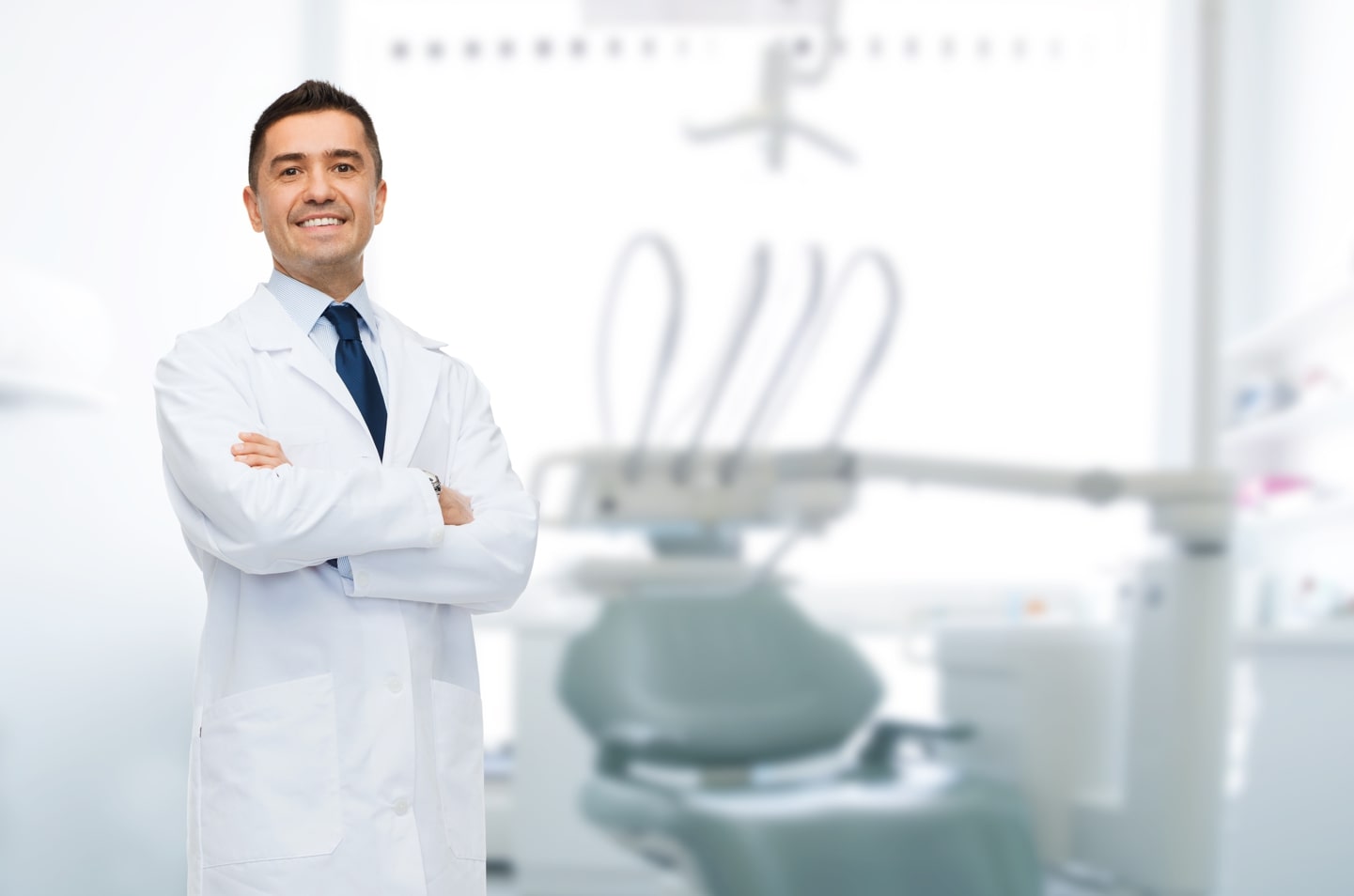 Find an Emergency Dentist

in Knoxville, TN
Dental Service in Knoxville, TN
Emergency Toothaches, Extractions, Pain Relief Today
Weekends, Nights and Holidays
1 (855) 352-6790
13 Dentists found in Knoxville, TN
/locations/knoxville-tn/
Knoxville Dental Center - Tazewell Pike
3230 Tazewell Pike, Knoxville TN 37918
Knoxville Dental Center - Fountain City
3226 Tazewell Pike, Knoxville TN 37918
DentaCare of Knoxville, PC
3001 Knoxville Center Dr #1100, Knoxville TN 37924
Denta Care of Knoxville PC: Thompson Dan H DDS
3001 Knoxville Center Dr #1100, Knoxville TN 37924
Denta Care of Knoxville PC: Fox Gary D DDS
3001 Knoxville Center Dr #1000, Knoxville TN 37924
Knoxville Dental Center
207 E Emory Rd #201, Powell TN 37849
Hazenfield James D DDS
6502 Chapman Hwy # B, Knoxville TN 37920
Dr. Thomas F. Haws, D.D.S.
5816 Kingston Pike, Knoxville TN 37919
Dr. Stanley Sisk, DDS
7221 Oak Ridge Hwy, Knoxville TN 37931
Emergency Dentist Knoxville
(1)
Emergency dental service
7731 Kingston Pike Ste 102, Knoxville TN 37919
Knoxville Dental Center - Hardin Valley
10509 Hardin Valley Rd, Knoxville TN 37932
Tennessee Valley Dental
10641 Deerbrook Dr, Knoxville TN 37922
Knoxville Dental Center - Turkey Creek & Lovell Road
10641 Deerbrook Dr, Knoxville TN 37922
Late Weekday
Weekend Hours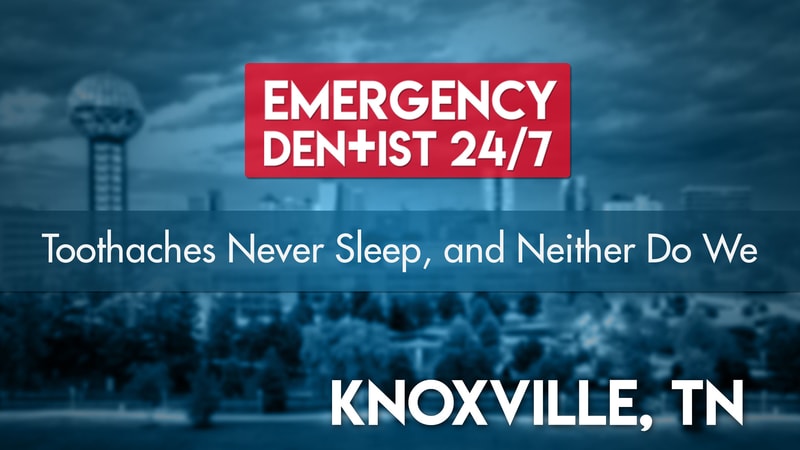 If you're currently struggling to find an emergency dentist in Knoxville, you're not alone! We've been where you are numerous times, which is why we've put together our 24-hour emergency dentist referral network. You'll never have to struggle to get an appointment with a Knoxville emergency dentist when you call us at (855)-352-6790. We'll have an appointment booked in your name in as little as 24 hours, so don't hesitate to call us straight away.
Everything You'll Need for Your Emergency Dentist Appointment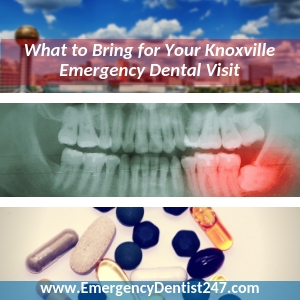 Before you leave for your appointment, you'll need to make sure that you have the following with you, ready to go: Insurance information needed to process and file an insurance claim, if you have dental insurance and plan on filing a claim Any recent paperwork or documentation given to you to take home during a previous visit to your regular dentist A full list of known allergies and/or current medications you're taking on a regular basis Make sure you give yourself an extra 15 minutes to fill out paperwork when you arrive and, if applicable, to let the emergency dentist and their staff know about any questions or fears you have over going to the dentist.
The Most Common Dental Emergencies Treated by Emergency Dentists
Most dental injuries are caused by underlying dental health problems that went untreated for any length of time, which is why it's so important to see your dentist twice a year. However, other dental emergencies make themselves known basically as soon as they happen. No matter what you're facing, you need to make sure that you put any sustained head trauma first.
Lost Teeth
Losing a tooth can be extremely stressful, but you can save it if you work fast and do things the right way. Although, you need to make sure any sustained head trauma is dealt with before you look for the lost tooth. If you were able to find it, make sure you don't pick it up by the root. Doing so can cause irreversible damage that will make it impossible for the emergency dentist to successfully plant it back in. Make sure you rinse it with some water. You can try to put the tooth back in yourself, but you can also store it in a cup of milk or water if you're unable to do so for whatever reason.
Oral Infections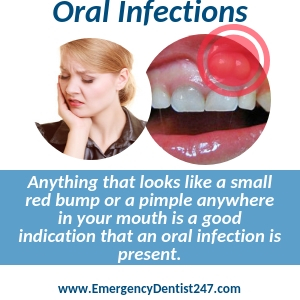 Oral infections are a lot more dangerous than patients realize. They have the potential to become fatal, just like any other type of infection does. The best way to figure out if you have an oral infection is by looking for a red bump, or anything that generally looks like acne, in your mouth. Pain is also a good indication of an oral infection, which is why you should never ignore oral pain, whatsoever. If you suspect you have an oral infection, call us immediately.
Lost Filling or Crown
Losing a filling or crown is relatively normal, considering they wear out with age and damage over the years, but you need to act fast if you do lose one. Try to track down some dental cement, cotton balls, gauze, or anything that will help you to keep the hole covered. The filling or crown was put into place to protect the tooth from further harm. If you don't keep it covered, you may be facing an emergency tooth extraction instead of having the dentist refill or recap the tooth.
Going for an Emergency Tooth Extraction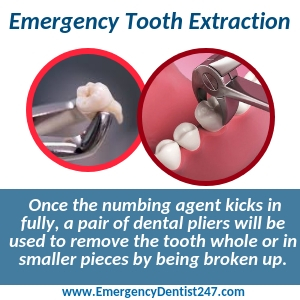 Needing an emergency tooth extraction can be something extremely scary to face, but you'll actually feel a bit better if you know how the procedure works. Once the numbing agent, which is administered to the extraction area, has had a chance to kick in, the emergency dentist will use a special set of dental pliers to rock the tooth around in the socket. If it doesn't come out, he or she will break it up into smaller pieces and remove it by the fragment. Once the tooth is out, the emergency dentist, or someone from their staff, will go over important aftercare instructions. Make sure you follow their instructions at home every day to avoid getting an infection.
Same Day Denture Repair in Knoxville
If you need same day denture repair in Knoxville, or even emergency denture repair Knoxville, we can help. We have emergency dentists who work closely with denture lab technicians who can restore your dentures or have you fitted for a new set on the same day, in a single appointment.
Emergency Room Doctor vs Emergency Dentist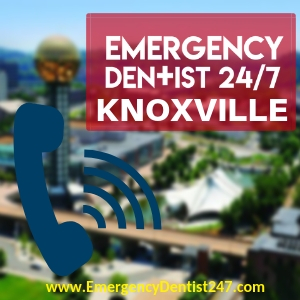 If you're dealing with any kind of head trauma whatsoever, even if there are major oral injuries present at the same time, you must seek medical attention for your head trauma at your local emergency room as soon as possible. Only an emergency room doctor can treat your head trauma, not an emergency dentist. We can get you an appointment with an emergency dentist in Knoxville, but you must have your head trauma dealt with first.
For more information or to seek immediate help from a 24-hour dentist, you can call Emergency Dentist 24/7 toll-free at (855)-352-6790. Our operators are standing by right now to take your call.
There are a wide variety of common injuries and emergencies that require immediate or as soon as possible dental care. Fortunately for you, these are often easily dealt with and do not require such a fuss once you've made it to an emergency dentist.