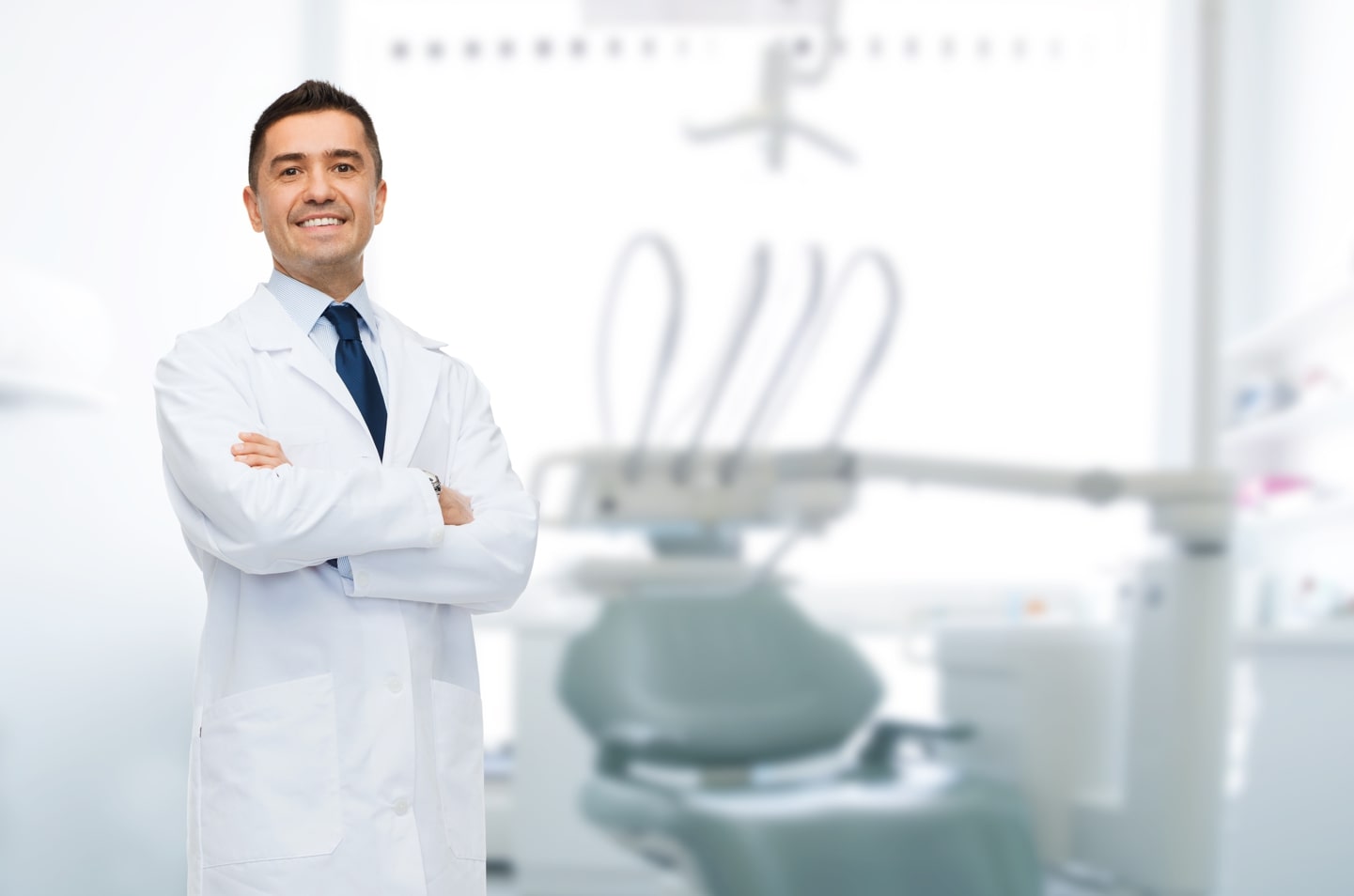 Find an Emergency Dentist

in Kansas City, MO
Dental Service in Kansas City, MO
Emergency Toothaches, Extractions, Pain Relief Today
Weekends, Nights and Holidays
1 (855) 352-6790
4 Dentists found in Kansas City, MO
/locations/kansas-city-mo/
KCK Dental Professionals
707 Minnesota Ave #100, Kansas City KS 66101
Dr. Carol J. Jones, DDS
707 Minnesota Ave, Kansas City KS 66101
Snyder Micah L DDS
753 State Ave # 665, Kansas City KS 66101
Central Ave Dental
1320 Central Ave, Kansas City KS 66102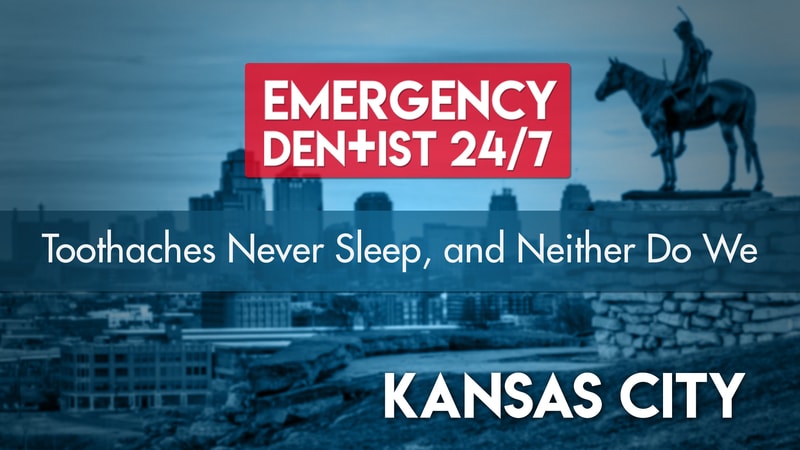 Dental emergencies in the middle of the night make it difficult to find immediate help from an emergency dentist in Kansas City, which is why we've build a 24-hour emergency dentist referral network to ensure patients can get the help they need when they need it. Instead of endlessly searching for a Kansas City emergency dentist online, call us at (855)-352-6790, give us your details, and we'll call you back with an appointment within a minimum of 24 hours.
Everything You'll Need for Your Emergency Appointment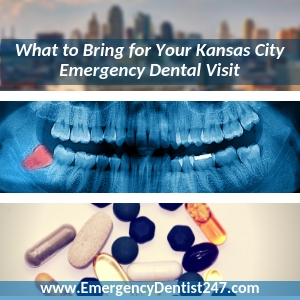 Before you rush out the door to get to your appointment, it's important that you make sure you bring the following listed below with you:
A detailed list of known allergies and current medications
Information to file and process an insurance claim, should you have applicable dental insurance coverage
Documentation and general information from a recent dentist appointment, should you have anything
You need to make sure that you arrive at the emergency dentist's with at least 15 minutes to spare to fill out paperwork before you go in for your appointment. If you have any fears or general anxiety, using that time to speak up is also a good idea, as well. They will do everything they can to make sure you're as comfortable as can be.
Most Common Dental Emergencies Among Patients
Severe toothaches, lost fillings and crowns, oral infections like abscessed teeth, loose braces, and injuries to the hard and soft tissues of the mouth are all the most common dental emergencies among patients seen and treated every day by emergency dentists. Unless a dental emergency has made itself known immediately as it happened, it's usually due to underlying oral health problems that weren't treated in time and grew into something much worse than what it initially was. However, no matter what type of dental emergency you're facing, you must make sure that any sustained head trauma is treated before anything else.
Losing an Adult Tooth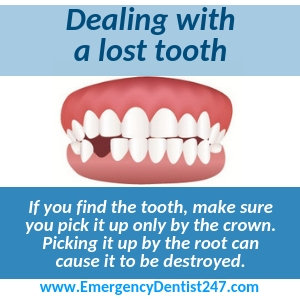 Losing one of your adult teeth can be stressful, especially if it's one of the visible ones in the front. Make sure the lost tooth is the only problem you're dealing with, and seek treatment for any head trauma you may have sustained. If all else is well, try your best to find the tooth and, if you do, make sure you pick it up only by the crown. Picking it up by the root can cause it to be destroyed due to irreversible damage. Gently rinse it with water, ensuring you don't damage it. The best way to preserve it is by putting it temporarily back into the empty socket, but storing it in a cup of milk or water is something else you can do if you're not comfortable sticking it back in yourself.
Oral Infections – The Major Danger
Oral infections are extremely dangerous and should never be ignored, no matter what your current circumstance may be. They are just like any other type of infection and can be fatal if you don't treat it by an emergency dentist fast enough. Indications that you could be dealing with an oral infection are red bumps, severe toothaches, and anything that resembles acne in your mouth. If you suspect for a second that you have an oral infection, call us right away. Oral infections start as a time-sensitive oral health issue that turn into a life-threatening dental emergency within days.
Losing a Filling or a Crown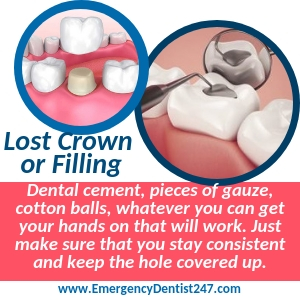 Even though losing a filling or a crown isn't exactly an uncommon thing, that does not mean you don't need to act fast. Your tooth is now open and exposed to further damage, so you'll need to get something to plug up the hole until you can get to the appointment we've booked for you. Dental cement, pieces of gauze, cotton balls, whatever you can get your hands on that will work. Just make sure that you stay consistent and keep the hole covered up. If you don't, you could face losing the entire tooth due to irreversible damage.
How Emergency Tooth Extractions Work
Facing the possibility of going for an emergency tooth extraction is more than enough to keep a patient away, but the best way to prepare for the procedure, is to know what's going to happen before, during, and after. Thanks to the numbing agent used in the extraction area, you won't feel any pain throughout the procedure, just a little bit of pressure. Once it's had a chance to set in, the emergency dentist will remove the tooth using a rocking motion and a pair of special dental pliers. If the tooth is unable to be removed whole, it will be broken up into smaller pieces and removed that way. After it's out and you've had a second to relax, the emergency dentist or someone from their staff will take the time to go over aftercare instructions. You must follow these at home to ensure the extraction site is kept free from infection.
Same Day Denture Repair in Kansas City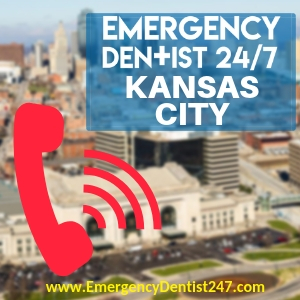 Gone are the days where patients struggle to find same day denture repair in Kansas City and emergency denture repair Kansas City services. Patients who we book appointments for can be fitted for a set of dentures or have their current set repaired on the same day, thanks to the denture lab technicians we've added to our emergency dentist referral network.
Emergency Room or Emergency Dentist?
Knowing where you need to go first is extremely important when a trip to the emergency room and a trip to the emergency dentist are both needed. Remember, sustained head trauma always comes first on the treatment list, no matter how bad your oral health is at the time.
For more information or to seek immediate help from a 24-hour dentist, you can call Emergency Dentist 24/7 toll-free at (855)-352-6790. Our operators are standing by right now to take your call.
There are a wide variety of common injuries and emergencies that require immediate or as soon as possible dental care. Fortunately for you, these are often easily dealt with and do not require such a fuss once you've made it to an emergency dentist.