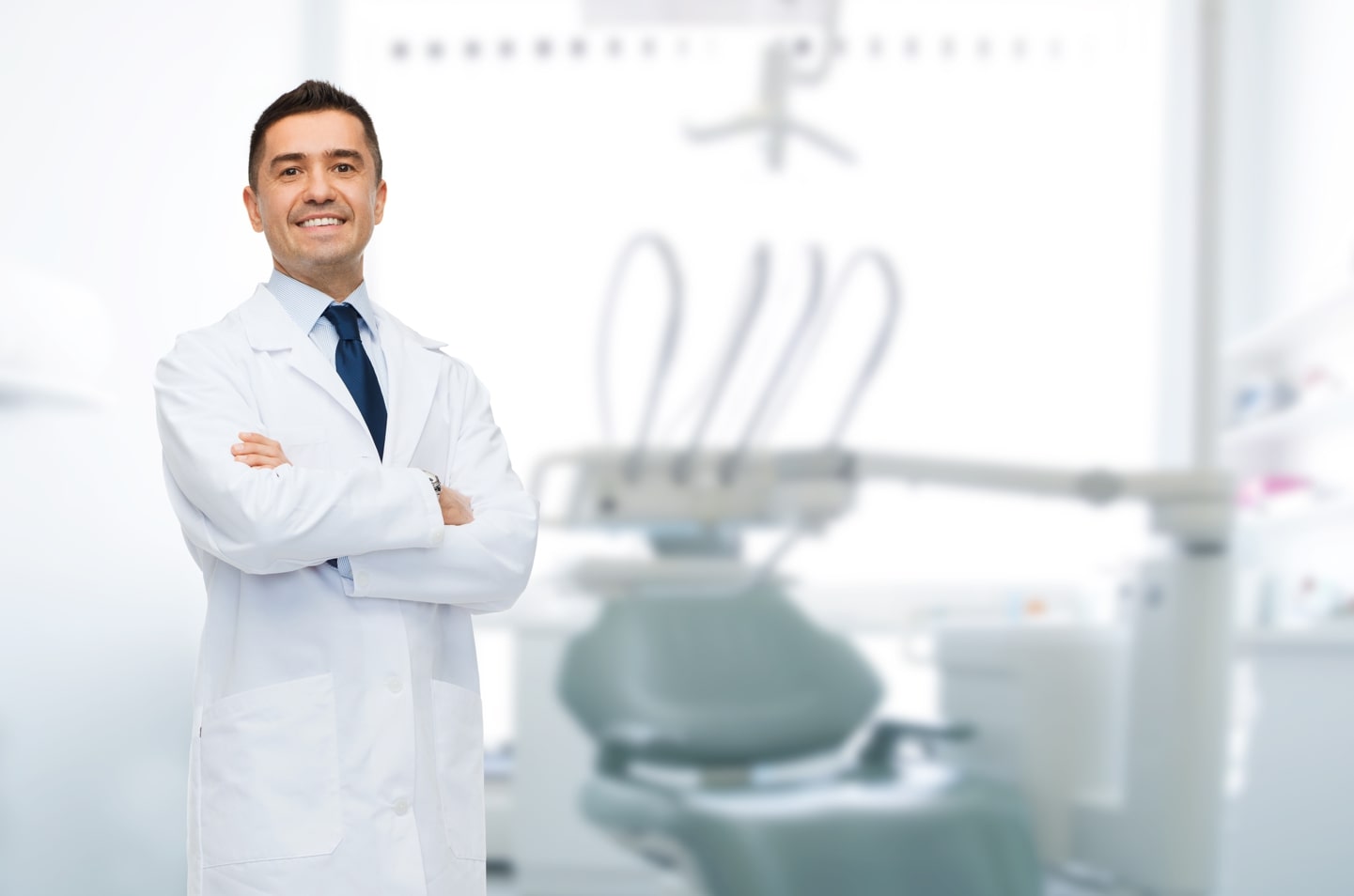 Find an Emergency Dentist

in New Orleans, LA
Dental Service in New Orleans, LA
Emergency Toothaches, Extractions, Pain Relief Today
Weekends, Nights and Holidays
1 (855) 352-6790
34 Dentists found in New Orleans, LA
/locations/new-orleans-la/
Coutin Dental
1010 Common St Suite 810, New Orleans LA 70112
Tulane Family Dentistry
2504 Tulane Ave, New Orleans LA 70119
Tulane General Dentistry
1529M N Claiborne Ave, New Orleans LA 70116
Closes at
Wednesday
Closed.
Closed.
24/7 Emergency Dentist Gentilly Family Dental L.L.C
2610 Esplanade Ave, New Orleans LA 70119
Anderson Mark D DDS
3625 Canal St, New Orleans LA 70119
Mid-City Smiles Family Dentistry
3625 Canal St, New Orleans LA 70119
Exceptional Dental of Mid-City
4141 Bienville St #105, New Orleans LA 70119
Louisiana Dental Center-New Orleans, Magazine St
2121 Magazine St, New Orleans LA 70130
Tolar Family Dentistry
2502 Napoleon Ave, New Orleans LA 70115
Closes at
Wednesday
Closed.
Closed.
Glazer Dov DDS
3525 Prytania St #312, New Orleans LA 70115
Uptown Dental
8131 St Charles Ave, New Orleans LA 70118
Closes at
Wednesday
Closed.
Closed.
Dumas Family Dentistry
3004 Gentilly Blvd, New Orleans LA 70122
Louisiana Dental Center-New Orleans, Claude Ave
4232 St Claude Ave, New Orleans LA 70117
Dr. Alvin J. Smith
4520 Elysian Fields Ave, New Orleans LA 70122
Dr. A. J. Smith
4520 Elysian Fields Ave, New Orleans LA 70122
Elite Dental
2703 General De Gaulle Dr, New Orleans LA 70114
Audubon Dental Group
6120 Magazine St, New Orleans LA 70118
Kristopher Rappold DDS
6120 Magazine St, New Orleans LA 70118
Gold Teeth Kingz
1555 Manhattan Blvd, Harvey LA 70058
Tufton Family Dentistry
654 Terry Pkwy, Gretna LA 70056
Aesthetic Dental- Ganucheau Paul E DDS
2636 Athania Pkwy, Metairie LA 70002
Dr. Taryn M. Smith, DDS
2824 Athania Pkwy, Metairie LA 70002
Louisiana Dental Center-Metairie
3301 Veterans Blvd Suite 203, Metairie LA 70002
Teresita V Hernandez DDS
4612 Jefferson Hwy, New Orleans LA 70121
Dongieux Gene L Dr
3501 Severn Ave, Metairie LA 70002
Louisiana Dental Center-Chalmette
9020 W Judge Perez Dr, Chalmette LA 70043
Paul H. Ragas DDS
2100 Barataria Blvd, Marrero LA 70072
Dr. Valerie R. Hemphill, DDS
2272 Barataria Blvd, Marrero LA 70072
Emergency Dentist
(1)
Emergency dental service
4325 Loveland St, Metairie LA 70006
Nelson Dental Care
3939 Houma Blvd # 11, Metairie LA 70006
Hagler Brandon DDS
7023 Read Ln, New Orleans LA 70127
Eagle Family Dental
7023 Read Ln, New Orleans LA 70127
Lakeside Dental Care
2400 Veterans Blvd #210, Kenner LA 70062
Exceptional Dental of Kenner
1305 W Esplanade Ave, Kenner LA 70065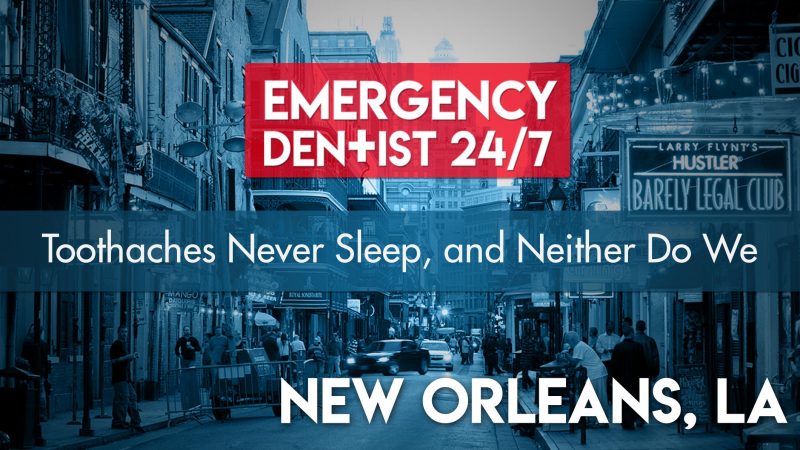 It can be close to impossible to find an emergency dentist in New Orleans at the last minute. Dental emergencies wait for nothing and always seem to strike at the most inconvenient times imaginable. Fortunately for you, you've found us and our 24-hour emergency dentist referral network, which we use to book appointments in patient's names in as little as 24 hours. Instead of hoping to get an appointment with your regular dentist that could take weeks, call us right now at (855)-352-6790. Make the call, give us your details, and we'll get back to you with an appointment booked in no time.
The Things You'll Need for Your Emergency Dentist Appointment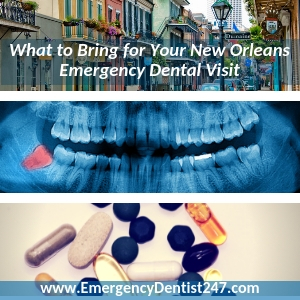 Whether you're looking for a 
weekend dentist office
 or you're on vacation in New Orleans, there are a few things that you'll want to bring with you to your emergency dentist appointment. Start by digging out anything you were sent home with from your most recent visit to your regular dentist. Forms, copies, documentation, even a detailed receipt will do. Anything you can find will help the emergency dentist and their staff will help them to better understand what you've had done recently. Once you know where you're going, call ahead to check if your insurance is accepted. If it is, make sure you bring all the information with you that you'll need to process and file an insurance claim. While you're being treated by the emergency dentist, someone from their staff will handle the claims process for you, so don't worry about having to do it yourself. However, if you don't have dental insurance, or your insurance isn't covered, we recommend that you ask for an appointment quote. This ensures that there will be no surprises when your appointment ends and it comes time to pay. If you are aware of any allergies you may have, or are currently taking any medications on a regular basis, you need to let the emergency dentist and their staff know. If there are numerous in both categories, it's highly recommended that you make a list so they have something to refer to. They need to know this information so nothing they give you during your treatment that will clash with your medication or cause you to have an allergic reaction. Because emergency dentists operate a lot like your regular dentist does, you need to plan to arrive at least 15 minutes before your appointment is scheduled to start. You'll need some time to fill outhe t necessary paperwork for your patient profile. Don't be embarrassed about any anxiety or fear over going to the dentist, and don't be afraid to speak up about it. The emergency dentist and their staff can only make you as comfortable as they can if they know what's bothering you. They've had years of experience in keeping their patients as relaxed and comfortable as they can.
Getting Through the Most Common Dental Emergencies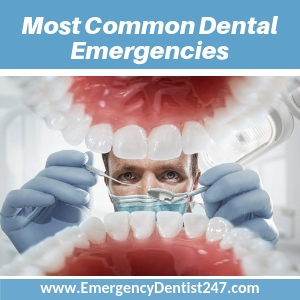 Knowing what you're up against when it comes to getting through the most common dental emergencies can actually help you a lot more than you probably realize. Dental emergencies don't care who you are and what you have to do tomorrow. Lost fillings and crowns, broken fillings and crowns, oral infections, lost or knocked out teeth, severe toothaches, and injuries to the soft and/or hard tissues of the mouth are all common dental emergencies that are treated by emergency dentists on a frequent, if not daily, basis. The majority of dental emergencies are the result of oral health problems that have stacked up and were left untreated over a period of time, like an abscessed tooth. Others, however, make themselves known as soon as they occur, such as a tooth that has been knocked out, for example. When it comes to any sustained head trauma, though, an emergency dentist is not what you'll need. Only an emergency room doctor can treat sustained head trauma and major bodily injuries.
What to Do When You Lose a Tooth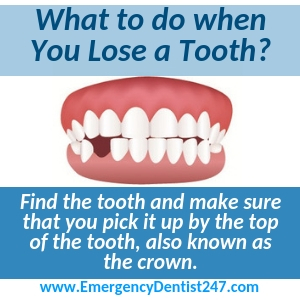 Adult, or permanent, teeth are not supposed to randomly fall out on their own. Should it happen, however, you can still save the tooth if you act fast and do things the right way. Before you figure out what to do next, make sure you're free and clear of any head trauma or major injuries. Once you're completely sure of that, try your best to find the tooth you lost. If you've managed to track it down, pick it up only by the crown, and gently rinse it with some water. Make sure you don't pick it up or handle it by the root. Doing so can cause irreversible damage that will make it impossible to be planted back into the empty socket by the emergency dentist, so do everything you can to preserve the root. The first preservation method, which is the best one, is to try and put it back into the empty socket yourself temporarily. However, make sure you don't force the tooth in, especially if it seems like it's not going in. Doing so can damage both the empty socket and the root of the tooth, potentially destroying your chances of having it put back in safely. If you're unable to temporarily put it back in yourself, get a cup of either milk or water and store the tooth in it until you can get to the emergency dental appointment we've booked for you.
Suffering from an Oral Infection
Oral infections are nasty, destructive, and, when left untreated, are a life-threatening dental emergency. Make no mistake, they have the end result that a bodily infection does when left untreated – fatality due to a blood infection. Oral infections are one of the easiest dental emergencies to have since they develop from almost nothing. A chipped tooth close to the gum line is more than enough for an abscessed tooth to fester and grow. The best way to spot an oral infection is to look for anything that looks like a pimple or a small, red bump anywhere in your mouth. Most patients don't know they have an oral infection until the pain starts, which is also a good indication.
The Loss of a Crown or a Filling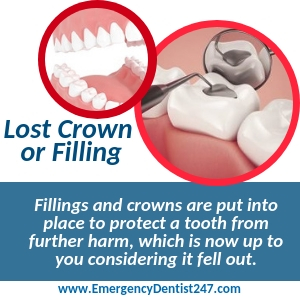 Losing a crown or a filling is pretty common among those who have them. They tend to fall out due to age or from being damaged, so don't be surprised if yours does, too. However, if and when it does happen, fast action will be required on your part. You'll need to visit your local drug store to find dental cement, cotton balls, or some gauze, which you will to cut up into smaller pieces. Whatever you decide to use, make sure you're consistent in using it. Fillings and crowns are put into place to protect a tooth from further harm, which is now up to you considering it fell out. If you leave the tooth unprotected and exposed, you may have to face an emergency tooth extraction due to additional damage. The emergency dentist can't refill or recap a tooth that is beyond saving, so keep that in mind.
How an Emergency Tooth Extraction Works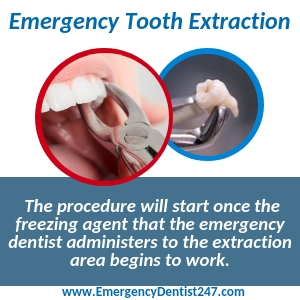 Nothing strikes more fear in the hearts of patients than facing an emergency tooth extraction. One of the best ways to prepare for one is to know how an emergency tooth extraction works. The procedure will start once you and the emergency dentist have confirmed that the numbing agent, which is injected into the extraction area, has worked successfully. The numbing agent is to ensure that you only feel some minor pressure and absolutely no pain at all. Using a special pair of dental pliers that aren't as scary as they sound, the emergency dentist will rock the tooth back and forth in the socket until it comes out. If this doesn't remove the tooth, it will be broken up into smaller fragments and removed by the piece. Once the tooth has been extracted, you will then go over important aftercare instructions with the emergency dentist or someone from their team of staff. These instructions are important to follow by the letter to ensure the extraction site doesn't get infected.
Same Day Denture Repair in New Orleans
It's never been easier to access both same day denture repair in New Orleans and emergency denture repair New Orleans services now that we have added denture lab technicians to our emergency dentist referral network. Patients are now able to have their dentures repaired or go through a fitting for dentures on the same day they go in for the appointment that we have booked for them.
An Emergency Room Doctor vs an Emergency Dentist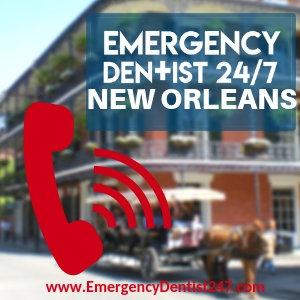 The most important thing for any patient to remember is where they need to go first in the case of an emergency where both oral and physical damage has been done. Any sustained head trauma and/or major physical injuries require an immediate trip to see an emergency doctor at your local emergency room. Unless they have an on call emergency dentist available, which is incredibly rare, you'll need to call us so we can get started on booking an appointment for you with one while your head trauma and other injuries are treated. Emergency dentists may not be able to treat your head trauma and major physical injuries, but they can save your teeth and help your pain to a certain degree depending on who they have on staff at the time.
For more information or to seek immediate help from a 24-hour dentist, you can call Emergency Dentist 24/7 toll-free at (855)-352-6790. Our operators are standing by right now to take your call.
There are a wide variety of common injuries and emergencies that require immediate or as soon as possible dental care. Fortunately for you, these are often easily dealt with and do not require such a fuss once you've made it to an emergency dentist.