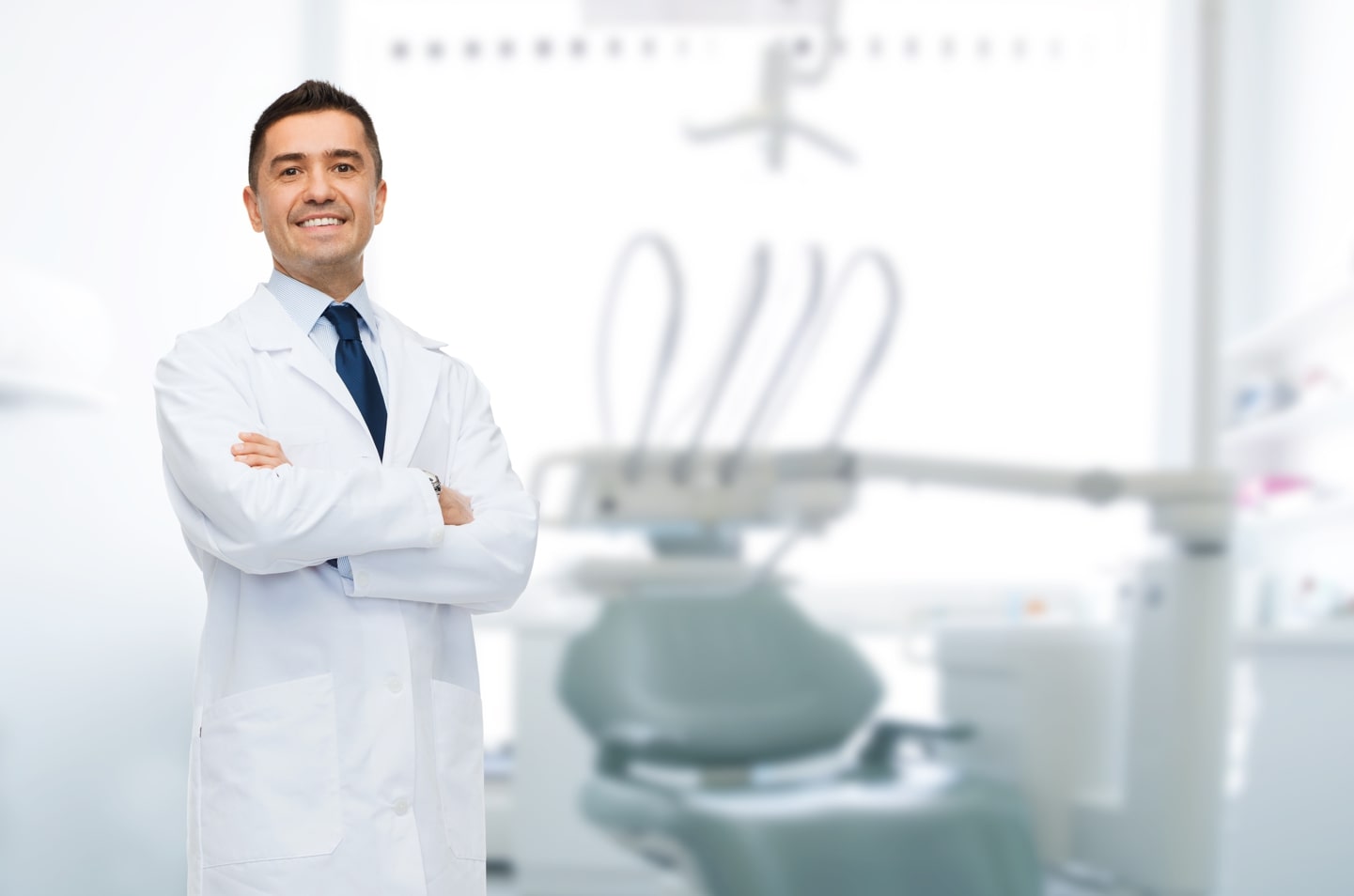 Find an Emergency Dentist

in Fresno, CA
Dental Service in Fresno, CA
Emergency Toothaches, Extractions, Pain Relief Today
Weekends, Nights and Holidays
1 (855) 352-6790
4 Dentists found in Fresno, CA
/locations/fresno-ca/
Bright Now! Dental
6680 N Blackstone Ave, Fresno CA 93710
Palatine Dentistry: Mikhail Sonia DDS
7455 N Fresno St, Fresno CA 93720
A Beautiful Smile
6767 N Fresno St Ste. 200, Fresno CA 93710
Fresno Dental Professionals
(3)
Dental implants periodontist
8405 N Fresno St Suite #110, Fresno CA 93720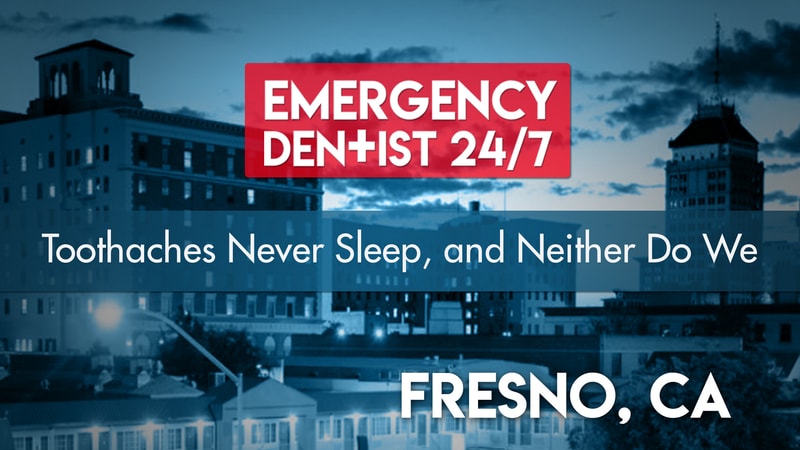 Dealing with a painful dental emergency on your own, desperately trying to find a Fresno emergency dentist, can seem like an endless, fruitless task. Thankfully for you, however, you've found the help you need to set you up with an emergency dentist in Fresno. Call us at your earliest opportunity at (855)-352-6790 so we can take the search for a local emergency dentist off your hands.
Everything You'll Need for the Emergency Appointment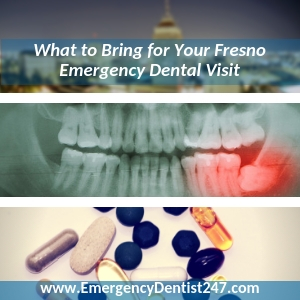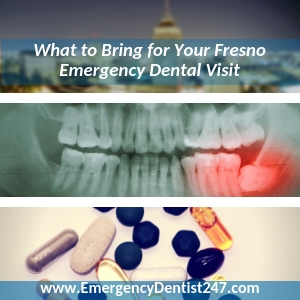 Before you leave your home for the emergency dentist appointment we've booked for you, make sure you have the following with you: A thorough, detailed list of all medications and known allergies Insurance information needed for a dental insurance claim Any paperwork or documentation given to you after a recent dental appointment In order to make sure you don't have to rush when you arrive, give yourself an extra 15 minutes. You'll no doubt need this time to ask any questions you may have, fill out paperwork, and let the emergency dentist or their staff know if you're feeling nervous or fearful.
Common Dental Emergencies Treated by Emergency Dentists
Dental emergencies are either the result of underlying oral health problems or an accident that caused it. Whatever the case may be, any sustained head trauma must be assessed and treated before anything else.
The Loss of an Adult Tooth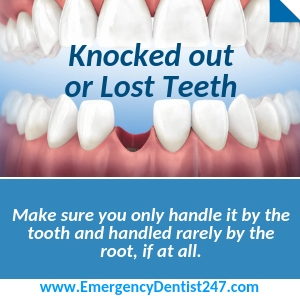 The first thing you must do after the loss of an adult tooth is to make sure any sustained head trauma is identified and treated. Once that's taken care of, or no sustained head trauma could be found, try to find the tooth. Making sure to not handle the root when you pick it up and rinse it off, you can then try to temporarily put it back into the socket yourself. If you're not comfortable with doing so, or you can't put it back in, you can also fill up a cup with milk or water and store the lost tooth in it. Remember to try and not handle the root of the tooth as much as possible. If you handle it by the root too much, you could damage the tooth to the point of no return, making it impossible to implant it back into the empty socket. Quit wasting time calling every dentist office, call us and get help 
finding a weekend dentist
 now.
Oral Infections – Abscessed Teeth
Oral infections, such as an abscessed tooth, for example, are an absolute nightmare of a dental emergency. Not only are they extremely painful, they're a time-sensitive turned life-threatening dental emergency, so you need to act quickly when you have one. Monitor any amount of oral pain you may be experiencing and take a thorough look around your mouth for small, red bumps. If you're in oral pain, find a small, red bump in your mouth, or are even dealing with both, chances are you have an oral infection. If you have an oral infection or suspect one is brewing, you need to call us straight away. You're putting your life at risk if you ignore an oral infection for too long.
The Loss of a Filling or Crown
Even though fillings and crowns tend to break and/or fall out as they age or through damage, you still need to take action as soon as one or the other falls out. They are put in place in order to protect a damaged tooth from further harm, which is why you need to find dental cement, pieces of gauze, even some cotton balls. Whichever method you're able to use, you need to stay consistent and keep the covered. If you don't, and the tooth takes further damage, you may have to have an emergency tooth extraction instead of a recap or a refill.
How to Face an Emergency Tooth Extraction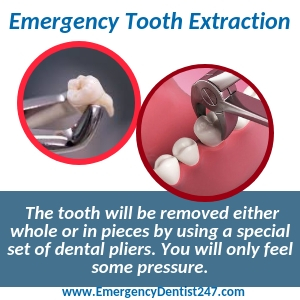 The best way to face an emergency tooth extraction is to know how the procedure works and what you can expect. It's never easy being told you need to have an emergency tooth extraction, especially if the emergency dentist calls for one at the last second. A numbing agent is used to ensure you won't feel any pain, just some minor pressure. Once its had a chance to kick in and become effective, the emergency dentist will then use a pair of dental pliers to either remove the tooth whole or in pieces by breaking it up into smaller fragments. Once the tooth has been extracted using either method to remove it, you will then go over aftercare instructions. In order to avoid the extraction site becoming infected, you need to make sure that all their instructions are followed to the absolute letter.
Same Day Denture Repair in Fresno
If you need same day denture repair in Fresno or emergency denture repair Fresno, we have the help you need due to the emergency dentists we have in our 24-hour emergency dentist referral network who work closely with denture lab technicians. Repairs can be made to your current set of dentures, or you can go through a full fitting for an entirely new set of dentures, all on the same day, during the single appointment we've booked for you.
Needing an Emergency Room Doctor vs an Emergency Dentist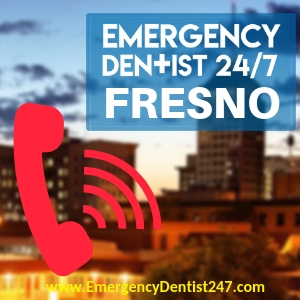 Even though you may have severe oral health injuries that require an emergency dentist as soon as possible, you must see an emergency room doctor to treat your head trauma first. Only an emergency room doctor can treat your head trauma. There are emergency rooms who have emergency dentists on call, but don't depend on this – it's something that's very rarely seen. Although, if you give us a call at your earliest possible convenience while receiving treatment for your head trauma, we can book an appointment with a Fresno emergency dentist for the near future.
For more information or to seek immediate help from a 24-hour dentist, you can call Emergency Dentist 24/7 toll-free at (855)-352-6790. Our operators are standing by right now to take your call.
There are a wide variety of common injuries and emergencies that require immediate or as soon as possible dental care. Fortunately for you, these are often easily dealt with and do not require such a fuss once you've made it to an emergency dentist.