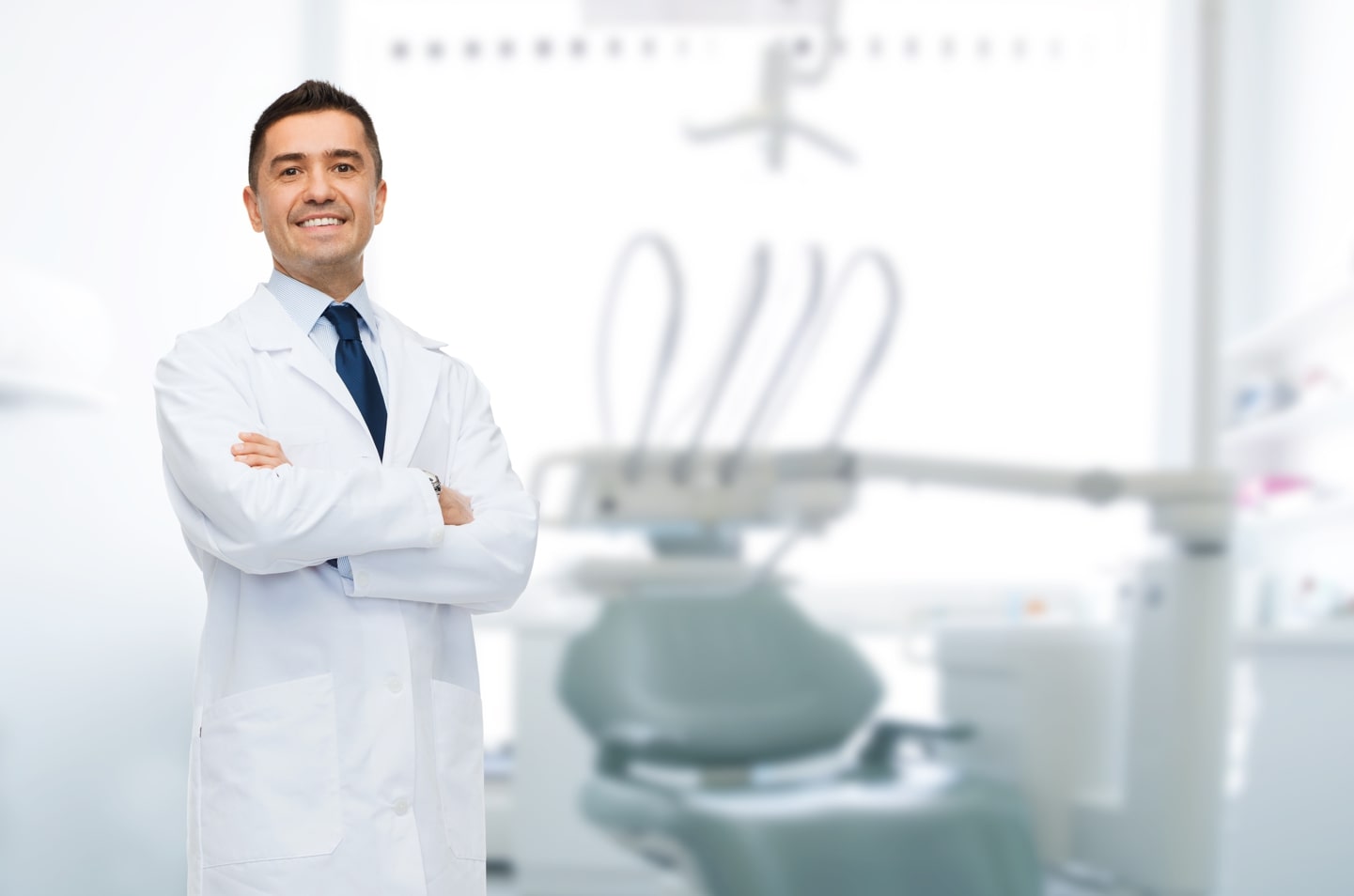 Find an Emergency Dentist

in Albuquerque, NM
Dental Service in Albuquerque, NM
Emergency Toothaches, Extractions, Pain Relief Today
Weekends, Nights and Holidays
1 (855) 352-6790
41 Dentists found in Albuquerque, NM
/locations/albuquerque-nm/
Cottonwood Smiles Dentistry
3400 New Mexico 528, Albuquerque NM 87114
Clark Family Dental
3613 NM-528 Suite G, Albuquerque NM 87114
Comfort Dental of Alameda
1125 Alameda Blvd NW, Albuquerque NM 87114
Guy C. Clark, DDS PA
3613 Hwy 528 NW, Albuquerque NM 87114
Cottonwood Mall Dental
10000 Coors Bypass Northwest #218, Albuquerque NM 87114
Comfort Dental
9401 Coors Blvd NW, Albuquerque NM 87114
Apex Dental
6330 Riverside Plaza Ln Suite 165, Albuquerque NM 87120
Eagle Pointe Dentists and Orthodontics
6230 Paseo Del Norte NE Ste B, Albuquerque NM 87113
Comfort Dental Rio Rancho
2003 Southern Blvd SE 133 & 134, Rio Rancho NM 87124
Rio Rancho Modern Dentistry and Orthodontics
950 Unser Blvd SE Ste 100, Rio Rancho NM 87124
Comfort Dental East Paseo Del Norte
7900 San Pedro Dr NE, Albuquerque NM 87109
Twohig Dentistry
(14)
General practitioner
7441 Alameda Blvd NE Suite A, Albuquerque NM 87113
High Desert Dental
3520 Montgomery Blvd NE, Albuquerque NM 87107
High Desert Radiography
3520 Montgomery Blvd NE, Albuquerque NM 87107
Dental Emergency
(1)
Emergency dental service
8200 Carmel Ave NE #100, Albuquerque NM 87122
Gardner William DDS
(81)
Emergency dental service
8200 Carmel Ave NE suite 101, Albuquerque NM 87122
NM Family and Cosmetic Dentistry PC
(4)
Emergency dental service
8200 Carmel Ave NE # 101, Albuquerque NM 87122
North Coors Dental
3740 Coors Blvd NW A, Albuquerque NM 87120
NE Heights Modern Dentistry
5901 Wyoming Blvd NE Ste W, Albuquerque NM 87109
Stewart J. Anderson, DMD
5343 Wyoming Blvd NE Ste A, Albuquerque NM 87109
Albuquerque Modern Dentistry
2800-A Coors Blvd NW, Albuquerque NM 87120
Albuquerque Modern Dentists
6810 Menaul Blvd NE Ste B, Albuquerque NM 87110
505dentist
8501 Candelaria Rd NE, Albuquerque NM 87112
Jamharian Reuben A DMD
11001 Spain Rd NE suite a, Albuquerque NM 87111
Emergency Dentist Albuquerque NM
(1)
Emergency dental service
3900 Eubank Blvd NE # 17, Albuquerque NM 87111
Emergency Dental Services
(8)
Emergency dental service
10151 Montgomery Blvd NE, Albuquerque NM 87111
Uptown Park Dental
2100 Louisiana Blvd NE Suite 104, Albuquerque NM 87110
Comfort Dental
4701 Lomas Blvd NE, Albuquerque NM 87110
Comfort Dental of Lomas: Mc Farland Andrew DMD, Huan Yang DDS, Jeremy Dockstader DMD
4701 Lomas Blvd NE, Albuquerque NM 87110
A Better Smile Dentistry
475 Coors Blvd NW A, Albuquerque NM 87121
Peter Roukema, DMD, Allan Staker, DMD and Jonathan Phipps, DMD
6400 Central Ave SW, Albuquerque NM 87105
Sunridge Dental Care: Roukema Peter DDS
6400 Central Ave SW, Albuquerque NM 87105
Dental House
5400 Central Ave SE Unit C-101, Albuquerque NM 87108
ABQ Modern Dental Group
12611 Montgomery Blvd NE Ste A-1, Albuquerque NM 87111
Comfort Dental - Brentwood Hills
2010 Juan Tabo Blvd NE, Albuquerque NM 87112
Albuquerque Dentist Office
10221 Central Ave NE Ste 103, Albuquerque NM 87123
DR. DENTAL
800 Juan Tabo Blvd NE Ste Q, Albuquerque NM 87123
Celebrate Dental & Braces
1625 Rio Bravo Blvd SW, Albuquerque NM 87105
Comfort Dental of Rio Bravo
1698 Rio Bravo Blvd SW, Albuquerque NM 87105
Las Estancias Dental Group
3715 Las Estancias Way Ste 101, Albuquerque NM 87121
YOUR Dental - Gaylina Reachi, DDS
11896 NM-14, Tijeras NM 87059
Closes at
Wednesday
Closed.
Closed.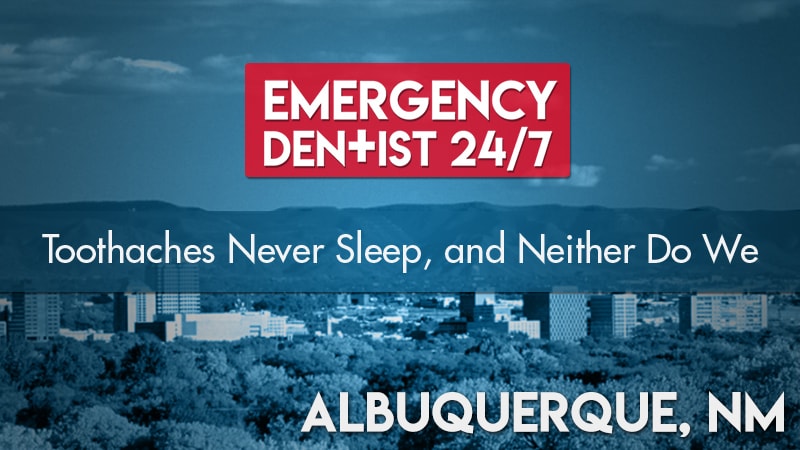 Emergency Dentist Albuquerque NM
You're not the first person to land on this page seeking an emergency dentist in Albuquerque. Because of this, we've created our 24-hour emergency dentist referral network to help those looking for an Albuquerque emergency dentist, no matter what time or day of the week it is. We help patients looking for 
cheap dental care without insurance
 just like you get immediate pain relief and treatment from an emergency dentist in your local area. All you have to do is turn over your search by giving us a quick call at (855)-352-6790.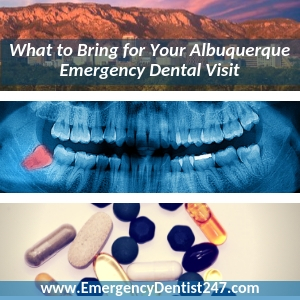 Everything You'll Need for Your Emergency Dentist Appointment
Before you leave for your appointment, you'll need to make sure that you have the following with you, ready to go:
Insurance information needed to process and file an insurance claim, if you have dental insurance and plan on filing a claim
Any recent paperwork or documentation given to you to take home during a previous visit to your regular dentist
A full list of known allergies and/or current medications you're taking on a regular basis
Make sure you give yourself an extra 15 minutes to fill out paperwork when you arrive and, if applicable, to let the emergency dentist and their staff know about any questions or fears you have over going to the dentist. Looking for a 
dentist open Saturdays
, we can help.
The Most Common Dental Emergencies Treated by Emergency Dentists
Most dental injuries are caused by underlying dental health problems that went untreated for any length of time, which is why it's so important to see your dentist twice a year. However, other dental emergencies make themselves known basically as soon as they happen. No matter what you're facing, you need to make sure that you put any sustained head trauma first.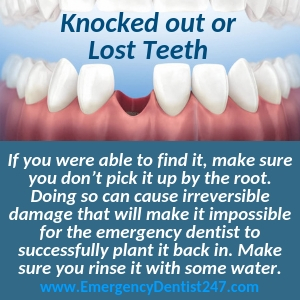 Lost and/or Knocked Out Teeth
Losing a tooth can be extremely stressful, but you can save it if you work fast and do things the right way. Although, you need to make sure any sustained head trauma is dealt with before you look for the lost tooth. If you were able to find it, make sure you don't pick it up by the root. Doing so can cause irreversible damage that will make it impossible for the emergency dentist to successfully plant it back in. Make sure you rinse it with some water. You can try to put the tooth back in yourself, but you can also store it in a cup of milk or water if you're unable to do so for whatever reason.
Oral Infections and Abscessed Teeth
Oral infections are a lot more dangerous than patients realize. They have the potential to become fatal, just like any other type of infection does. The best way to figure out if you have an oral infection is by looking for a red bump, or anything that generally looks like acne, in your mouth. Pain is also a good indication of an oral infection, which is why you should never ignore oral pain, whatsoever. If you suspect you have an oral infection, call us immediately.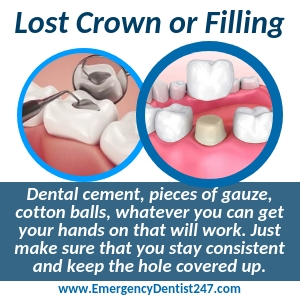 Losing a Filling or a Crown
Losing a filling or a crown can happen anytime… even on a 
weekend
, and you need to act fast in order to reduce the chance of further damage. You'll need to get something to plug up the hole until you can get to the appointment we've booked for you. Dental cement, pieces of gauze, cotton balls, whatever you can get your hands on that will work. Just make sure that you stay consistent and keep the hole covered up. If you don't, you could face losing the entire tooth due to irreversible damage.
Emergency Tooth Extractions
Facing the possibility of going for an emergency tooth extraction is more than enough to keep a patient away, but the best way to prepare for the procedure, is to know what's going to happen before, during, and after. Thanks to the numbing agent used in the extraction area, you won't feel any pain throughout the procedure, just a little bit of pressure. Once it's had a chance to set in, the emergency dentist will remove the tooth using a rocking motion and a pair of special dental pliers. If the tooth is unable to be removed whole, it will be broken up into smaller pieces and removed that way. After it's out and you've had a second to relax, the emergency dentist or someone from their staff will take the time to go over aftercare instructions. You must follow these at home to ensure the extraction site is kept free from infection.
Same Day Denture Repair in Albuquerque
Gone are the days where patients struggle to find same day denture repair in Albuquerque and emergency denture repair Albuquerque. Patients who we book appointments for can be fitted for a set of dentures or have their current set repaired on the same day, thanks to the denture lab technicians we've added to our emergency dentist referral network.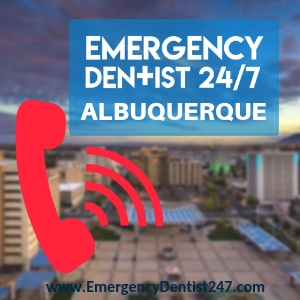 Emergency Room Doctor or Emergency Dentist?
Knowing where you need to go first is extremely important when a trip to the emergency room and a trip to the emergency dentist are both needed. Remember, sustained head trauma always comes first on the treatment list, no matter how bad your oral health is at the time. While you receive treatment for your head trauma from an emergency room doctor, give us a call so we can have an appointment booked for you with an emergency dentist as soon as possible.
For more information or to seek immediate help from a 24-hour dentist, you can call Emergency Dentist 24/7 toll-free at (855)-352-6790. Our operators are standing by right now to take your call.
There are a wide variety of common injuries and emergencies that require immediate or as soon as possible dental care. Fortunately for you, these are often easily dealt with and do not require such a fuss once you've made it to an emergency dentist.