Emergency Dentist Houston
24 Hour Dental Service in Houston
Emergency Toothaches, Extractions, Pain Relief Today
Weekends, Nights and Holidays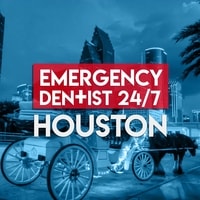 Emergency Dentist Houston
Call Now: (855) 352-6790
---
Emergency Dental Hours
Monday: Open 24 hours
Tuesday: Open 24 hours
Wednesday: Open 24 hours
Thursday: Open 24 hours
Friday: Open 24 hours
Saturday: Open 24 hours
Sunday: Open 24 hours
Common Dental Emergencies
Soft Tissue Injuries
Broken or Chipped Teeth
Object Stuck in Teeth
Abscess Tooth
---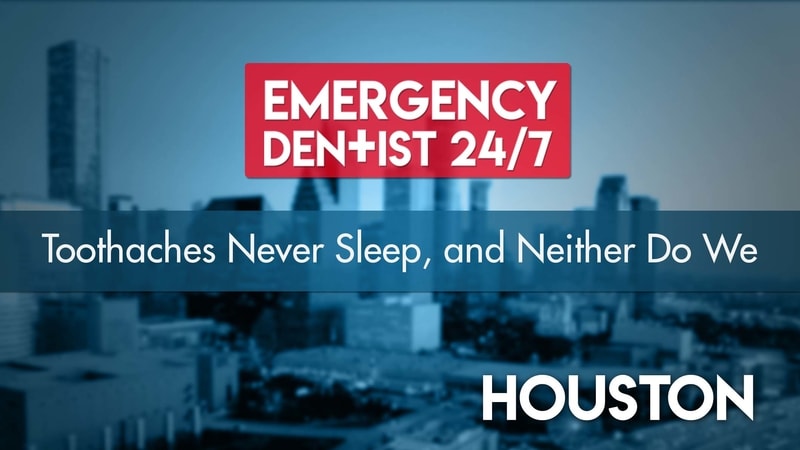 Houston isn't the city you're looking for? Trying to find an emergency dentist? Search our directory!
Emergency Dentist Houston
Endlessly trying to search "Houston emergency dentist" on Google in the middle of the night due to a painful dental emergency doesn't always yield immediate results. Because it can be hard to book a last-minute appointment with an emergency dentist in Houston, we use our 24-hour emergency dentist referral network to patients get an appointment booked in their name as soon as they need it. Call us at (855)-352-6790 and we'll get back to you with an appointment in a minimum of 24 hours.
What You Need to Bring to Your Emergency Dental Appointment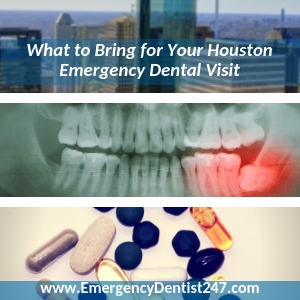 To ensure that your appointment goes as smoothly as possible, make sure you have the following listed below with you when you leave home:
• A detailed list of allergies you know about and medications you take on a regular and/or daily basis
• Important insurance information that is needed to make and file an insurance claim, should you have dental insurance
• Whatever information or documentation, overall, you can find that you were given to take home at your most recent visit to the dentist
To ensure everything can go as smoothly as possible, you should also plan to arrive at least 15 minutes early to fill out paperwork, ask questions, and/or let the emergency dentist or someone from their staff know about any concerns or fears you may have.
The Most Common Dental Emergencies to Watch For
There are 2 different types of dental emergencies – those that show themselves immediately, like a knocked out tooth, and those that are the result of underlying, untreated oral health problems, such as an abscessed tooth.
Patients don't realize it's important to go to the dentist twice a year, as they should be, in order to have their oral health issues identified and treated before they can blow up in a major, painful dental emergency.
However, if you've sustained any level of head trauma, no matter how minor it may be, for whatever reason, you need to get it treated before anything else by an emergency room doctor at your local ER.
Losing a Permanent Tooth
Losing one of your permanent teeth can be a stressful, if not downright scary, situation, especially if it is a result of being in an accident. Before you do anything else, like try and find the tooth, you need to make sure any sustained head trauma is treated.
If you were successful in finding the tooth, make sure you pick it up by the crown and avoid touching the root of the tooth as much as possible. Handling the root too much can cause extensive damage to the tooth, making it impossible to successfully plant it back in.
The best way to preserve a lost tooth is to put it back in the socket temporarily yourself, but you can also store it in a cup of milk or water and bring that in with you to your emergency dentist appointment.
Identifying and Dealing With an Oral Infection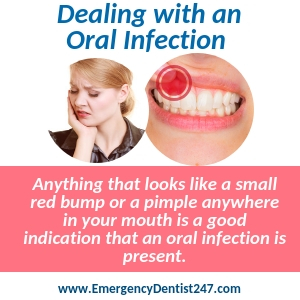 Oral infections are scary, painful, and should never be left to fester. They're just as threatening to your life as an infection anywhere else in your body.
If you're in any level of oral pain and see what looks like a red bump anywhere in your mouth, you need to get help immediately. Oral bumps, together with oral pain, are good indications that you're going through an oral infection.
Time is not on your side when you have an oral infection. You need to ask as quickly as possible when you have one. Call us straight away so we can help you be seen by an emergency dentist within the next 24 hours minimum.
Losing a Filling or Crown – What You Need to Do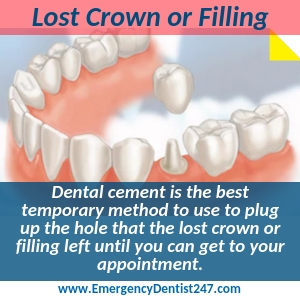 Losing a filling or a crown is easily done – they're not made to last a lifetime. However, even though you can have one fall out rather easily, you need to act quickly if you want to have enough tooth left to save it by recapping or refilling it when you get to the appointment we've booked for you.
Go to your local drug store and pick up some dental cement, gauze, cotton balls, or whatever you can find that will help you protect the tooth.
The only way you can have the tooth recapped or refilled is to ensure that it's protected from further harm. If you leave the tooth as is, open and exposed to further damage, the emergency dentist will have no choice but to extract it.
Emergency Tooth Extractions
The best way to properly prepare for an emergency tooth extraction is to know what will happen during the procedure.
Once the numbing agent kicks in, the emergency dentist will use a pair of dental pliers to remove the tooth whole or by breaking it up gently into smaller pieces and remove the fragments.
After the tooth is out, you will be given important aftercare instructions to follow at home to avoid infection.
Same Day Denture Repair in Houston
Because patients have struggled to find same day denture repair in Houston, especially when it comes to finding emergency denture repair Houston, we've made sure to have emergency dentists with close working relationships with denture lab technicians. Patients can have their current set of dentures fully repaired or go through a complete fitting for a new pair of dentures on the same day, during the same appointment we've booked for you using our network.
Needing an Emergency Dentist vs an Emergency Room Doctor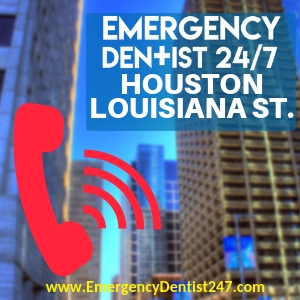 As we mentioned earlier, no injury should be treated before any sustained head trauma. Even if you have multiple broken teeth and other oral injuries, they can wait.
Only a doctor at your local emergency room can treat your head trauma. Some emergency rooms have emergency dentists on call, but don't rely on this – it's something that is very rare to find.
We can book an appointment with an emergency dentist for you while you're having your head trauma treated, however.