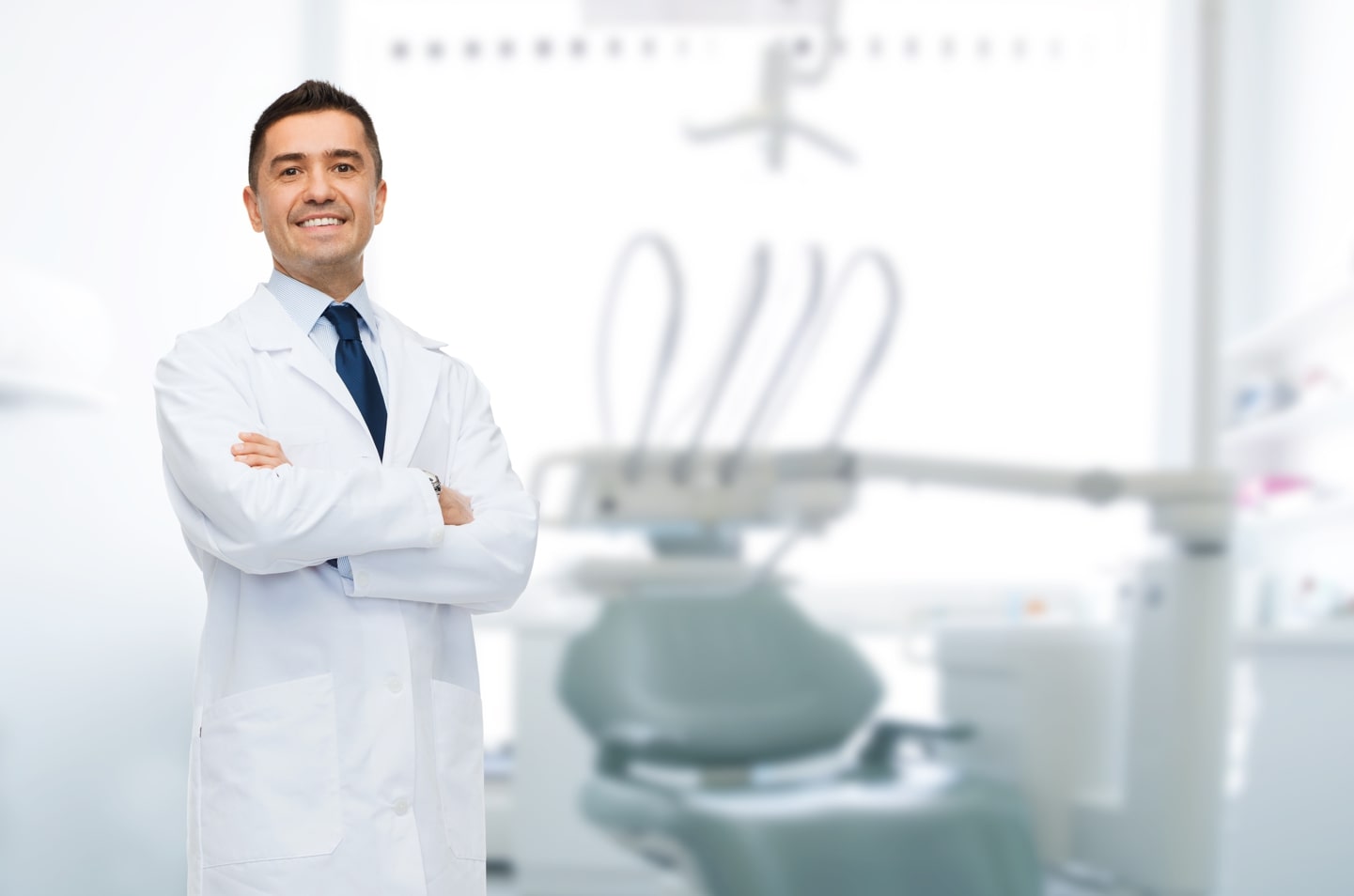 Find an Emergency Dentist

in St. Louis, MO
Dental Service in St. Louis, MO
Emergency Toothaches, Extractions, Pain Relief Today
Weekends, Nights and Holidays
1 (855) 352-6790
4 Dentists found in St. Louis, MO
/locations/st-louis-mo/
Byron V. DuVall
2211 Olive St #100, St. Louis MO 63103
St Louis Emergency Dental
2524 Hadley St, St. Louis MO 63106
Emergency Dentist St Louis
2524 Hadley St, St. Louis MO 63106
After Clinic
3938 W Pine Blvd, St. Louis MO 63108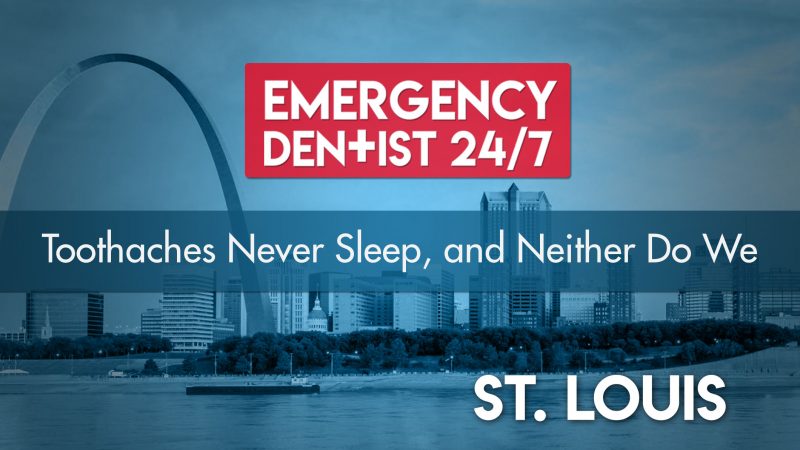 There are very few coincidences in life, especially when it comes to oral pain. If you've found us because of a painful dental emergency that can't wait for regular office hours, you've found the help you desperately need. We've been in the exact situation you're in right now, which is why we're offering you the help you're looking for in the form of our 24-hour emergency dentist referral network. Our strong network of both regular and emergency dentists help us book appointments for those who need it in the St. Louis, MO area in a time frame of as little as 24 hours. If you need an emergency dentist in St. Louis, call us right now at (855)-352-6790 so we can get cracking on booking an appointment for you as soon as possible.
Everything You'll Need for Your Emergency Dentist Appointment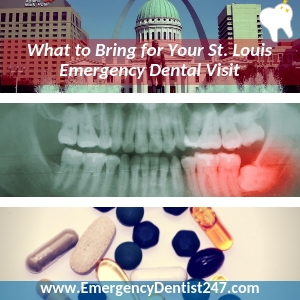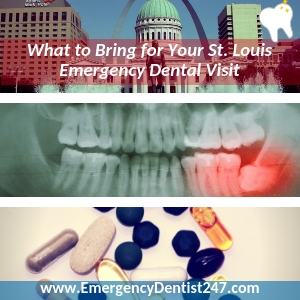 Even though the last thing you probably want to do right now is run around looking for certain things and make sure you've got what you need, it's something you have to do. For starters, if you've brought anything home from a recent visit to your regular dentist, do your best to track it down. Whether it's documentation, copies of an x-ray, copies of forms, or even a detailed receipt, try to find whatever you can. Anything you can find will give the emergency dentist and their staff some important insight into what you've had done in the past, especially if it's fairly recent. If you have dental insurance, you need to call ahead of time to find out whether it's accepted by the emergency dentist your appointment is scheduled with. If it's accepted, make sure you bring all of the information needed to make and process an insurance claim, which will be handled by the emergency dentist's staff while you receive your emergency treatment. If your insurance is not accepted, or you don't have insurance, asking for an appointment quote is a good idea. The emergency dentist and their staff will need to know about any allergies you have that you may be aware of, as well as any medications you're currently, and regularly, taken. If there are a number of both, making a list is a great idea so they have something to refer to throughout your treatment so you can relax more. They need to be completely sure that nothing they give you will cause a reaction throughout your appointment. One of the most important things that you need to keep in mind, is the fact that you need to make sure you arrive early. Giving yourself at least 15 minutes to fill out paperwork before your appointment is due to start. Just because they offer emergency services, does not mean they don't operate like your regular dentist does. Lastly, don't push your anxieties or fear of the dentist down. The emergency dentist and their staff have dealt with hundreds of patients who may be scared, just like you, on a daily basis. The only way they can make sure you're completely comfortable is if they know what's bothering you, which include any fears you may have.
The Most Common Dental Emergencies Faced by Patients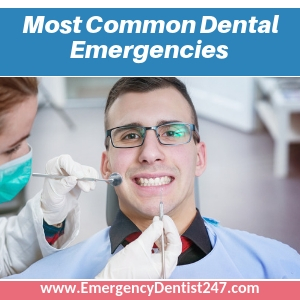 Dental emergencies always seem to pop up at the worst possible times. Nothing could be more frustrating than having to do an important presentation at work in a couple of days while suffering from a massive toothache. Underlying oral health problems are stackable and the main cause of dental emergencies. Other causes are usually so obvious that you'll notice right away, like falling down the stairs and having a tooth knocked out as a result. Injuries to the soft and/or hard tissues of the mouth, loose braces, lost and/or broken fillings and/or crowns, oral infections like abscessed teeth, lost or knocked out teeth, and even severe toothaches are all the most common dental emergencies faced by patients and treated by emergency dentists on a regular, if not daily, basis. Unfortunately, there are a few dental emergencies that can turn from a time-sensitive, painful issue into an even more painful, life-threatening one. A prime example of this type of occurrence is an oral infection, such as an abscessed tooth. The most important thing you always need to remember is that head trauma requires an immediate trip to your local emergency room. We can get you an appointment with an emergency dentist, but that will have to come after your head trauma is treated. Emergency dentists are not able to treat head trauma.
The Loss of a Permanent Tooth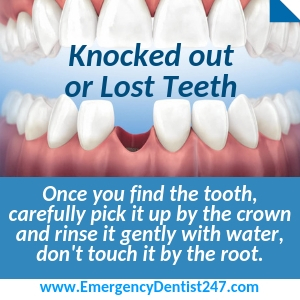 Losing a permanent tooth, whether it was knocked out or lost in some other way, can be an alarming, stressful situation to be in. However, it requires fast action on your part, and not in the way you may think. You need to make sure that you're clear of any head trauma before anything else. If you have no sustained head trauma, do your best to find the lost tooth in question. Once you find it, carefully pick it up by the crown and rinse it gently with water, making sure that you don't touch it by the root. Handling the tooth by the root, even if it's a minimal amount of handling, can cause irreversible damage to the tooth. If the root takes too much damage, the emergency dentist we book you with won't be able to implant it back into the empty socket. The best preservation method is temporarily putting it back into the socket yourself, but don't force it. You could cause damage to both the socket and the tooth, ensuring that a successful procedure of planting it back in will be impossible. Don't worry, you can safely preserve it in a glass of milk or water until you get to the appointment we've booked for you. It's not the best preservation method, but it'll work just as well.
Dealing With an Oral Infection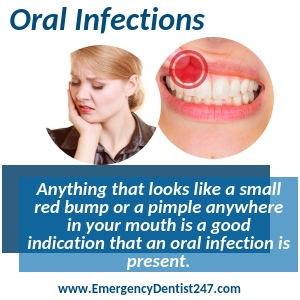 Before we go into how to identify an oral infection, you need to know how dangerous they truly are. Just like an infection anywhere else in your body, leaving an oral infection untreated for a long period of time can kill you as a result of a fatal blood infection. Unfortunately, oral infections, especially abscessed teeth, are able to form easily. Something as small as a minor crack in a tooth too close to the gum line can create an open door for infection to move in. Anything that looks like a small red bump or a pimple anywhere in your mouth is a good indication that an oral infection is present. Even something as seemingly minor as a toothache is an indication of an oral infection. If you suspect, even for a second, that you have an oral infection, call us immediately. As we mentioned before, leaving it untreated is a deadly choice to make.
What to Do Over the Loss of a Filling or a Crown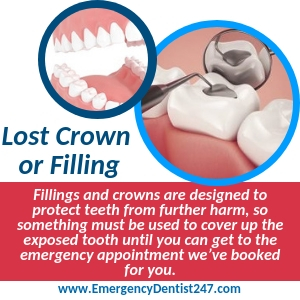 Don't be surprised if you have a filling or a crown fall out. Although they're designed to protect the tooth from further harm, they don't come with a lifetime warranty. In fact, something as mindless as chewing a piece of tough meat can cause a filling or a crown to break and/or fall out. However, as simple as one falling out may be, if and when it does happen, you need to act incredibly fast. As we previously mentioned, fillings and crowns are designed to protect teeth from further harm, so something must be used to cover up the exposed tooth until you can get to the emergency appointment we've booked for you. Take a trip to your local drug store and look for some dental cement, gauze to cut up into smaller pieces, or even some cotton balls. No matter what you pick up, make sure you're consistent. If the tooth receives any further damage because it's not covered and protected, the tooth will have be removed instead of being refilled or recapped.
Preparing for an Emergency Tooth Extraction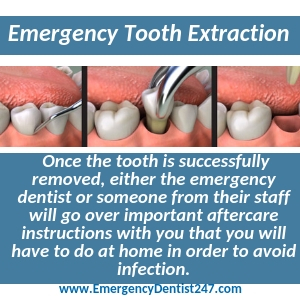 Having to face the possibility of needing an emergency tooth extraction is scary, but the best way to be prepared for one is to know how the procedure goes and what you can expect. Once the emergency dentist is sure that the numbing agent administered to the extraction area has done its job, the procedure can begin. It's important to know that you won't feel any pain, just some minor pressure when a pair of special dental pliers are used to rock the tooth around until it pops out. However, this doesn't always do the job. If this is the case, the emergency dentist will then break the tooth up into smaller pieces and remove the tooth in fragments. Once the tooth is successfully removed, either the emergency dentist or someone from their staff will go over important aftercare instructions with you that you will have to do at home in order to avoid infection.
Same Day Denture Repair in St. Louis
Tracking down same day denture repair in St. Louis, even emergency denture repair St. Louis, is now easier than ever thanks to the emergency dentists in our network who work closely with denture lab technicians in our referral network. You can go for a fitting or have your current set of dentures repaired on the same day you go in for the appointment we've booked for you.
The Right Choice – Emergency Room vs Emergency Dentist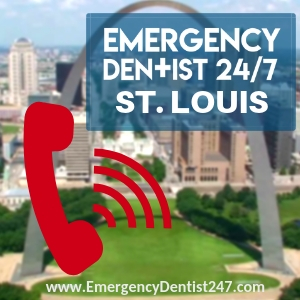 There are a lot of instances that will lead to needing both an emergency room and an emergency dentist, but knowing which one you need first is crucial. For starters, an emergency room doctor is your only option for treating any sustained head trauma. They can't do much in the way of saving your teeth unless there's an emergency dentist on call, but that's a very rare occurrence. Emergency dentists aren't equipped to properly treat head trauma and major injuries, so make sure everything else is dealt with first. Afterward, you're clear to visit the emergency dentist, which we can set up for you, to get all your oral injuries taken care of.
For more information or to seek immediate help from a 24-hour dentist, you can call Emergency Dentist 24/7 toll-free at (855)-352-6790. Our operators are standing by right now to take your call.
There are a wide variety of common injuries and emergencies that require immediate or as soon as possible dental care. Fortunately for you, these are often easily dealt with and do not require such a fuss once you've made it to an emergency dentist.