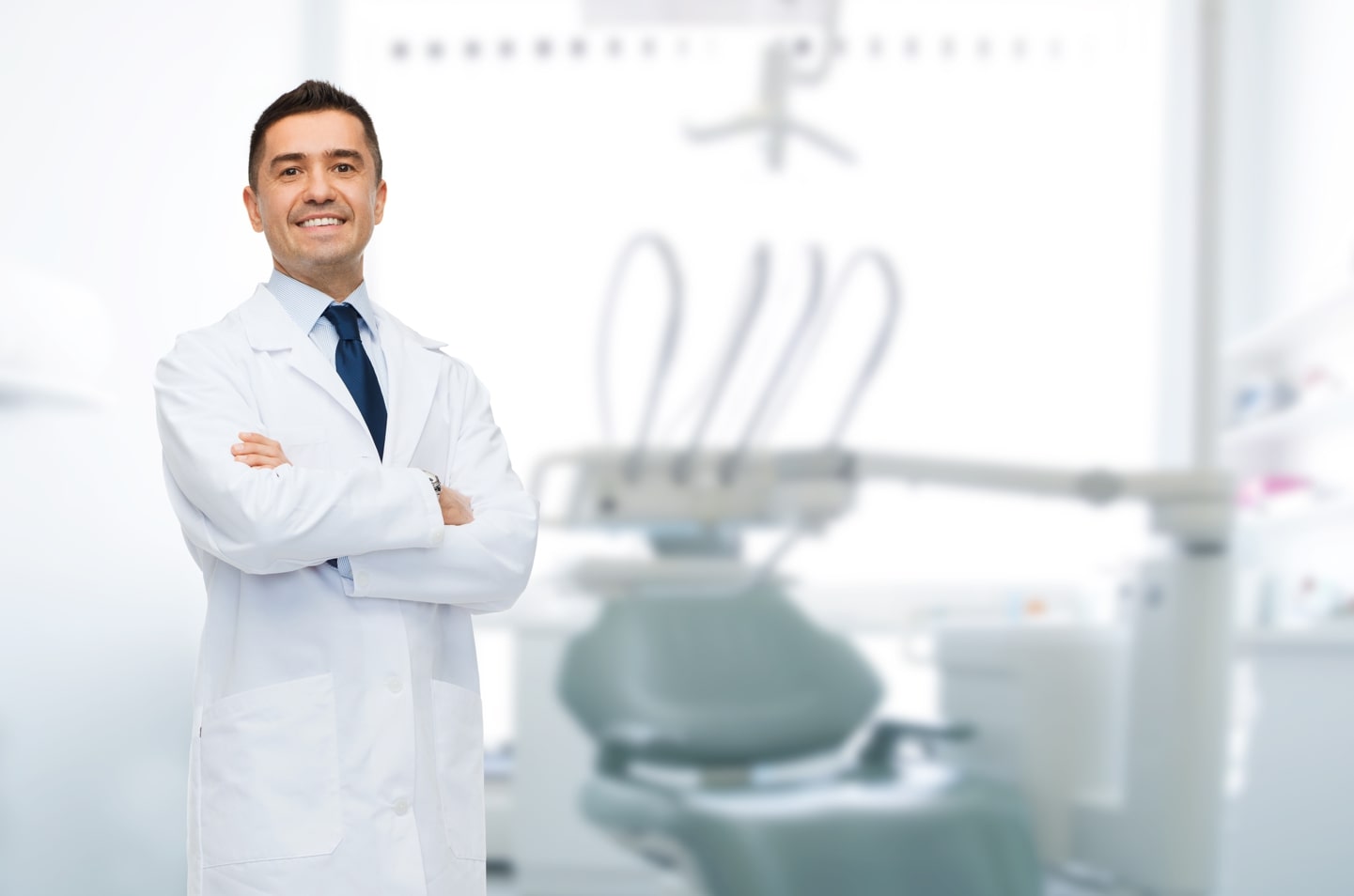 Find an Emergency Dentist

in Oakland, CA
Dental Service in Oakland, CA
Emergency Toothaches, Extractions, Pain Relief Today
Weekends, Nights and Holidays
1 (855) 352-6790
4 Dentists found in Oakland, CA
/locations/oakland-ca/
Western Dental & Orthodontics
3405 International Blvd, Oakland CA 94601
H P Dental
600 International Blvd Suite 104, Oakland CA 94606
Paden Orthodontics Alameda
1721 Santa Clara Ave, Alameda CA 94501
Thuy Bui D.D.S.
1923 Encinal Ave, Alameda CA 94501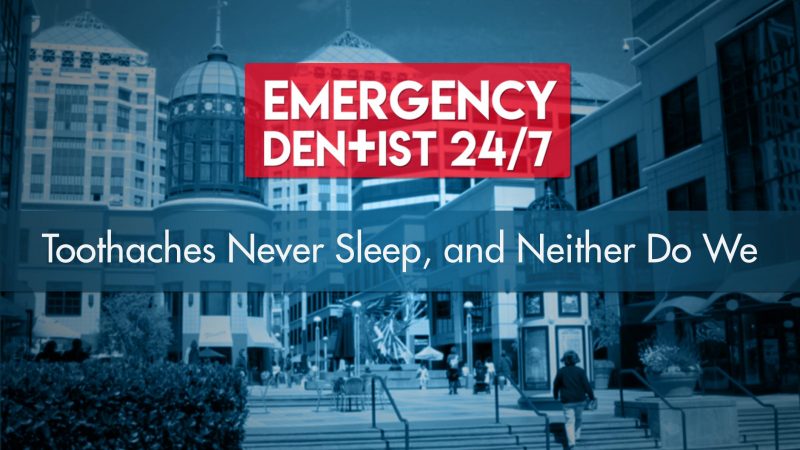 It's no coincidence that your oral pain has led you to our website. Whether it's a coincidence or not, you're looking for an emergency dentist in Oakland to find immediate help for whatever you may be going through. No matter the time or day, we can help you get an appointment as quickly as possible with an Oakland emergency dentist as soon as you need it. We operate on a 24-hour basis to help patients find an emergency dentist in Oakland, CA. Instead of hoping for the pain to go away or waiting weeks for an appointment with your regular dentist, call us today at (855)-352-6790 so we can have an appointment booked for you in as little as 24 hours time.
What You'll Need for Your Emergency Appointment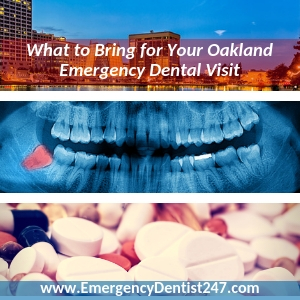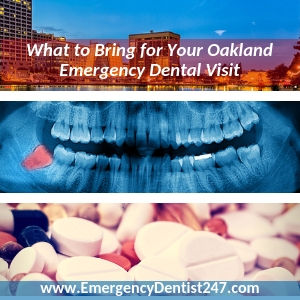 Documentation, forms, detailed receipts, etc., from a recent dental appointment will help the emergency dentist understand what you've had done in the past. Anything you can find will do, so make sure you try to track any recent information down. If you have dental insurance, calling ahead to see if it will be accepted by the emergency dentist is important so there are no surprises. If your insurance isn't accepted, asking for a quote couldn't hurt. You'll need to have all the information needed to process and file a claim, which the emergency dentist's team will handle for you while you receive your treatment. Next, it's very important that you make a list of any known allergies or any medications you're currently taking to give to the emergency dentist. Giving them a list will allow he or she to have something to refer to during your treatment to ensure nothing they use or give you will cause a reaction. It's important to remember that emergency dentists operate much like your regular dentist does. Because of this, you need to make sure that you arrive with at least 15 minutes to spare. You'll more than likely be given some paperwork to fill out for your patient profile. Finally, don't hide your anxiety. Letting the emergency dentist know about any nervousness or fears you may have over going to the dentist is the best way for he or she, as well as their team, to do everything they can to keep you relaxed and comfortable for the duration of your appointment.
The Most Common Dental Emergencies Patients Face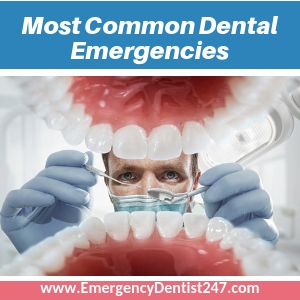 Dental emergencies don't care about your schedule, tend to be painful, and are pretty relentless. You can't expect them to go away on their own, which is why it's so important to what the most common dental emergencies are. Underlying oral health problems can stack up a lot quicker than most patients realize. For example, a chip close to the gum line can create an opening to the inside of the tooth, which can turn into a nasty abscessed tooth, otherwise known as an oral infection, fast. The most common dental emergencies are abscessed teeth and other forms of oral infections, minor to severe toothaches, injuries to the soft and/or hard tissues of the mouth, loose braces, and lost or broken crowns or fillings. However, emergency dentists are only able to treat oral injuries, which means if you're suffering from head trauma, an emergency dentist isn't what you need. The most important thing to remember after any type of emergency is that you need to have your head trauma treated before anything else by a doctor in your local emergency room.
Losing an Adult Tooth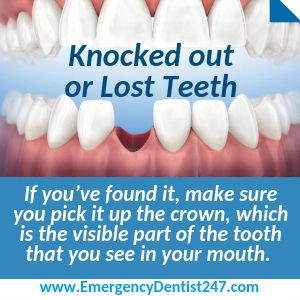 Losing one of your adult teeth can be a scary, stressful situation, especially if the tooth you've lost is one of the visible ones in the front of your mouth. Instead of panicking, pull yourself together and get ready to find the tooth you've lost. Before you do anything, however, make sure you assess yourself and figure out whether or not emergency room treatment is needed. If not, make sure you call us as soon as possible so we can get you in to see an Oakland emergency dentist. While we work on getting you an appointment, start looking around for the lost tooth. If you've found it, make sure you pick it up the crown, which is the visible part of the tooth that you see in your mouth. Picking it up by the root, which is the part that you don't see in your mouth, may cause irreversible damage that will make it impossible for the emergency dentist to put it back in the empty socket. Make sure you rinse the tooth off gently before you figure out your next move. The best way to preserve the tooth until your emergency appointment is to temporarily put it back in the socket yourself. If you're unable to do so, however, store it in a cup of water or milk, instead. Remember, you must seek treatment for head trauma first before anything else. The emergency dentist can come second.
Oral Infections – Abscessed Teeth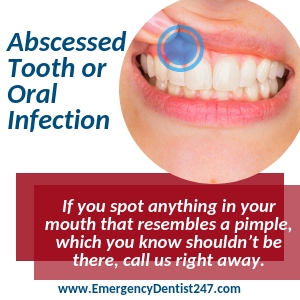 Oral infections, including abscessed teeth, are a dangerous form of oral emergency. If you don't seek treatment as soon as possible, you could be facing a life-threatening dental emergency that could land you in the emergency room. Cracked or chipped teeth along the gum line, which create an opening to the inside of a tooth, gives an oral infection the chance to move in. Fortunately, they are pretty easy to spot in other areas of your mouth, unless it's directly inside a tooth, which you won't notice until the pain starts. If you spot anything in your mouth that resembles a pimple, which you know shouldn't be there, call us right away. Oral infections are a time-sensitive dental emergency that can, and do, threaten your life if they aren't treated as soon as possible.
Losing a Filling or Crown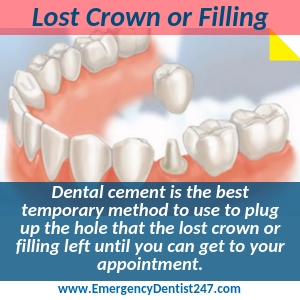 The loss of a filling or a crown is a more dire situation than a lot of patients realize, much like other dental emergencies. Don't be surprised if you lose yours, considering they get weaker with age and damage over the years. Even something as mindless as eating tough meat is enough to cause a filling or a crown to fall out. If you've lost a town or a crown, you need to act fast. A lot of patients get crowns or filling to protect the tooth from further harm. For example, a patient can have a crown or filling to protect a tooth that received deep damage from a cavity. Dental cement is the best temporary method to use to plug up the hole that the lost crown or filling left until you can get to your appointment. However, pieces of gauze and cotton balls will also work, but you must make sure that something is used to keep the tooth protected at all times until you see the emergency dentist. If the tooth is unprotected and remains exposed, you could be looking at an emergency tooth extraction. The emergency dentist will only be able to refill or recap the tooth in question if it isn't damaged beyond repair.
Facing an Emergency Tooth Extraction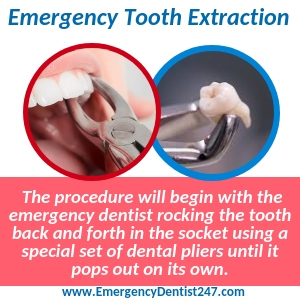 Facing the possibility of having an emergency tooth extraction done is more than enough for some patients to make the unwise choice of avoiding going to the dentist as they should twice per year. If you're in need of an emergency tooth extraction, the best way to prepare for it is to know a little bit about how it's done so you know what to expect. If you're genuinely scared of this type of procedure, don't be afraid to make your fears known. The emergency dentist and their staff will do everything they possibly can to make sure you're informed, calm, and relax throughout the procedure. Don't worry about feeling any pain, because the extraction area will be fully frozen to ensure that you won't experience any. The procedure will begin with the emergency dentist rocking the tooth back and forth in the socket using a special set of dental pliers until it pops out on its own. Although, this doesn't always work. If using dental pliers are not able to remove the tooth, it will be gently broken up into smaller pieces and extracted one by one. You will then be given important aftercare instructions to follow at home, which the emergency dentist will go through with you, and that's it – the procedure is done!
Same Day Denture Repair in Oakland
We've had a lot of patients come to us looking for emergency denture repair Oakland, which is why we've added this service and same day denture repair in Oakland to ensure we offer the right type of help for everyone who needs it! The emergency dentists who work closely with denture lab technicians in our network ensure that your dentures can be fully repaired, or you can have a fitting for a new pair entirely, on the same day you go in for the appointment we've booked for you.
Emergency Room vs Emergency Dentist – Your First Choice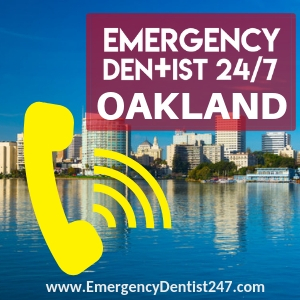 If you've had an emergency, such as a car accident, for example, it's extremely important you know where you need to go first, be it the emergency room or the emergency dentist's. Any serious body or head trauma requires an immediate trip to the emergency room, no matter what's going on with your health. Emergency doctors are not equipped properly enough to save your teeth. However, if you get lucky, you may run into an emergency dentist at your local emergency room, but this is a rare occurrence. While you're receiving treatment at your local emergency room to deal with body or head trauma, call us right away so we can get started on booking an appointment for you. More often than not, patients will require both their local emergency room and help from an emergency dentist.
For more information or to seek immediate help from a 24-hour dentist, you can call Emergency Dentist 24/7 toll-free at (855)-352-6790. Our operators are standing by right now to take your call.
There are a wide variety of common injuries and emergencies that require immediate or as soon as possible dental care. Fortunately for you, these are often easily dealt with and do not require such a fuss once you've made it to an emergency dentist.