24/7 Emergency Dentist – Los Angeles
24 Hour Dental Service in Los Angeles
Emergency Toothaches, Extractions, Pain Relief Today
Weekends, Nights and Holidays
Call for 24/7 Emergency Dentists in Los Angeles
Click or Call Toll-Free
Click to Call Now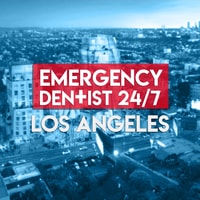 24/7 Emergency Dentist
Call Now: (855) 352-6790
---
Emergency Dental Hours
Monday: Open 24 hours
Tuesday: Open 24 hours
Wednesday: Open 24 hours
Thursday: Open 24 hours
Friday: Open 24 hours
Saturday: Open 24 hours
Sunday: Open 24 hours
Common Dental Emergencies
Soft Tissue Injuries
Broken or Chipped Teeth
Object Stuck in Teeth
Abscess Tooth
---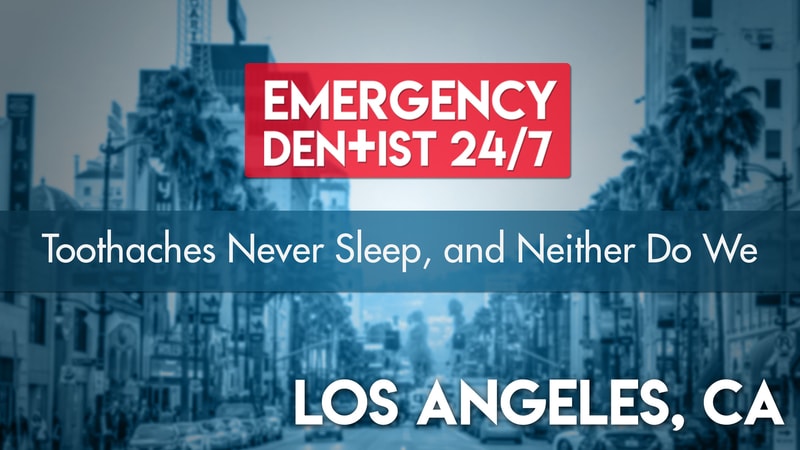 24/7 Emergency Dentist Los Angeles CA
Unfortunately for all of us, dental emergencies always seem to strike at the worst possible time. If you're up late at night on Google searching "emergency dentist near me" or "emergency dentist Los Angeles", we can help you find what you're looking for.
We've been in the same spot you've been, along with hundreds of patients all over the country, which is why we've created our 24-hour emergency dentist referral service. The easiest way to have an appointment booked for you in less than a day is by giving us a quick call at (855) 352-6790.
If you're on the lookout for a Los Angeles emergency dentist and require an appointment booked in your name, but you're having trouble doing so, look no further! We offer emergency dental bookings at local Los Angeles dentists for everyone who needs them. Because we run on a 24-hour operation basis, your call will be answered as soon as you place it.
Whether you need minor or major emergency dental services during your appointment, we can have your appointment booked and ready to go for you within a 24-hour time frame after you've placed a call to us. We work through a number of local partnerships with local dentists who offer emergency dental services and appointments, which is why we have such a broad referral range. To get started and have your appointment booked today, give us a call at (855) 352-6790.
Emergency Dentist Los Angeles, CA
Emergency Dental Service Los Angeles
Dentists: Various Dental Practices
Hours: 24 Hours a Day
Description:
Call our dental referral service to see an urgent care dentist right away.
---
Z Dental Group
6320 Commodore Sloat Dr, Los Angeles, CA 90048, USA
(323) 936-9997
www.zdentalgroup.com
Monday – 8 AM to 8 PM
Tuesday – 8 AM to 8 PM
Wednesday – 8 AM to 8 PM
Thursday – 8 AM to 8 PM
Friday – 8 AM to 8 PM
Saturday – 8 AM to 8 PM
Sunday – 8 AM to 8 PM
---
What You'll Need to Bring With You to Your Appointment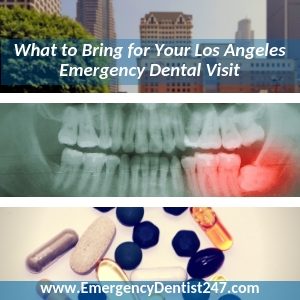 Before you rush out the door, you're going to need to bring a couple of things to your emergency dentist Los Angeles appointment. For starters, it's never a bad idea to call ahead and check if the emergency dentist accepts your insurance. If not, you should probably inquire about a quote so there are no surprises when your bill is presented.
The emergency dentist and their staff must know if you are currently on any medications and whether or not you're aware of any allergies you may have. These are extremely important for them to know to ensure that nothing they give you during your treatment or procedure clashes with your medication or causes you to have an allergic reaction.
If you've seen your dentist lately and have had any work done, see if you can find some records around your home before you go. Your emergency dentist will want to take a look at any records or documents, whether it's an x-ray or even a detailed receipt, so they can have a better idea of what you've had done in the recent past.
It's important that you remember to give yourself at least 15 minutes to spare by the time you get there. This is so you don't cut into your appointment from filling out paperwork and asking any questions you may have.
Lastly, don't be scared to let the emergency dentist and their team know about any anxiety you may have over visiting the dentist. Thousands of people have a fear of going to the dentist, so they have experience when it comes to addressing their patient's fears and keeping them comfortable throughout their appointment.
Same Day Denture Repair in Los Angeles
It's never been easier to access immediate help where same day denture repair in Los Angeles, especially emergency denture repair Los Angeles. When you go to the appointment we've booked for you, you can have your dentures repaired on the spot. If you need an entirely new pair because the damage is too extensive, that can be done during your appointment, as well. The emergency dentists in our network work closely with denture lab technicians, which makes it possible to have everything done in one appointment.
Common Emergencies That Emergency Dentists See
Because a dental emergency can spring up on you at any time, knowing what you're up against can help give you an edge and better prepare you for dealing with it. While some dental emergencies let you know what they are right off the bat, like a lost tooth, while others are more complicated and form as a result of underlying, not-so-visible problems that haven't been treated, like an abscessed tooth.
It's also important to know when you need to see an emergency doctor in your hospital's emergency room. Any major injuries, even if it's a major oral injury, and trauma to the head must be treated at a hospital. Once those are dealt with, we'll get you in to see an emergency dentist within a 24-hour period of time to treat everything else.
What to Do When a Tooth is Knocked Out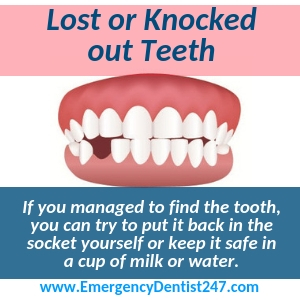 If you've had a tooth knocked out, or it fell out for another reason, you need to follow some steps if you want to save it and have it implanted back in your mouth by an emergency dentist. Before we get into those steps, however, you need to assess the situation and make sure you don't need a trip to the ER.
If the only problem you have is the tooth, then you've got the green light to try and find it. Once you've found it, make sure you pick it up by the crown and never by the root. Handling the root of the tooth is the best way to damage it, therefore ensuring the emergency dentist won't be able to plant it back in the empty socket.
If the tooth looks to be in good shape, which you can check for yourself by eyeballing it, you may able to stick it back in the socket yourself to keep it safe until we can get you to an emergency dentist. If you don't feel comfortable doing this, preserving it using a cup of milk or water will work, as well.
Dealing With an Infected Tooth
Oral infections are both tricky and extremely dangerous. What you can't see can be incredibly destructive to your oral health, so acting as fast as possible when you're given the slightest sign is very important. Unfortunately, that sign is usually the pain.
The problem with oral infections is that they usually come in the form of an abscessed, infected tooth. The infection forms and spreads inside the tooth, effectively making sure you can't see what's going on. However, sometimes you get lucky and your oral infection isn't an infected tooth, but reveals itself to you in the form of something that resembles a pimple somewhere in your mouth.
Oral infections should never be left to stew. They are time-sensitive, devastating to your oral health, and can actually turn from being a dental emergency to a life-threatening emergency, just like any other type of bodily infection.
What to Do When You Lose a Filling or a Crown
Though losing a filling or a crown isn't exactly like an oral infection, you still need to keep the same speed in dealing with the situation.
The first thing you need to do is go down to your local pharmacy or drug store and track down some dental cement. If you can't find any, pick up some gauze or some cotton balls. Using a piece of gauze or a cotton ball to plug the hole that losing your filling or crown has made will work just as well as dental cement, but you have to keep up with making sure it stays covered.
If you don't, the emergency dentist may have to pull the tooth entirely due to the damage that will be caused by leaving the hole open. Food and debris, in general, will get stuck in there and, depending on how deep the hole is, can damage the nerves and even the root of the tooth, preventing it from being refilled or capped again.
What to Expect When You Need to Have an Emergency Tooth Extraction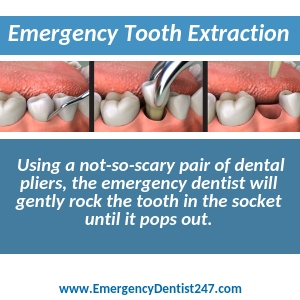 Getting a tooth pulled can be scary, especially if you're already dealing with nervousness over the dentist, in general. The first, and most important, thing that you need to remember is that the emergency dentist we book you with and his or her team will do everything they can to try and save the tooth.
Unfortunately, not all teeth can be saved, so you have to be prepared to face an emergency tooth extraction if that's up in the air. If it has to happen, the emergency dentist and their team will begin by fully numbing the extraction area. You won't feel any pain, just some minor pressure when the tooth is being pulled.
Using a not-so-scary pair of dental pliers, the emergency dentist will gently rock the tooth in the socket until it pops out. Sometimes, however, this won't always work. If this is the case, he or she will carefully break up the tooth and remove it piece by piece.
Once the extraction is completed and you've been assured that everything is done and okay, your emergency dentist will go over what you need to do at home to keep the extraction site clean and free of infection. As long as you follow your emergency dentist's orders on aftercare at home, the amount of time the site will take to heal will be as minimal as possible.
Knowing Which Emergency Professional You Need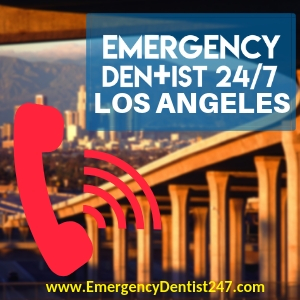 Above all, it's important to know which emergency professional you need first, be it an emergency dentist or an emergency doctor. Your life, and your wallet, could be relying on the decision you make.
For example, you've been in a car accident that completely wrecked your car. You've lost a couple of teeth, have head trauma, injuries to the soft tissues of your mouth, and a broken arm. Where do you go first, to the emergency dentist or the emergency doctor?
If you chose to go to the emergency dentist first, you've answered wrong. The head trauma you received from the car accident is the priority here or in any situation, so you need to go to the emergency doctor right away. They are equipped to deal with your head trauma, your broken arm, and help you with pain management.
The emergency dentist can't treat your head trauma, which is why they should be your second visit. The emergency dentist will be able to treat the soft tissue injuries and some minor pain management, as well as anything else you need done.
If you're able to do so, call us right away at (855) 352-6790 when you get a minute to do so while you're with the emergency doctor so we can start working on getting you booked with an emergency dentist.