Dr. David R. Hudnall, DMD, is a healthcare manager, dental practitioner, and dental administrator who has over 21 years of experience in the oral health industry.
Dr. Hudnall graduated from West Virginia State University with a Bachelor of Science degree in Chemistry before entering the workforce. After working for some time in the field of compliance and agricultural research at a few government agencies, Dr. Hudnall decided to change careers. His journey to becoming a member of the oral health industry began with a Doctor of Dental Medicine (DMD) degree from the University of Louisville, which he received in 1996.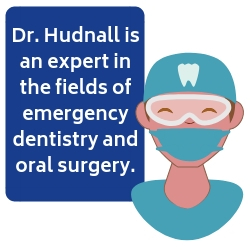 That same year, Dr. Hudnall relocated to South Carolina to begin his own private practice. For three years, he operated a general practice just like any other nine-to-five dentist. But in 1999, Dr. Hudnall realized that what many of his patients REALLY needed was a dentist who could assist them with emergencies that occurred outside of normal business hours. He decided to become a full-time emergency dentist, dealing in general emergency dental services with specializations in implant prosthodontics (including dentures) and oral implantology.
Dr. Hudnall continued his emergency dentistry practice for 18 years while simultaneously participating in a number of continuing education programs. He became an expert in the fields of emergency dentistry and oral surgery. And in 2015, Dr. Hudnall received additional training from the Live Implant Training Institute so that he could begin providing implant and denture services to his patients. This is the practice of restoring function to patients who have lost their natural teeth to gum disease or tooth decay.
Dr. Hudnall also became a member of both the International Congress of Oral Implantology and the American Academy of Implant Prosthodontics.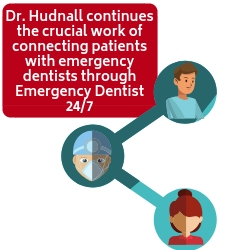 Although Dr. Hudnall retired from private practice in September of 2017, he continues the crucial work of connecting patients with emergency dentists through Emergency Dentist 24/7. As an expert in emergency dentistry who understands the industry better than anyone, Dr. Hudnall personally vets any partnered dentists you see featured on the site. He makes sure that we're only connecting patients to quality care providers who understand the modern dental industry and who are prepared to deal with any emergency you may experience.
He also contributes to our EmergencyDentist247 blog – sometimes by writing a section himself, but always by looking over and editing what our expert team has written. By making sure the information we provide is as accurate and authoritative as it can be, he helps our readers understand how to navigate the availability of emergency dentists, what to expect from an appointment with an emergency dentist, and what kind of special procedures such a dentist might perform.